Update to Donald Trump Incites His MAGA Thugs To Riot (Again) When He Is Arrested In New York.
We are officially in a constitutional crisis due to MAGA Fascsists obstructing justice to protect their "Dear Leader" from prosecution.
"Traitor" Kevin McCarthy, who led 147 Republican lawmakers who still objected to the election results even after the Capitol attack, giving aid and comfort to the violent MAGA insurrectionists, has ordered a probe of district attorney investigating Trump:
House Speaker "Traitor" Kevin McCarthy (R-Calif.) on Saturday announced a congressional investigation into the local prosecutors reportedly preparing to indict former President Trump.
Intimidation of law enforcement, and interference in an ongoing criminal investigation. The GQP is an ongoing crime spree.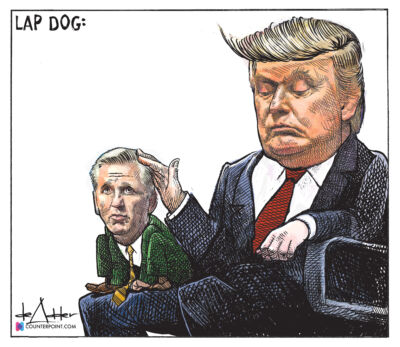 Trump said in a Truth Social post on Saturday he expects to be arrested on Tuesday as part of a Manhattan District Attorney investigation into hush money payments he allegedly made to adult film star Stormy Daniels.
[Trump's lap dog] McCarthy accused Manhattan DA Alvin Bragg of "an outrageous abuse of power" and of "pursu[ing] political vengeance against President Trump" in a tweet posted Saturday morning.
"I'm directing relevant committees to immediately investigate if federal funds are being used to subvert our democracy by interfering in elections with politically motivated prosecutions," McCarthy said.
"Subvert our democracy"? Motherfucker, you and your MAGA Fascists have been subverting our democracy since the November 2020 election. Each and every one of you criminals needs to be prosecuted for your roles in the January 6 insurrection, and your efforts to impede and obstruct justice for your crimes ever since.
Leading GQP [MAGA Fascists] in the House, including Reps. Chip Roy (R-Texas) and Marjorie Taylor Greene (R-Ga.), signaled support for the probe.
"[McCarthy] is right, and I fully support his call for an investigation," tweeted Sen. Rick Scott (R-Fla.). "No federal dollars should be used to prop up this radical, Soros-backed [MAGA Fascist anti-semitism] activist attorney or his gross political attacks."
Intimidation of law enforcement, and interference in an ongoing criminal investigation is the very definition of a "gross political attack," you traitorous POS.
The new probe would fit into a network of investigations House Republicans are pursuing against other government bodies who they've accused of "weaponizing" federal resources to target conservatives [MAGA insurrectionists].
Spokespeople for the House Oversight Committee and the Judiciary Committee, which have led most of the probes, did not immediately respond to a request for comment.
Democratic lawmakers quickly accused McCarthy of his own abuse of power by using the federal government to crack down on local law enforcement.
Rep. Stacey Plaskett (D-V.I.), the ranking member of the Judiciary's "weaponization" subcommittee, said McCarthy is trying to "weaponize Congress to interfere in the rule of law and use committees to re-elect the twice impeached former president.
"Speaker of the House of Representatives who has no idea what evidence the state DA has in support of grand jury indictment seeks to 'weaponize' the federal government to undermine the rule of law for political purposes," tweeted Rep. Dan Goldman (D-N.Y.), another member of the panel.
Speaker of the House of Representatives who has no idea what evidence the state DA has in support of grand jury indictment seeks to "weaponize" the federal government to undermine the rule of law for political purposes. https://t.co/cWi3pZjvyZ

— Daniel Goldman (@danielsgoldman) March 18, 2023
If prosecutors do not follow the facts, the evidence, and the law for every single person in our country, then we are a country of men not laws (like Russia).

And if prosecutors do not charge crimes solely because of the response, then that also undermines the rule of law.

— Daniel Goldman (@danielsgoldman) March 18, 2023
More:
Before tonight, the only time in history when an ex-President seemed in such immediate danger of indictment was Nixon for a month after he resigned–before Ford pardoned him.

— Michael Beschloss (@BeschlossDC) March 18, 2023
When before in history have we ever seen a Speaker of the House who seems to be this much under the thumb of a former President?

— Michael Beschloss (@BeschlossDC) March 18, 2023