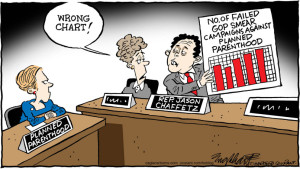 Fresh off engaging in McCarthyism tactics at last week's Planned Parenthood committee hearing Inquisition in which he embarrassed himself by getting caught red-handed using a bogus chart created by Americans United for Life, an anti-abortion group, Planned Parenthood Head Shuts Down GOP Chair Over Abortion Chart (VIDEO), Rep. Jason Chaffetz has announced that he will challenge House Majority Leader Kevin McCarthy for House Speaker.  The man has no shame.
The Hill reports, Chaffetz announces bid for Speaker:
Rep. Jason Chaffetz (R-UT) on Sunday announced his intention to run to replace outgoing Speaker John Boehner (R-OH).
"Today, here, I am announcing my intention to run for Speaker of the House of Representatives," Chaffetz said on "Fox News Sunday."
Chaffetz, who chairs the House Oversight Committee, said he does not believe House Majority Leader Kevin McCarthy (R-CA), who is the favorite to take over the Speakership, can get the requisite number of votes from Republicans to win.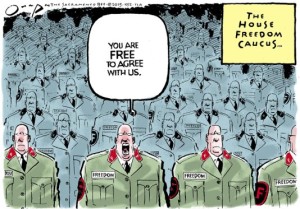 "Kevin McCarthy is a good man, he's a big reason why we have such a solid majority, but things have changed, and there's really a math problem," he said. "You need 218 votes on the floor of the House, there are 246 Republicans who will vote, but there are nearly 50 people and a growing number that will not and cannot vote for Kevin McCarthy as the Speaker on the floor. He's going to fall short of the 218 votes on the floor of the House."
"That's why I'm offering myself as a candidate, to try to bridge that divide," Chaffetz said. "I think those 50-plus people find that I'm a fair, even-balanced person, that I can bridge that divide between our more centrist members and some of the more far-right-wing members. That's why I entered this race."
Chaffetz also said several representatives have urged him to run for the Speakership, saying they can't vote for McCarthy.
Chaffetz did not specify whether he would support the Speaker-designate who emerges from a closed-door vote at the Republican House Conference on Thursday, but said he would support the eventual Speaker.
The four-term congressman has recently been critical of McCarthy for linking the congressional committee investigating the terror attacks in Benghazi, Libya to Hillary Clinton's sliding poll numbers.
The gaffe has called into question whether McCarthy is ready to take over the House's top job.
House Republicans will huddle behind closed doors Thursday to pick their next Speaker.
Christian Right Rep. Daniel Webster (R-FL) is also challenging Majority Leader Kevin McCarthy for House Speaker. Webster announces run for Speaker. Webster ran against John Boehner back in January.
Rep. Trey Gowdy (R-SC), chair of the House Select Committee on Benghazi! "Get Hillary,"  is declining GOP calls to throw his hat into the ring — for now. A rising conservative resists leadership role.
If it appears later this week that McCarthy has not locked up the votes, others may feel encouraged to challenge him for House Speaker.  Stay tuned.