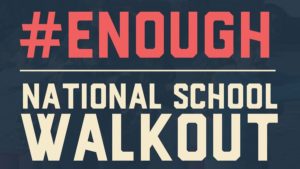 As schools around the country brace for student walkouts following the deadly shooting in Parkland, Florida, with the first large-scale coordinated national demonstration planned for this Wednesday when organizers of the Women's March have called for a 17-minute walkout, one minute for each of the 17 students and staff members killed in Florida, "principals and superintendents are scrambling to perform a delicate balancing act: How to let thousands of students exercise their First Amendment rights while not disrupting school and not pulling administrators into the raging debate over gun control." Student walkouts over guns pose balancing act for schools:
National demonstrations are also planned for March 24, with a march on Washington, D.C.; and on April 20, the 19th anniversary of the Columbine High School massacre in Colorado.
See earlier post, March For Our Lives in Washington, D.C. and around the nation (Updated with additional protests).
Some have taken a hard line, promising to suspend students who walk out, while others are using a softer approach, working with students to set up places on campus where they can remember the victims of the Florida shooting and express their views about school safety and gun control.
Since the Feb. 14 shooting at Marjory Stoneman Douglas High School, demonstrations have sprung up on school campuses around the country.
In Needville, Texas, near Houston, Superintendent Curtis Rhodes was castigated on social media after he warned that students who leave class would be suspended for three days, even if they get parental permission.
"SHAME, SHAME, SHAME ON YOU," wrote one woman.
In Garretson, South Dakota, administrators canceled a student walkout planned for April 20 after a Facebook posting about the plan drew more than 300 negative comments from adults.
And in Arizona, dozens of students at Ingleside Middle School, near Phoenix, were given one-day suspensions after they left campus on Feb. 27.
Layla Defibaugh, an eighth-grade student at Ingleside, said she wanted to participate in the walkout, but didn't because of the threatened suspensions. She does plan to join the Wednesday walkout, even it means getting suspended.
"It's important for me to speak my mind on this topic," she said. "At the end of the day, they shouldn't be able to punish us for exercising our First Amendment rights."
AASA, The School Superintendents Association, has fielded dozens of calls and emails from school administrators asking for advice, while the American Civil Liberties Union has received hundreds of inquiries from students about what their rights are and if they can be disciplined for participating in the protests.
The answer depends on each school's code of conduct and disciplinary policies. Generally, the ACLU has been advising students that because they are required to go to school by law, administrators can discipline them for unexcused absences. But the ACLU also told students in an online training video that administrators can't punish them more harshly because of the political nature of their demonstrations.
See earlier post, Know your First Amendment rights for student walk outs for links to the ACLU training video and materials, and contact information.
The superintendents association — which is supporting the April 20 walkout— has drafted a list of suggestions for school administrators, including holding a teach-in, a school-led walkout to a spot on campus, or a session on bullying.
"There are ways to engage and harness the students in civic engagement without compromising policies in place on attendance, participation and student safety," said Noelle Ellerson Ng, associate director for policy and advocacy.
Some schools have embraced the walkouts.
* * *
Some schools are taking a middle ground, neither encouraging nor discouraging students from participating.
* * *
But for middle-school and high-school administrators, figuring out how to allow the demonstrations during school hours has proven challenging.
The activism of the student survivors of the Marjory Stoneman Douglas High School shooting in Parkland, Florida, scored a major victory last week when the GOP legislature and governor of Florida agreed to the first modest regulation of firearms in Florida in decades. Florida Governor Signs Gun Limits Into Law, Breaking With the N.R.A.:
Florida's nickname has long been the "Gunshine State" because of its plethora of firearms and loose gun restrictions.
On Friday, in a dramatic turnaround in one of the most gun-friendly states in America, Gov. Rick Scott signed into law an array of gun limits that included raising the minimum age to purchase a firearm to 21 and extending the waiting period to three days. The law imposes new restrictions on firearm purchases and the possession of "bump stocks," funds more school police officers and mental health services, broadens law enforcement's power to seize weapons, and allows certain staff members to carry guns in schools (a concession to the N.R.A.).
It was the most aggressive action on gun control taken in the state in decades and the first time Mr. Scott, who had an A-plus rating from the National Rifle Association, had broken so significantly from the group.
Of course, before the ink was even dry on Governor Scott's signature on the bill, the lobbyist organization for the merchants of death, the N.R.A., filed a lawsuit in Federal District Court, arguing that Florida's age restriction was "a blanket ban" that violated the Second Amendment, as well as the 14th Amendment's guarantee of equal protection.
This is a novel theory that seeks to expand well beyond Justice Antonin Scalia's sophistry and revisionist history in crafting his seminal "gun rights" opinion in District of Columbia v. Heller. Scalia went out of his way to emphasize that "Like most rights, the right secured by the Second Amendment is not unlimited," and specifically said there is no constituional right to an assault rifle.
Here in Arizona, Activists, Democratic lawmakers push for action on gun bills:
Democratic Arizona lawmakers and activists are calling on the Republican-controlled Legislature to act on stalled legislation designed to curb gun violence.
Those attending Monday's news conference at the state Capitol include an organizer of the planned March 24 "March for Our Lives" rally in Phoenix. The march was sparked by the Feb. 14 school shooting in Florida that killed 17 students and staff.
Four Democratic gun bills haven't received hearings during this year's legislation session. They include proposals for universal background checks, a ban on bump stock devices and proposals to remove guns from domestic violence offenders and the mentally ill.
Republican Gov. Doug Ducey is working on school safety proposals but has not sought action on the stalled bills.
Rumor has it that Governor Ducey will announce his school safety proposals this month, perhaps as early as this week, to try to get out in front of the upcoming student protests. I would not expect him to go as far as the Florida bill, however.
Republican legislators in Arizona generally oppose any gun control legislation.
Vote them out.