When Blog readers last read about Legislative District Six Senator-Elect Wendy Rogers, she, along with the other fringe members of the Sedition Caucus, was spreading baseless false accusations of voter fraud and election rigging during the 2020 Presidential Election.
Of course, nothing was wrong with her election victory in November.
Now, she is attempting, like other members of the Trump Zone-Fox Island-Disinfowar Cult, to assert on social media that the people who attacked the Capital, at Donald Trump's bidding, were actually Anti Fa disguised as Trumpists.
I condemn the radical Antifa mobs for attacking the Capitol and I condemn the Democrats for wanting to defund the very police who protected them.

— Wendy Rogers (@WendyRogersAZ) January 7, 2021
Really.
It seems the former Airforce Lieutenant Colonel has been flying high altitudes again without an oxygen mask.
This is Richard Barnett of Arkansas. He is a known Trump Supporter, white nationalist, and conspiracy theory fan. He was just arrested for breaking into Nancy Pelosi's office at the Nation's Capitol. He openly boasted being there and taking office supplies from the Speakers Office.
Please tell the readers, Lieutenant Colonel Rogers. What Antifa branch does Mr. Barnett belong to?
Or how about this "man?"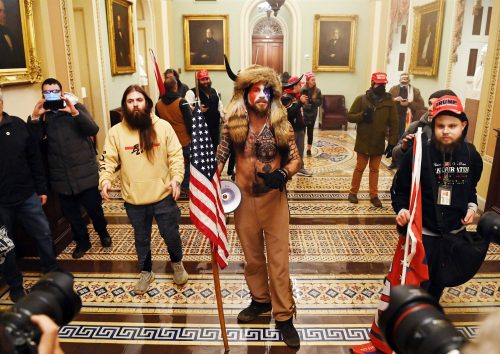 He is Jake Angeli.
He may be familiar to Lieutenant Colonel Rogers. He has been a follower of Q'Anon and an attendee of at least several fringe reactionary events.
He and the people he is standing next to in the above picture does not seem to be a member of Anti Fa either.
Given how he dresses for social occasions, it should not be long for law enforcement to arrest him either.
Or this man carrying a Confederate Flag through the Capitol Building?
He does not appear to be a card-carrying member of Anti Fa either.
Or this "Republican" West Virginia Legislator, Derrick Evans, who was arrested after boasting he was one of the people to break into the Capitol.
Antifa Leaders probably do not want him either.
Wendy Rogers and the other Trumpists enablers looking to scapegoat and blame others for what happened on January 6, 2021 (thinking of you Kelli Ward, Kelly Townsend, Mark Finchem, and Anthony Kearn,) need only look in the mirror to see who is at fault.
They are the ones who should be condemned for inciting their followers to violence at the Nation's Capitol and they are the individuals who should be penalized for their part in this national tragedy.
Stop flying high altitudes without an oxygen mask Lieutenant Colonel Rogers and find reality. Everyone will be better for it if you do.