Oh noes . . .
Senator John McCain's puppet boy, Little Lindsey Graham, will announce that he is running for president on June 1, now that his mobile fainting couch is ready to roll. Sen. Lindsey Graham (R-S.C.) to announce 2016 presidential decision June 1: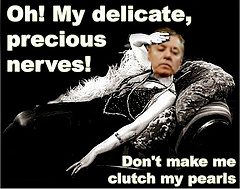 Sen. Lindsey O. Graham (R-S.C.), who in recent months has moved closer to running for president, said Monday that he will announce if he will make a White House bid on June 1 from South Carolina.
* * *
"I'm running because of what you see on television. I'm running because I think the world is falling apart. I've been more right than wrong on foreign policy," Graham said. "It's not the fault of others, their lack of this or that that makes me want to run. It's my ability in my own mind to be a good commander in chief and to make Washington work."
"I do declare, ISIS fighters are coming to America to kill us all! I feel faint, where's my fainting couch?" Note: Little Lindsey Graham's puppet master, Sen. John McCain, will appear beside him and will be overheard to ask the press, "Did you see my lips move? I'm good, aren't I!"
Former Texas Governor Good Hair, Rick Perry, will be the first major party candidate for president who is under indictment, and who has already used his mugshot to raise campaign funds. Shameless. Paul Waldman of the Washington Post has dubbed it "Oops 2: The Oopsening." Rick Perry set to announce presidential run in Dallas on June 4:
Former Gov. Rick Perry has chosen June 4 in Dallas to officially declare his second run for the Republican presidential nomination.
* * *
Unlike four years ago — when he rushed into the contest after being hailed as the leading contender to upset Mitt Romney and raise millions in quick cash — Perry enters this contest as an underdog, polling in the single digits.
He is also under indictment on charges of abuse of the governor's office over a veto he issued. He has attacked the charges as a liberal grand jury's attempt to criminalize politics, but it remains a cloud.
Governor Good Hair is hoping that his "hipster" smarty glasses make people forget that he is an idiot. Gov. Rick Perry and his Superman disguise.
And who knows? Maybe Gov. Scott Walker of Wisconsin and Gov. Chris Christie of New Jersey will be joining Gov. Good Hair in that rarefied  category of candidates "under indictment." Why not?
Governor Bobby Jindal of Louisiana, who told Republicans to "stop being the stupid party" after the 2012 election, has spent the last two years demonstrating that he is the stupidest candidate in the GOP. Bobby Jindal is setting up an exploratory committee and will be announcing after the Louisiana legislative session ends on June 11.
"If I run, my candidacy will be based on the idea that the American people are ready to try a dramatically different direction. Not a course correction, but a dramatically different path," Jindal said. "While other Republican leaders are talking about change, I've published detailed plans to repeal and replace Obamacare, rebuild America's defenses, make America energy independent, and reform education for our nation's children."
* * *
In particular, Jindal has strongly emphasized his opposition to same-sex marriage, saying he supports a constitutional amendment that would disallow the Supreme Court from overturning state bans. He has also backed a religious freedom law in Louisiana and has expressed support for similar legislation in Arkansas and Indiana.
* * *
Jindal has suffered from low approval ratings at home — sitting in the high 20s-low 30s — and Louisiana Republicans have criticized him for the state's budget deficit. In February, Moody's and Standard and Poor's — two of the top three U.S. credit rating agencies — downgraded the state's outlook from "stable" to "negative," citing Louisiana's $1.6 billion shortfall.
Jindal speaks in right-wing code for "I am the one true Christian soldier who will impose a Dominionist theocracy in America." Other than blatant pandering to the radical Christian Right, he's got nuthin'.
Finally, former FAUX News program host, Governor John Kasich of Ohio, has decided to run and will announce in late June or July, according to Jonathan Karl of ABC News (yes, I know):
Kasich has said his wife and daughters have given him a green light to run and in recent days Kasich has told his political advisors to begin preparing for a likely campaign. Kasich travels to New Hampshire in early June and recently did a fundraising trip to California. If he makes the final decision to run, he will make the announcement in late June or July.
As a Republican elected twice as governor of the critical battleground state of Ohio, Kasich is a potentially formidable candidate. But he has also angered conservative Republicans with his decision to accept an expansion of the Medicaid program under Obamacare. He has also supported the Common Core educational standards, something derided by some conservatives as "Obamacore."
This would not be Kasich's first presidential campaign. He ran for the 2000 republican presidential nomination but his campaign quickly fizzled out. At the time he was a republican Congressman from Ohio and chairman of the House Budget Committee.
This is unlikely to be the last of the GOP presidential candidate announcements. the proto-candidacy of  Donald Trump, for one, is still out there. The Donald says that when he announces "it will be HUGE!" Stay tuned.