Crossposted from DemocraticDiva.com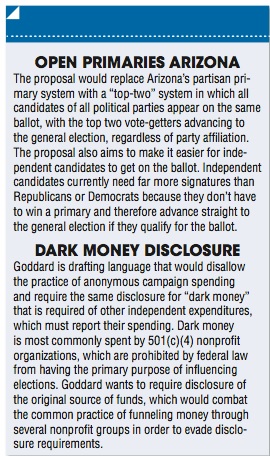 Already trying to make them look similar. Except they're not. Not even remotely.
Ugh. (Emphasis mine.)
"They both help each other," [Paul] Johnson said. "The polling was very clear. If they both end up on (the ballot), even through independent efforts, they both help each other."
More public support may be just what Open Primaries Arizona needs. When Johnson ran a top-two primary measure in 2012, it suffered a landslide defeat. Two-thirds of Arizonans rejected the plan, which garnered only 33 percent of the vote. Johnson's group is making some changes to the top-two plan, which he said will make it more palatable to voters.

Open Primaries Arizona has commissioned several polls on the top-two primary and other election reforms, including requiring dark money to be disclosed, as other election spending is. Chuck Coughlin of HighGround, which Johnson's group has retained (!), said polling has shown a lot of support for both ideas.
The link is to an AZ Capitol Times article that is behind a paywall but the gist is that Terry Goddard is considering joining forces with the wealthy political operatives behind Top Two Primaries so as to better the chances of his Dark Money initiative to get on the ballot and pass. Paul Johnson et al are now spinning a tale about how a colossally dumb plan to give Arizona voters two, and only two, options for every general election race is somehow simpatico with mandatory disclosure of campaign contributions. If those things don't sound remotely related it's because they aren't.
Look, I get that Arizona politics can be a chummy club where politicians and consultants regularly make strange bedfellows and that Goddard is deeply committed, for reasons of principle and possibly his legacy, to getting his Dark Money prohibition passed. But Chuck Freaking Coughlin?! Uh, remember 2010? I, and a whole bunch of other people do. Joining forces with a Coughlin-led effort would show an incredible level of forgiveness on Goddard's part for both SB1070 and his resulting loss in the election that year.
Also tone deafness. Chuck Coughlin. SB1070. Damn.