Governor Doug Ducey's weekly coronavirus pandemic briefing is at 3:00 p.m. today. Among other things, the governor must address the expiration of his eviction moratorium next week. Is he going to extend it? Or is he going to allow members of the Arizona Multihousing Association to evict thousands of Arizona tenants beginning next week?
the Associated Press reports, Arizona ban on evictions set to end as heat, infections soar:
Housing advocacy groups in Arizona have joined lawmakers in lobbying Gov. Doug Ducey to extend his coronavirus-related moratorium on evictions, which will expire next week and allow authorities to start removing hundreds of renters in a state that's a national hot spot for both infections and scorching summer weather.
"It's so hot in Arizona, you cannot live outside if you lose your home," said Meghan Heddings, executive director of Family Housing Resources in Tucson, which is among the groups advocating for an extension. "And, of course, we're still in the middle of a pandemic."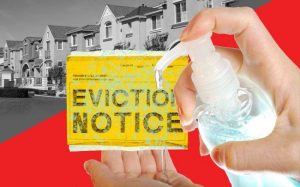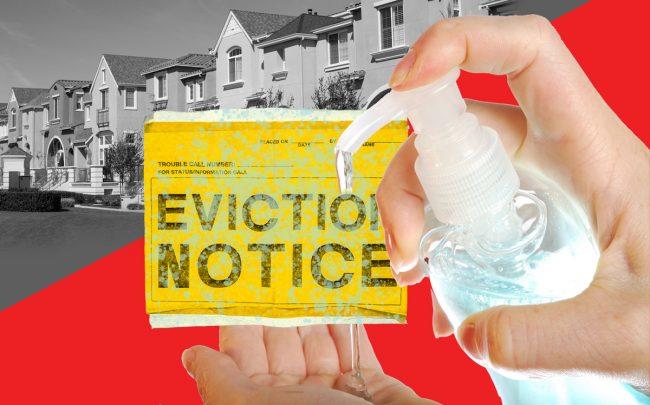 Arizona's 120-day order ending July 22 was supposed to ensure people wouldn't lose their homes if they got COVID-19 or lost their jobs during pandemic restrictions. But advocates say it's too early to end the ban because most of the government money set aside to help pay rents and mortgages still hasn't been doled out.
Meanwhile, virus cases in Arizona keep rising, with 3,257 new infections and 97 more deaths reported Wednesday. Arizona leads the U.S. in new confirmed cases per capita over the past two weeks.
Patrick Ptak, a spokesman for Ducey, said Wednesday the governor is working with all parties on a policy to protect renters and keep them in their homes. Ptak said an announcement is expected later this week. Why not today?
Unless the Republican governor extends or otherwise modifies his eviction moratorium, court officers can force out people temporarily allowed to stop paying rent after falling ill with COVID-19 or losing their jobs because of the pandemic. It's unknown how many people facing eviction already moved out voluntarily.
Family Housing Resources and more than a dozen other groups noted in a letter to Ducey last week that the Arizona Housing Department has a backlog of people trying to get rental assistance. About $4 million of $5 million allocated in March to help people struggling because of the virus has still not been distributed.
Some are still struggling to get their first unemployment checks. After July 31, those checks will lose the extra $600 in federal money provided each week to help during the pandemic, dropping the average weekly check to $240 or less.
"We have to get more time so this doesn't become a catastrophe," said Stacy Butler, director of the Innovation for Justice Program at the University of Arizona's James E. Rogers College of Law.
The Maricopa County Board of Supervisors Wednesday announced a more richly funded program, $30 million to help renters affected by the pandemic outside Phoenix and Mesa. The county's Human Services Department will administer the program funded with federal virus relief dollars and delivered through community programs.
It is expected to help about 6,000 households with three months of rent paid directly to landlords, who say they also are hurting.
Ann Gregory of Gregory Real Estate Management sued Ducey this month, asking a court to allow the eviction of a family in a rental home in Surprise over unpaid rent, which the firm says has now reached $8,000. The lawsuit says Ducey's executive order exceeds his authority and fails to compensate property owners for their losses.
Renters are still legally required to eventually pay back everything they owe from the time they started withholding payments, with some people now three or four months behind.
Data about eviction cases is hard to get because the pandemic has severely limited Arizona's justice courts. A court spokesman says the 26 justice courts in Maricopa County, where Phoenix is located, are operating but that most hearings are held virtually.
The University of Arizona's Innovation for Justice Program has been analyzing eviction figures from the nonprofit, nonpartisan think tank the Aspen Institute, which predicts 20% of U.S. renters, including 577,733 in Arizona, will be at risk for eviction by the end of September.
Program researchers also are drawing on a recent state-by-state analysis of potential future evictions by the international consulting firm Stout Risius Ross. The firm says over 42% of Arizona renters may be unable to pay their housing costs, and up to 365,000 renter households are at high risk for eviction.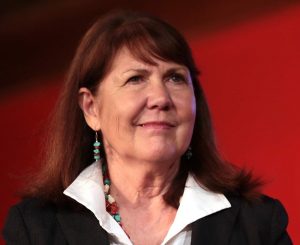 State lawmakers and members of Arizona's congressional delegation also have written to Ducey.
Democratic U.S. Rep. Ann Kirkpatrick told the governor in a June 10 letter that lifting the ban on coronavirus-related evictions could be "a recipe for disaster and mass homelessness" and advocated for keeping the moratorium until year's end.
"Arizona is home to some of the hottest cities, and with over 100K COVID-19 cases, we must extend, immediately, the moratorium on rent," wrote Kirkpatrick, who represents southern Arizona, including Tucson. "We cannot create an epidemic of homelessness on top of a global health and economic crisis."
The Arizona Mirror adds, Thousands of evictions loom as moratorium set to expire this month (excerpts):
Legal advocates are preparing for what could be a tsunami of evictions in the next few weeks when a temporary state ban on most evictions expires. But there is evidence that hundreds of evictions have been filed in violation of a federal ban in place due to the COVID-19 pandemic.
The findings have left some in the legal community scrambling for answers.
The federal CARES Act, which was approved in late March, prohibits eviction actions against those who cannot pay rent if the property has a federally backed mortgage or if the rent is federally subsidized. However, researchers found 194 cases in Pima County that appear to have gone forward, even though the properties have federally backed mortgages.
But the analysis doesn't take into account the thousands of people in the county who receive federal subsidies, known as Section 8 vouchers, to pay their rent. Statewide, an estimated 107,000 people receive rental assistance. Because Section 8 recipients aren't publicly disclosed, the researchers focused only on the property owners.
* * *
The Mirror was provided a spreadsheet with Corinne Cooper's analysis and was able to confirm most of her claims, but not all. In one case, an attorney who appeared to have violated the CARES Act with one of his evictions told the Mirror that the information on Fannie Mae's website was out of date.
It also appears that Cooper wasn't the only one who knew that something was going on in Arizona courts.
Courts prepare for evictions to resume
Earlier this week, the Arizona Supreme Court issued an administrative order for Arizona courts that created several new guidelines and rules around eviction hearings for courts in the state.
Now landlords have to assure that any eviction from March 27 to July 25 does not violate the CARES Act.
However, there are still some grey areas as Cooper's analysis found that 95 evictions took place prior to the CARES Act being implemented.
Of those cases, 55 of them went into judgment, meaning that tenants likely had to pay their landlords after the CARES Act went into effect, which would put them in violation of federal law. The remaining 40 were dismissed, though Cooper cautioned that might not be as good as it sounds for the tenants.
Eviction cases can be dismissed for a number of reasons, but generally it is because a landlord and tenant reach an agreement, the tenant moved out, the tenant paid rent or the landlord realized the mistake. If any of the first three scenarios are the ones that caused the dismissal then it could be a violation of the CARES Act, but there is no way of knowing, Cooper said.
Of all the cases Cooper examined, there was only one case in which the judge said it was improper for the landlord to collect fees.
Maricopa County courts say they don't know of any problematic evictions.
"We are not aware of any evictions that have taken place in Maricopa County for properties that are covered under the CARES Act," said Scott Davis, a spokesman for the Maricopa County Justice Courts.
* * *
And in Pima County, Chief Administrative Judge Charlene Pesquiera said they are taking some steps to look into the issue.
"At this time (Pima County Consolidated Justice Court) is currently completing a report consisting of corrective measures on evictions, data on evictions including trends, frequently asked questions and processes," Pesquiera said. She added that judges attended training on July 8 on the CARES Act and other eviction procedures.
The Arizona Supreme Court administrative order that was issued also stated that additional training for "all judicial officers, including judges pro tempore, who hear eviction cases" on how those cases relate to the executive order and the CARES Act must be completed by July 22.
"We know that there are people who have been evicted who shouldn't have been, but what do we do about that is the big question that is on everybody's mind," said Pamela Bridge, director of advocacy and litigation at Community Legal Services.
Until the administrative order, courts were not requiring landlords to inform them if their property had a federally backed mortgage or not. Now, legal advocates like Bridges are trying to figure out ways to communicate with possible tenants that were wrongfully evicted.
Being evicted creates a permanent mark on a person's credit score and also disqualifies them from federally subsidized housing. That means those wrongfully evicted could be in particularly hard spots, Bridges said.
* * *
Waiting on Ducey
At a press conference last week, Ducey said that his administration is doing as much as it can to increase the "social safety net" for people likely facing eviction.
However, when later asked by the Mirror if Ducey planned to extend his executive order, two separate spokespeople for the governor's office said the administration is still working with stakeholder groups to come to a decision.
"I know the governor's been holding meetings and talking about this issue. So, we're waiting to see if the governor's going to do anything or not," Byers said.
Patrick Ptak, a spokesman for Ducey, said in an email that the administration is continuing to "focus on getting assistance to all those impacted by COVID-19."
"Our office is working closely with groups including constables, community legal services, the courts, local governments, partner agencies and more to determine any additional actions that may be needed following the order's expiration," Ptak said. "We want to see landlords and tenants be able to continue to come to resolutions that minimize disruptions, avoid any surge in evictions, and continue to protect public health."
* * *
The Rev. Dr. William M. Lyons and other faith leaders were told that Ducey has not made a decision but the data gathered by the governor's office suggested that landlords were opposed to an extension because only 1% of tenants were delinquent on rent.
Ducey also cited the 1% figure at his July 9 press conference.
Census data estimates there are nearly 920,000 rented properties in Arizona. If the 1% figure is correct, that means about 9,200 households would face eviction when Ducey's executive order ends.
"It would be far more effective to keep people in their homes instead of creating a new wave of homeless people," Lyons said.
Leaders of 26 nonprofits signed a letter to Ducey urging him to extend the executive order through the end of the year.
"Agencies will need more time to prevent an avalanche of pending eviction notices. Allowing Executive Order 2020-14 to expire will only result in more Arizonans becoming housing insecure," Wildfire Executive Director Cynthia Zwick wrote in the letter.
Meanwhile legal advocates are also awaiting word from Ducey as well.
The moratorium expires in six days. It is cruel to leave tenants concerned about a pending eviction waiting until it actually expires, only to be served with a notice of eviction. It is time for Governor Ducey to step up and extend the eviction moratorium. Do it today.