Earlier this week, Governor Doug Ducey faced a backlash for photo with Patriot Movement AZ group:
While appearing at the Mohave County Republican Party's Patriot Dinner Saturday at the Mohave County Fairgrounds, Gov. Ducey posed with members of Patriot Movement AZ, a small but vocal activist group known for bringing guns and yelling at people at events in metro Phoenix.
In the photos, group members made the hand sign for OK, which in recent years has been called a symbol of white supremacy, although the Anti-Defamation League has said that is a hoax.
Patriot Movement AZ is a group comprised of anti-immigrant and anti-Muslim activists. Two women affiliated with the group Patriot Movement AZ (PMAZ) were arrested Thursday, March 15, on felony charges with a possible hate crimes enhancement for an incident earlier this month at a mosque in Tempe, Arizona. Kids in tow, women mock Muslims inside Tempe mosque; Two women tied to Patriot Movement AZ arrested after incident at Arizona mosque.
Patriot Movement AZ members swiftly distanced themselves from the women following the mosque controversy: A group representative at the time said one woman was "never part of our group" and the other was "removed and publicly denounced when we were made aware of this awful act."
Antone said the group had warned police about one of the women prior to the mosque controversy. The Republic has requested records to confirm that report.
The group supports President Donald Trump, opposes undocumented immigration and advocates for protecting the Second Amendment, as well as other conservative policies. They have received criticism for their tactics.
Antone confirmed that between five and 40 Patriot Movement AZ members regularly appear at political events and protests in Arizona. Many members regularly wear guns in holsters on their hips.
In January, members yelled at attendees of an event supporting Living United for Change in Arizona. Videos show Antone and other members following legislators and passersby, calling some "illegals" and telling them to "go home," and saying they must not speak English if they don't respond.
* * *
Patriot Movement AZ members wore guns and yelled at attendees of the Phoenix March for our Lives rally against gun violence in schools.
When students with the March for Our Lives movement held a "die-in" at the Arizona Capitol in April to demand Gov. Doug Ducey support stricter gun-control laws, Patriot Movement AZ members berated the teens, bringing at least one student to tears.
Jacob Martinez, a Republican teen and one of the March for our Lives organizers, posted a statement on Twitter: "March for our Lives Arizona is officially calling on Governor @DougDucey and the @AZGOP to condemn and the denounce the patriot movement.
"Not only do they harass students, but people of different ethnicities and beliefs. I strongly hope our governor and GOP don't support this."
Imraan Siddiqi, executive director of the Council on American Islamic Relations' Arizona Chapter, tweeted: "The Governor of Arizona smiling and hanging out with the same folks who came to our offices to harass us while carrying guns."
* * *
As some Democratic lawmakers and activists call for Ducey to denounce the group, the Governor's Office says he did not know who the group was and that the photo was inconsequential.
Facing mounting criticism, Ducey denounces behavior of conservative group, whose members he posed with in picture: "Before yesterday I had never heard of this group," the statement read. "I absolutely denounce their behavior." (He must not read The Arizona Republic or watch the local Phoenix television news).
In an interview with The Arizona Republic, Patriot Movement AZ founder Lesa Antone said otherwise.
"He knows who we are. Everybody there knew who we were," Antone said.
Antone said Ducey knows who they are, and that even if the governor doesn't, Patriot Movement AZ works closely with the Arizona Department of Public Safety and the Phoenix Police Department, so law enforcement should recognize them.
On Tuesday, members of this right-wing hate group showed up at the RedforEd rally at the state capitol to verbally assault educators. Counterprotesters call #RedForEd supporters greedy, accuse teachers of being 'terrorists' ( a clear case of psychological projection):
Several dozen counterprotesters of the #RedForEd movement held a rally at the Arizona Capitol on Tuesday where they criticized teachers participating in walkouts as "greedy."
The group, which rallied under the name #PurpleForParents, was made up of members of the Patriot movement and led by Dusti Martin, the wife of former Arizona state Treasurer Dean Martin.
Martin commended the group of about 40 people for "not walking out on your jobs" to attend the rally and urged the #PurpleForParents activists to "behave better" than proponents of #RedForEd.
"No screaming, no yelling, don't engage with the kind of hateful rhetoric," Martin said. "They're (#RedForEd activists) here because they can't control their emotions. We're here because we can."
Martin said that teachers who participated in walkouts were breaking promises to their students, and that a large "voiceless majority" of those against the #RedForEd movement had not been heard.
"Let's make sure they (the media) listen to us and not the terrorists that are holding our children hostage," Martin said.
Martin's comments struck a nerve with #RedForEd supporter David Nelson, an English teacher at Combs High School in San Tan Valley.
"I have stepped in front of a gun in my career," said Nelson, who identified himself as a veteran. "That is a blanket statement that goes strictly to an emotional appeal that is not true."
* * *
Nelson said he was most upset by accusations that all teachers who support #RedForEd have communist and socialist agendas.
It was a refrain repeated numerous times Tuesday evening by #PurpleForParents supporters.
"This is a nonpartisan issue, it really is," Nelson said. "That's the problem anymore —everything has to be partisan, everybody has to win and everybody has to lose. We don't do the compromise and the win-win anymore."
Vince Ansel said he does not believe teachers such as Nelson have their students' best interests at heart, saying that #RedForEd proponents have become greedy with their demands.
"That kind of animal is never satiated," Ansel said. "Whenever you give them something, they want more. Whenever you agree to something, they want more and more and more. They keep moving the goal post forward."
Ansel said the #RedForEd movement promotes socialism, which he said was a large reason for his opposition to the group.
"I know what red stands for, I fought in the Vietnam War during that period," Ansel said. "Red represented communism, and it still represents communism, and Red for Ed means to me and to a lot of other people that communists are behind this movement using the power of teachers in order to fulfill their agenda."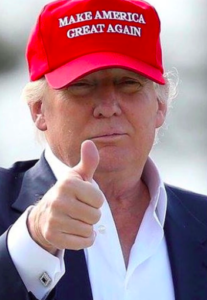 Using the simplistic logic of Mr. Ansel, Republicans who are identified by red on the electoral college map and refer to GOP-controlled states as "red states" would also be communists. And what about your "Dear Leader" who also wears a red baseball cap? Is he also a communist? (He is Putin's puppet after all).
This simpleton's comments reflect the red-baiting op-ed comments from state Rep. Maria Sims (R-Paradise Valley) in The Republic last week. #RedForEd leaders are not as nonpartisan as they claim. Is Rep. Sims also a member of the Patriot Movement? Arizonans have a right to know.
Jennifer Hill, a substitute teacher, agreed with Ansel's sentiments, saying that teachers are "very selfish" for not returning to work. She pointed out that she has lost income because of the walkout.
"They are hurting our children, they are hurting our families in Arizona, they're hurting me," Hill said. "I've lost four days, and I'm now to five days of not being able to make money for my bills, for my household. I don't get any sub (substitute) jobs when they're not at work, so it's hurting me and they're hurting a lot of substitute teachers."
Hill accused the #RedForEd movement of being "all about politics," and said that teachers and their supporters are not putting students first by being absent from their classrooms.
Well, Ms. Hill, you are a free-rider. Before the #RedforEd walkout, Governor Ducey was only offering another one percent pay increase (less than the inflation rate). As a result of the walkout, Governor Ducey is now proposing a 20 percent pay increase by 2020, although not all teachers will receive the pay increase, and it is doubtful that the plan is fiscally sustainable.
You will be getting a raise, Ms. Hill,  because of these educators exercising their First Amendment rights of freedom of speech, to peaceably assembly and to petition their government for a redress of grievances. They are the true patriots, and you should be thanking them for your pay increase.
Ms. Hill raised another red herring, "They (students) are hungry, they are wanting to see their friends, they are wanting to learn, and the teachers have simply walked out on them." Many school districts have continued to offer breakfast and lunch for students despite class cancellations. Other support organizations, including the teachers themselves have provided food. So did you provide food Ms. Hill?