With all of the craziness happening today, this bit of craziness also happened.
Kerry Eleveld at Daily Kos reports:
In an effort to seize the narrative [today], the White House released a transcript Friday morning of Donald Trump's first phone call with Ukrainian President Volodymyr Zelensky on April 21, immediately following Zelensky's election to office. It was cordial, upbeat, [but] exposed the initial White House readout of the call as pure diplomatic fantasy.
The original readout said that Trump promised to work with Zelensky to "implement reforms that strengthen democracy, increase prosperity, and root out corruption." How very statesmanlike of Trump, except that he never said any of it, according to the rough transcript the White House just released.
Trump did actually congratulate Zelensky, which was about the only similarity between the readout and the rough transcript. But rather than talking about boring stuff like bolstering democracy, prosperity, and anticorruption efforts in Ukraine, Trump worked in a reference to his treasured Miss Universe pageant.
"When I owned Miss Universe, they always had great people," Trump said of Ukraine. "Ukraine was always very well represented."
Here's some other noteworthy things about the call:
1) Nowhere in the call did Trump mention anything about "corruption" or anticorruption efforts in any way. The White House has been arguing that Trump was superconcerned about corruption more generally, and that that's why Trump withheld military aid to the country. If that's true, he certainly didn't mention a thing about it in the first phone call, according to the transcript.
2) Trump invited Zelensky to the White House. "When you're settled in and ready, I'd like to invite you to the White House. We'll have a lot of things to talk about, but we're with you all the way." This White House meeting never happened, however, because Trump and his henchmen ultimately conditioned the meeting on Ukraine launching investigations into the Bidens. What happened between April 21 and Trump's infamous July 25 shakedown of Zelensky? Deputy Assistant Secretary of State for European and Eurasian Affairs George Kent explained exactly what happened to their budding relationship in his deposition: Russian President Vladimir Putin and Hungarian President Viktor Orbán got in Trump's ear and soured him on Zelensky.
3) Zelensky eagerly invited Trump to his inauguration several times. "I think that it will still be great if you could come and be with us on this very important day of our inauguration," Zelensky said. It was clearly very important to him as a show of solidarity by the U.S. What we know now is that the U.S. planned to send Vice President Mike Pence to the inauguration in Trump's stead until Trump blocked Pence's visit at the last second as a clear snub to Zelensky and his incoming administration. Instead, Energy Secretary Rick Perry led a considerably lower-level delegation to the occasion.
I will note that there is not a verbatim "transcript," but rather a readout — there are no verbatim transcripts of presidential calls — this is a revised readout of the earlier readout from April.
The discrepancies between the two readouts may actually be a set up for attacks on a witness appearing before the impeachment committee next week.
Talking Points Memo reports, WH Blames NSC Impeachment Witness For Discrepancies In Call Summaries:
When the White House on Friday released a memorandum of the first conversation between President Donald Trump and Ukraine's president-elect, something popped out to eagle-eyed observers: The conversation was much different than the readout the White House issued at the time.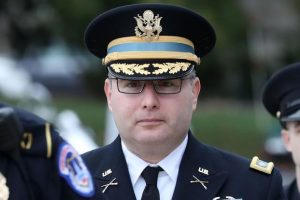 By Friday afternoon, the administration had managed to blame the discrepancies on a key impeachment probe witness, National Security Council official Alexander Vindman.
In April, when it released its readout of the call between the two leaders, the White House said Trump and then-Ukrainian President-elect Volodymyr Zelensky discussed heady diplomatic affairs — such as "the peaceful and democratic manner of the electoral process," "Ukraine's sovereignty and territorial integrity" and the effort to "root out corruption" in Ukraine.
In contrast, the newly released memorandum of the call, which includes purported dialogue between the two men, doesn't include any of that. Rather, it's largely surface-level and even superficial.
"When I owned Miss Universe, [Ukraine] always had great people," Trump told Zelensky over the phone. "Ukraine was always very well represented."
What accounted for the difference? On Friday, a White House spokesperson blamed Vindman, the director for European affairs for the president's National Security Council and a key witness in the ongoing impeachment probe.
"It is standard operating procedure for the National Security Council to provide readouts of the President's phone calls with foreign leaders," White House deputy press secretary Hogan Gidley said in a statement.
"This one was prepared by the NSC's Ukraine expert," he said.
Blaming Vindman for the discrepancy between the paragraph-length summary and the three-page memorandum of the call is an interesting choice. That's because Vindman has testified that the memorandum of the second, much more damning call between Trump and Zelensky did not actually reflect the full conversation. Vindman listened in to both calls as part of his NSC duties.
That July memorandum, unlike the memo of the leaders' April discussion, is pock-marked with ellipses, and Vindman testified that it actually put words in the Ukrainian president's mouth that Zelensky didn't say.
Specifically, Vindman testified, Zelensky referred to the actual name of the natural gas company on whose board Hunter Biden sat, and into which Trump had asked Zelensky to open an investigation: "Burisma."
But the call memorandum says Zelensky instead referred to Burisma as "the company that you mentioned in this issue."
Another notable difference between the two calls is that there was no paragraph-long summary released for the second one. America's own acting ambassador to Ukraine only found out about the call's contents second-hand, when another NSC official told him that it "could have been better."
UPDATE: Carol Loennig of the Washington Post reports White House deputy press secretary Hogan Gidley is WRONG (you're shocked, I'm sure):
In response to questions about the discrepancy Friday, deputy White House press secretary Hogan Gidley blamed National Security Council Ukraine expert Lt. Col. Alexander Vindman, who he said prepared the readout.
But Vindman was not responsible for making the final update to the readout, according to a person familiar with his account, who said he recalls that then-press secretary Sarah Sanders held onto the readout before turning it over for public release.
At this point it is fair to question whether these White House readouts of Trump's phone conversations have been edited or altered for self-serving reasons. The media should stop referring to these readouts as transcripts as if they are verbatim transcripts. They are not. You should be dubious about the accuracy or credibility of these readouts.
I am curious to see how Republicans on the House Intelligence Committee intend to use the discrepancies in these readouts to attack the credibility of National Security Council Ukraine expert Lieutenant Colonel Alexander Vindman, who was on the calls, and thus has first-person knowledge of what was actually said between President Trump and President Zelensky (no more of that bullshit "hearsay" whining from Republicans with this witness).
This may be an attempt to set up a "he said versus he said" situation, and "who are you going to believe?" A decorated Army officer who has honorably served his country, or Donald Trump, who has made 13,435 false or misleading claims (as of October 14, 2019). You can add a few hundred more lies to that count to bring the count up to date.
If Republicans really want to play the "who are you going to believe?" credibility game, Donald Trump is going to lose that game every time. Even his most ardent supporters know he is a pathological liar, and they are OK with that.
UPDATE: Natasha Bertrand at Politico adds, Trump ignored aides' advice to raise corruption in first Zelensky call, source says:
White House national security advisers suggested President Donald Trump raise the broad issue of corruption in his first call with Ukrainian President Volodymyr Zelensky on April 21, but Trump chose not to, according to a person familiar with the matter.
One of Republicans' central defenses in the impeachment inquiry has been that Trump cares deeply about corruption in Ukraine, which is why he asked Zelensky in July to investigate former Vice President Joe Biden and his son Hunter's dealings with the country.
That the president did not adhere to his National Security Council's advice to discuss corruption with Zelensky during their April call appears to undermine those claims.