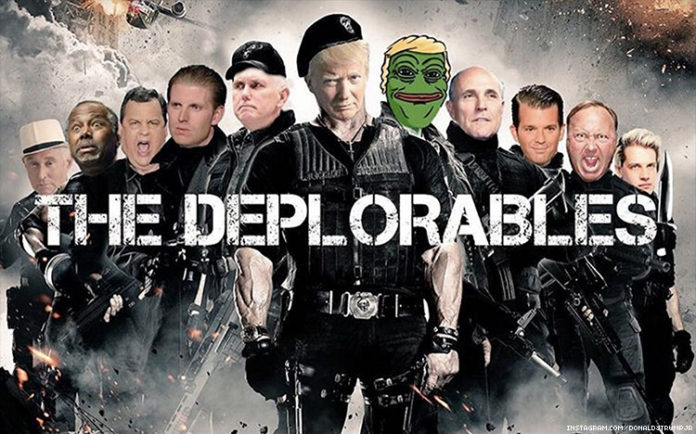 In the chaos theory of governance of the Trump administration, so much craziness happens every day that it is easy to overlook important events in the din of noise. Which is really the whole point of chaos theory. Trump wants to overwhelm the senses with the vast volume of his craziness every day so that no one thing he does can hold the attention of the public or the media for long in what used to be a normal news cycle, and the public eventually becomes numb to the sheer volume of his craziness and stops paying attention. This has led to the warning not to normalize Trump's chaotic behavior (which the media has to a large degree).
And so it was this past week that a congressional hearing on the rise of white nationalism and the increasing number of of hate crimes in America barely captured the attention of the media, even for a single news cycle. Of course, this was in part due to the white nationalist Republicans on the House Judiciary Committee efforts to turn this serious inquiry into a clown show with their invited witnesses. "Nothing to see here, move along."
Mary Curtis writes at Roll Call, When a hate crimes hearing goes very wrong, something's not right in America:
When people are being threatened, intimidated and murdered, you would think that partisan bickering would take a back seat. But this is the U.S. Congress we're talking about. Instead, what was supposed to be an examination of white nationalism and the rise of hate crimes on Tuesday devolved into what Americans have wearily begun to expect from their elected representatives. The House Judiciary Committee members inhabited different parties and different planets.
When what's at stake is this serious, that's pretty frightening.
The numbers tell the story of the rise in violence targeting people based on religion, race and sexual orientation. The number of incidents involving hate crimes increased for a third straight year in 2017, according to FBI data released last November. Hate crime incidents rose by 17 percent in 2017 compared to 2016. From 2015 to 2016, the FBI reported a 5 percent increase.
Those investigating motives behind three recent church fires in Louisiana, churches with predominantly black congregations, are considering the possibility that white supremacists may be responsible. That's probably wise since church burnings have long been an intimidation tactic, and places of worship in America's past and present have been the site of cold-blooded killings by domestic terrorists with twisted agendas.
Law enforcement agencies have admitted they have fallen short in the fight against far-right militant extremism, and after years of neglect have some catching up to do. The lives of those taken and those left behind depend on getting this right.
Tuesday's hearing could have been a start. And in case anyone thought otherwise, Rep. Doug Collins of Georgia, the top-ranking Republican in a hearing led by Democrats, was careful to state that "nothing white nationalists claim resonates with any of us here today."
Certainly, the testimony of Dr. Mohammad Abu-Salha made clear the human costs of such hatred. He lost two daughters and a son-in-law in 2015, executed by the young couple's Chapel, Hill, North Carolina, neighbor who had harassed them, they had told Abu-Salha, because of their Muslim dress and demeanor. "We miss our children so much," he said, grieving family members who had volunteered in their community and beyond. "At times the pain is just as sharp now as when they died. I ask you, I truly plead to you, not to let another American family go through this because our government would not act to protect all Americans."
Eileen Hershenov, senior vice president of the Anti-Defamation League, listed statistics that showed the rise of murders attributed to white supremacists.
Kristen Clarke, president and executive director of the National Lawyers' Committee for Civil Rights Under Law, spoke of hate groups finding the like-minded on social media. "Instead of hiding under hoods, they now organize at computer screens," she said, while representatives of social media and internet platforms sat nearby.
Yet all that urgency seems to have missed some GOP members of the committee, whose invited witnesses pushed a narrative at odds with the very purpose of the hearing.
One of them, Candace Owens, a onetime Trump critic turned Trump supporter and conservative icon, made it all about, well, Candace Owens, especially when she aimed indignation not at the hate crimes in question, which she seemed to downplay, but at committee member Ted Lieu of California, who played a brief recording of some of her own words.
After Lieu used a portion of her controversial remarks on how its association with Adolf Hitler had poisoned the concept of "nationalism," Owens, who is African-American, said, "I think it's pretty apparent that Mr. Lieu believes that black people are stupid and will not pursue the full clip in its entirety," doubling down on that race card she reliably condemns as a tactic of the left.
Owens also used her time to call the GOP "Southern strategy" a myth, in spite of the apologies of several of its architects, such as former RNC Chair Ken Mehlman and the late Lee Atwater, for stoking racial resentment to win white votes after the Democratic Party became the party of civil rights.
* * *
Instead of the "Blexit" Owens promotes, in which black folks reject Democratic Party affiliation, she might read up on why so many deserted the GOP in the first place.
The reaction of Rep.Ken Buck of Colorado showed he and several other GOP committee members had less interest in exploring the increase in hate crimes and more in trolling their Democratic colleagues. "I think you've caused my friends on the left to go to their safe spaces," he said to Owens, and invited her to go shooting with him in his home state.
If you don't know who Candace Owens is, Stephen Crockett, Jr. at The Root minces no words in his description of her. Candace Owens Is Racist White America's Black Friend and She Just Told Congress That White Nationalism Isn't a Thing: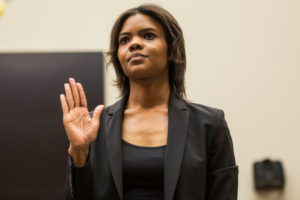 Unfortunately for the world, Candace Owens is a thing.
I want her not to be a thing, or, even better, a thing of the past like Furbys and AOL Instant Messenger.
Yet, here we are talking about Candace Owens because she is trotted out by the far-right whenever there is a discussion on white nationalism because Candace Owens is the black person that all racists are talking about when they say they have a black friend.
On Tuesday, Owens sat before the House Judiciary Committee and stated with a straight face:
"We're hearing [terms like 'white nationalism'] sent around today because what they want to say is that brown people want to be scared, which seems to be the narrative that we hear every four years ahead of a presidential election."
She also added that the Democrats panel was focused on "fear-mongering, power and control" rather than on the issue of racism.
Owens, communications director for conservative group Turning Point USA, is boring. Even when she's trying to be controversial or spouting goofy shit like when she stated that the Southern Strategy was a myth, famed director Ava DuVernay (and my make-believe sister in my head) had to come gather her ass on Twitter.
At this point, Candace Owens is a fountain drink at McDonald's or an oatmeal creme pie; even at her best, she is just empty calories and something you've seen a million times before.
So Candace Owens sat in front of the panel and did exactly what you'd expect her to do: she waxed on about how white nationalism isn't on the rise but rather that there's a ploy to scare all the brown people into believing that white nationalism is a thing.
Even Democratic Rep. Ted Lieu of California was all of us as he exposed Owens' comments that she made concerning Adolf Hitler and nationalism.
"Of all the people that Republicans could have selected, they picked Candace Owens," Lieu said. "I don't know Ms. Owens, I'm not going to characterize her. I'm going to let her own words do the talking."
And then he played a clip of her normalizing Hitler, a move white nationalists do to try and shift the story of Hitler as a deranged leader of the Nazi Party to a sitcom dad with a poorly shaved mustache.
But even this "gotcha" moment barely got a rise out of Lieu who knew he had her trapped as he played the audio from a talk Owens gave in London[.]
I mean this isn't the face of someone who knows that they're owning someone else; this is the face of someone who's just tired of the make-believe story they've been listening to.
Owens got pretty upset after the clip was played and basically claimed it was fake news.
"I think it's pretty apparent that Mr. Lieu believes that black people are stupid and will not pursue the full clip … That was unbelievably dishonest … I'm deeply offended by the insinuation of revealing that clip without the question that was asked of me," Owens said, according to Business Insider.
Here's the full clip and it seems to me like Lieu was on point.
We are all just over it.
All. Of. Us.
Mary Curtis at Roll Call, continues:
Casting a shadow on the hearing, as he often does on everything, was the president. Chairman Jerrold Nadler of New York said in his opening remarks: "Unfortunately, in a time when leadership is needed, the president's rhetoric fans the flames with language that, whether intentional or not, may motivate or embolden white supremacist movements."
Trump's fiery words on immigration, legal and otherwise, loomed over the proceedings, as he cleaned house at the Department of Homeland Security, looking for someone tougher than the leaders who separated parents from children, and railed at judges who have halted his restrictive plans in the court. With hardline adviser Stephen Miller at Trump's side, expect more camera-ready cruelty.
The bizarre yet fitting coda to this week's hearing was the disabling of comments on the live stream of the event — because of a constant stream of racist and hateful invective.
For anyone else, that would seem to prove why the day and the hearing mattered. For Louie Gohmert, it was a chance to spin yet another absurd conspiracy. "Could that be another hate hoax?" the Texas Republican asked. "Just keep an open mind."
His words, and the entire spectacle, had to be none too comforting for a country grappling with the consequences of what hate has wrought.
As Dana Milbank of the Washington Post said, "If the GOP was hoping to sabotage the Judiciary Committee's hearing on the rise of white nationalism, they got what they wanted." Candace Owens's presence turned a serious inquiry into a farce.
Just prior to this congressional hearing, Rep. Ilhan Omar Calls Trump Adviser Stephen Miller a 'White Nationalist'; Her Critics Accuse Her of Anti-Semitism: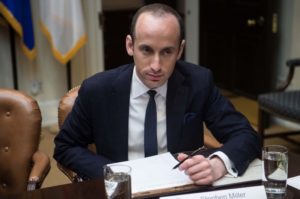 On Monday, Omar called Stephen Miller, the assumed puppet master behind the president's draconian hard-line stance on immigration, a "white nationalist."
"Stephen Miller is a white nationalist," Omar tweeted. "The fact that he still has influence on policy and political appointments is an outrage."
Stephen Miller is a white nationalist. My guess is that if you asked Miller if he was a white nationalist, he would probably shoot a "heil Hitler," drop the white power gang sign, then skate off gripping his tiki torch.
In addition to being an immigration hardliner, Miller is also an asshole. He's been an asshole all of his life. In high school, he campaigned against cleaning up after himself, noting that he couldn't be the only one who was tired of being told to pick up his trash when there were several well-paid janitors who could do it for him.
* * *
Miller is only in the White Nationalist House because the president is also a white nationalist, but he's too stupid to know how to implement laws to hurt other races so he leans on Miller for that.
It's been Miller who's reportedly been the architect of some of Trump's "most aggressive immigration policies, including family separation at the U.S.-Mexico border and a travel ban affecting immigrants from seven countries—five of them Muslim majority. Trump has been pushing in recent days to restore the family separation policy, according to reports," HuffPost reports.
Former White House adviser Cliff Simms claimed that Miller once said he would be "happy if not a single refugee foot ever again touched America's soil."
Miller's uncle, David. S. Glosser, told HuffPost in August that he believes his nephew thinks that other ethnicities are "unworthy or inherently unsuited to life" in America.
None of this stopped her detractors from continuing to push this imagined narrative that Omar is anti-Semitic because Miller is Jewish.
"I see that the head of the Farrakhan Fan Club, @IlhanMN, took a short break from spewing her usual anti-semitic bigotry today to accuse a Jewish man of being a 'white nationalist' because she apparently has no shame," wrote Donald Trump Jr., referring to Louis Farrakhan, leader of the Nation of Islam, The Washington Post reports.
As Bob Lord posted about on this blog, the Rupert Murdoch owned N.Y. Post used a photo of 9/11 to attack Rep. Omar over her speech on Islamophobia. Sleazy Attacks on Omar Have Become Disgusting and Dangerous. Rupert Murdoch has for years trafficked in Islamophobia.
By Friday, President Trump was inciting violence against Rep. Ilhan Omar by using a video of 9/11, in a seamless coordinated propaganda campaign of Islamophobia against Rep. Omar in defense of his white nationalism. President Trump targets Rep. Ilhan Omar with a video of twin towers burning:
The NAACP said on Twitter: "The President needs to realize that his words have the power to incite hate, violence, and ignorance that is nothing but a detriment to our society."
Numerous House colleagues came to Omar's defense, and her fellow freshmen issued a forceful response to Trump's words. Reps. Alexandria Ocasio-Cortez (D-N.Y.), Ayanna Pressley (D-Mass.) and Rashida Tlaib (D-Mich.) called for more Democrats to speak out to defend her.
"Members of Congress have a duty to respond to the President's explicit attack today," Ocasio-Cortez tweeted. "@IlhanMN's life is in danger."
Several Democratic presidential candidates, including Washington Gov. Jay Inslee, former Texas congressman O'Rourke, South Bend, Ind., Mayor Pete Buttigieg and Julián Castro, former secretary of housing and urban development and former San Antonio mayor, condemned the president's remarks.
Stephen Colbert conducted a thoughtful interview of Rep. Ilhan Omar that I highly recommend you view. Video link.