The AP reports, Capitol rioters included highly trained ex-military and cops:
As President Donald Trump's supporters massed outside the Capitol last week and sang the national anthem, a line of men wearing olive-drab helmets and body armor trudged purposefully up the marble stairs in a single-file line, each man holding the jacket collar of the one ahead.
The formation, known as "Ranger File," is standard operating procedure for a combat team that is "stacking up" to breach a building — instantly recognizable to any U.S. soldier or Marine who served in Iraq and Afghanistan. It was a chilling sign that many at the vanguard of the mob that stormed the seat of American democracy either had military training or were trained by those who did.
An Associated Press review of public records, social media posts and videos shows at least 22 current or former members of the U.S. military or law enforcement have been identified as being at or near the Capitol riot, with more than a dozen others under investigation but not yet named. In many cases, those who stormed the Capitol appeared to employ tactics, body armor and technology such as two-way radio headsets that were similar to those of the very police they were confronting.
Here's a fun fact. A hacker downloaded all of the user data on Parler before it went dark on Monday. Parler is among the apps that Trump's domestic terrorists used to stage their seditious insurrection. Gizmodo reports, Leaked Parler Data Points to Users at Police Stations, U.S. Military Bases (excerpts):
Location data gleaned from thousands of videos posted on the social network Parler and extracted in the days before Amazon restricted access to app this week, reveal its users included police officers around the U.S. and service members stationed on bases at home and abroad.

The presence on Parler of active military and police raises concerns, experts said, about their potential exposure to far-right conspiracy theories and extremist ideologies enabled by the platform's practically nonexistent moderation and its stated openness to hate speech. Military officials have long considered infiltration and recruitment by white supremacist groups a threat. Groups that endorsed a wide range of racist beliefs appear to have been operating openly on Parler, the experts said, with the de facto permission of its owners. The FBI has likewise raised concerns over law enforcement agents adopting radical views and being recruited—viewing their access to secured buildings, elected officials, and other VIPs as a singular threat.

Experts in homegrown extremism have warned for years about efforts by far-right militants and white-supremacist groups to radicalize and recruit people with military and law enforcement training, and they say the Jan. 6 insurrection that left five people dead saw some of their worst fears realized.

Gizmodo has mapped out the locations of some 70,000 GPS coordinates linked to specific Parler videos thanks to the work of a computer hacker and what Wired cybersecurity reporter Andy Greenberg on Tuesday dubbed an "absurdly basic bug." In short, Parler failed to implement routine safeguards against web scraping and, leaving many of its users exposed, neglected to strip location metadata from tens of thousands of videos. On Tuesday, Gizmodo managed to identify 618 Parler videos linked to the Capitol attack, which federal prosecutors now contend involved a plot "to capture and assassinate elected officials."

On Thursday, Gizmodo compiled a database of tens of thousands of U.S.-based law enforcement buildings and immigration detention centers, as well as more than 1,000 domestic and overseas military bases. Their locations were mapped alongside the GPS coordinates pulled from dozens of Parler videos. When possible, the videos were reviewed to determine whether they were actually filmed in one of the buildings of interest.

In total, Gizmodo found that 16 Parler videos were filmed within 50 feet of 10 different local law enforcement buildings, according to GPS data tied to the footage; 39 videos were filmed within 1,000 feet of domestic military facilities; and another 64 were filmed within 500 feet of the entrance of an immigrant detention center. Five additional videos were filmed within 1,000 feet of overseas military bases.

Motherboard first reported on Parler users posting from military bases Friday morning.
The AP continues:
"ISIS and al-Qaida would drool over having someone with the training and experience of a U.S. military officer," said Michael German, a former FBI agent and fellow with the Brennan Center for Justice at New York University. "These people have training and capabilities that far exceed what any foreign terrorist group can do. Foreign terrorist groups don't have any members who have badges."
Among the most prominent to emerge is a retired Air Force lieutenant colonel and decorated combat veteran from Texas who was arrested after he was photographed wearing a helmet and body armor on the floor of the Senate, holding a pair of zip-tie handcuffs.
Another Air Force veteran from San Diego was shot and killed by a Capitol Police officer as she tried to leap through a barricade near the House chamber. A retired Navy SEAL, among the most elite special warfare operators in the military, posted a Facebook video about traveling from his Ohio home to the rally and seemingly approving of the invasion of "our building, our house."
Two police officers from a small Virginia town, both of them former infantrymen, were arrested by the FBI after posting a selfie of themselves inside the Capitol, one flashing his middle finger at the camera.
Also under scrutiny is an active-duty psychological warfare captain from North Carolina who organized three busloads of people who headed to Washington for the "Save America" rally in support the president's false claim that the November election was stolen from him.
While the Pentagon declined to provide an estimate for how many other active-duty military personnel are under investigation, the military's top leaders were concerned enough ahead of President-elect Joe Biden's inauguration that they issued a highly unusual warning to all service members this week that the right to free speech gives no one the right to commit violence. [See, Joint Chiefs of Staff condemn riot at Capitol and affirm Biden's election win.]
Note: Any active duty military should immediately be court martialed. Retired military can be recalled to active duty for the purpose of a court martial. Send them all to Leavenworth for twenty years for sedition and insurrection. 18 U.S. Code § 2384 – Seditious conspiracy and 18 U.S. Code § 2383 – Rebellion or insurrection.
The AP's review of hundreds of videos and photos from the insurrectionist riot shows scores of people mixed in the crowd who were wearing military-style gear, including helmets, body armor, rucksacks and two-way radios. Dozens carried canisters of bear spray, baseball bats, hockey sticks and pro-Trump flags attached to stout poles later used to bash police officers.
A close examination of the group marching up the steps to help breach the Capitol shows they wore military-style patches that read "MILITIA" and "OATHKEEPER." Others were wearing patches and insignias representing far-right militant groups, including the Proud Boys, the Three Percenters and various self-styled state militias.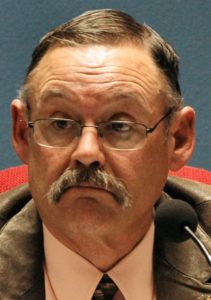 The Phoenix New Times has reported that Rep. Mark Finchem (R-Oro Valley) serves as the "Arizona Coordinator" for the Coalition of Western States (COWS), an organization accused of domestic terrorism for the armed occupation of the Malheur National Wildlife Refuge in Oregon in 2016. Rep. Mark Finchem Worked With Anti-Government Extremists, Emails Show. Rep. Finchem is also a member of the radical militia group Oath Keepers. From Charlottesville to Oath Keepers, Rep. Mark Finchem Is a Fringe Lawmaker.
Rep. Finchem was tweeting from Washington, D.C. at the time of the seditious insurrection. Was Finchem there as a member of one of these domestic terrorist organizations? The FBI and the Arizona House Ethics Committee investigating his activities need an answer to this question.
The Oath Keepers, which claims to count thousands of current and former law enforcement officials and military veterans as members, [is one of the largest radical antigovernment groups in the U.S. today] have become fixtures at protests and counter-protests across the country, often heavily armed with semi-automatic carbines and tactical shotguns.
Stewart Rhodes, an Army veteran who founded the Oath Keepers in 2009 as a reaction to the presidency of Barack Obama, had been saying for weeks before the Capitol riot that his group was preparing for a civil war and was "armed, prepared to go in if the president calls us up."
* * *
Retired Air Force Lt. Col. Larry Rendall Brock Jr. of Texas was released to home confinement Thursday after a prosecutor alleged the former fighter pilot had zip-tie handcuffs on the Senate floor because he planned to take hostages.
"He means to kidnap, restrain, perhaps try, perhaps execute members of the U.S. government," Assistant U.S. Attorney Jay Weimer said. "His prior experience and training make him all the more dangerous."
Federal authorities on Friday also arrested Dominic Pezzola, a 43-year-old former Marine from New York who identified himself on social media as being a member of the Proud Boys.
The FBI identified Pezzola as the bearded man seen in widely shared video shattering an exterior Capitol window with a stolen Capitol Police riot shield before he and others climbed inside. He also appears in a second video taken inside the building that shows him smoking a cigar in what he calls a "victory smoke," according to a court filing.
In an online biography, Pezzola, whose nickname is "Spazzo," describes himself as "Marine vet/ boxer/ patriot/ Proud Boy." Service records show he served six years stateside as an infantryman and was discharged in 2005 at the rank of corporal.
According to court filings, an unidentified witness told the FBI that Pezzola was with a group at the Capitol whose members said they would have killed "anyone they got their hands on," including House Speaker Nancy Pelosi. The witness further stated that members of this group said they would have killed (Vice President) Mike Pence if given the chance," the affidavit said.
Army commanders at Fort Bragg in North Carolina are investigating the possible involvement of Capt. Emily Rainey, the 30-year-old psychological operations officer and Afghanistan war veteran who told the AP she traveled with 100 others to Washington to "stand against election fraud." She insisted she acted within Army regulations and that no one in her group entered the Capitol or broke the law.
* * *
In Houston, Police Chief Art Acevedo said an 18-year veteran of the department suspected of joining the mob that breached the Capitol resigned before a disciplinary hearing that was set for Friday.
"There is no excuse for criminal activity, especially from a police officer," Acevedo said. "I can't tell you the anger I feel at the thought of a police officer, and other police officers, thinking they get to storm the Capitol."
The New York Times adds, Police officers who traveled to Washington are being investigated for connection to the Capitol melee.
Police departments across the country have suspended officers or referred them to internal reviews for attending the events on Jan. 6 in Washington that devolved into an assault on the U.S. Capitol.
The commanding officers or officials involved in the cases in New Hampshire, Pennsylvania, Texas and Washington State stressed that while the officers attended as private citizens, the question of whether they broke the law would be investigated.
In San Antonio, Sheriff Javier Salazar of Bexar County said he had referred Lt. Roxanne Mathai to the internal investigations department after she posted a video of herself on Facebook from near the Capitol, wearing a red, white and blue face mask and wrapped in an American flag. The officer waxed enthusiastic about the day but stated explicitly that she would not enter the Capitol.
Mr. Salazar, noting that Ms. Mathai had already been suspended from the force since October on another matter, said at a news conference on Friday that he had referred the video to the F.B.I. and to the internal investigations department.
Thomas Goldie, a Pennsylvania police officer, posted pictures of himself on Facebook from the rally wearing a Trump cap, but there was not yet any indication that he had been in the Capitol, said Jim Miller, chief of the Zelienople Police Department, a 10-member force in a small town 29 miles north of Pittsburgh.
"Him being there is not a problem — he had a right to be there, but not to break into the Capitol, obviously," said Mr. Miller, adding that the legal department was reviewing the matter. Mr. Miller said Mr. Goldie was on vacation and had yet to return. Mr. Goldie did not respond to telephone messages.
In Seattle, the Police Department announced on Friday that two officers were being placed on administrative leave after attending the demonstration. Internal investigators would determine if the officers were directly involved in any of the illegal events, Chief Adrian Diaz said in a statement.
And in Troy, N.H., Richard Thackston, the head of the town Board of Selectmen expressed support for the police chief, David Ellis, after there were calls for his resignation for attending the events in Washington. Neither man responded to telephone messages left at the town hall and with the police dispatcher.
Mr. Ellis told New Hampshire Public Radio that he opposed the violence. At a regular meeting of the selectmen on Thursday night, Mr. Thackston said Troy residents and many outsiders had called for Mr. Ellis to be dismissed.
NPR adds Off-Duty Police Officers Investigated, Charged With Participating In Capitol Riot:
Nearly 30 sworn police officers from a dozen departments attended the pro-Trump rally at the U.S. Capitol last week, and several stormed the building with rioters and are facing federal criminal charges as well as possible expulsion or other discipline.

The officers are from departments large and small. There was veteran officer in Houston, the nation's eighth-largest department; a sergeant in the small town of Rocky Mount, Va., and a group of Philadelphia transit officers.

* * *

The federal charges and ongoing investigations are likely to further erode public trust in police and again raise concerns about oversight and accountability, especially in the wake of 2020's nationwide protests against police brutality and for racial justice following the killings of Black men and women by police officers.

Chuck Wexler, executive director of the Police Executive Research Forum, told NPR the charges against off-duty officers are all the more reprehensible because many officers on duty at the Capitol "acted heroically that day.

"Police officers should know more than others that engaging in mob behavior is abhorrent. At a time when people are questioning police legitimacy, this isn't helpful. It's worse than that, it's despicable. It's despicable because you have 50 officers hurt and one who died. This is just unconscionable," Wexler said, adding, "those officers who engaged in mob behavior should be held accountable and should not be police officers. Period."

* * *

Police training executive Rahr says she sent a memo to all her recruits and staff reminding them of the important role law enforcement can play in reassuring the public "that our democracy can survive the politically divisive conflicts that are erupting." Rahr adds the majority of law enforcement officers in this country "are just as ashamed and disgusted as I am because the storming of the Capitol is, there's there's no defense for that. There just isn't."
Which brings me to this authoritarian Rethuglican in the Arizona Republican Sedition Party who wants to criminalize public protests (like Black Lives Matter) and to punish cities that "defund the police" (repurpose funds for mental heath, social services, and conflict resolution).
Maybe we should first purge police departments of bad cops who are members of white supremacist organizations or other anti-government extremist groups who engage in sedition and insurrection against the government. They pose an actual threat to national security and public safety.
The Arizona Capitol Times (subscription required) reports, GOP lawmaker pushes bill to punish cities that defund police:
A Republican House member has, with the support of most of his caucus, introduced bills to take state money away from cities that cut their police budgets and to create tougher new penalties for people who take part in riots.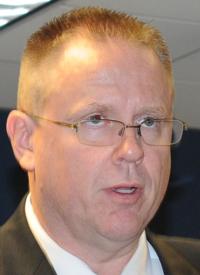 "Proposals to defund police departments are reckless and dangerous," Rep. Bret Roberts, R-Maricopa, said in a written statement Friday. "Once unthinkable, except to left-wing extremists, such calls appear to have recently gained disturbing traction in some mainstream Democratic circles. More than ever, our communities need the protection that only law enforcement can offer – and that's why we must do everything to protect the resources that enable officers to do their job. This legislation will prevent radical efforts to defund police budgets and help protect law enforcement and keep communities safe."
After the storming of the capitol by Trump domestic terrorists, spare me that "law and order" party bullshit. The Sedition Party are the "domestic enemies" they all swore an oath to defend against.
Roberts is the main sponsor of both the anti-police defunding bill H2310 and the anti-rioter bill H2309, and he has the backing of the overwhelming majority of his fellow House Republicans on both. Twenty-four out of the House's 31 Republicans are co-sponsoring H2310, and 26 are co-sponsoring H2309. House Speaker Rusty Bowers, R-Mesa, and Majority Leader Ben Toma, R-Peoria, who called them "thoughtful and timely bills that recognize and respect the importance of supporting the work of law enforcement to keep Arizona communities safe," have signed onto both.
H2309 would create a new class 6 felony crime of violent or disorderly assembly, "if a person, with seven or more other persons acting together, and with the intent to engage in conduct constituting a riot or an unlawful assembly, causes damage to property or injury to another person," according to the bill summary, and anyone convicted under it would be barred from receiving state or local public benefits in the future. It also says someone arrested for violent or disorderly assembly cannot be released from custody for at least 12 hours "unless a magistrate finds that the person is not likely to immediately resume the criminal behavior." It would reclassify assaulting a peace officer while violating this law as a class 6 felony and require at least 6 months in jail for anyone convicted thereof. And, it would raise obstructing a highway, public nuisance, shining a laser pointer at a police officer or recklessly damaging property worth between $250 and $1,000 from a misdemeanor to a class 6 felony if done in the course of committing violent or disorderly assembly.
Will this apply equally to Trump's violent domestic terrorists? Or just to civil rights protestors, like Black Lives Matter, with whom Roberts disagrees? Trick question. You already know the answer.
"I find it deeply troubling that violence, rioting, and the destruction of property has become an accepted norm in cities across the nation, and local leaders doing little to stop it," Roberts said. "We cannot enable such activity in Arizona and should take all appropriate steps to discourage it and punish those who engage in it."
This is a LoL statement after the violent sedition and insurrection by Trump's domestic terrorists last week in a failed coup attempt, and more violence threatened this coming week. This guy needs to take a hard look in the mirror. That's a white supremacist staring back at you, Dude.
Rep. Diego Rodriguez, D-Laveen, who is on the House Judiciary Committee, called the portions of H2309 limiting bail "clearly unconstitutional" and compared the bill overall to one cracking down on sanctuary cities Roberts sponsored last year.
"The sanctuary cities bill was a dog whistle that the representative blew very loudly, and this is another dog whistle that the representative blew very loudly," Rodriguez said.
Rodriguez said the bill targets the Black Lives Matter movement and that the provision barring convicted rioters from public benefits plays on racist tropes about people of color relying on such programs.
"So again, that bill in my mind is clearly a dog whistle," Rodriguez said. "It is not necessary and it only highlights what we've seen in the disparity between how law enforcement treats peaceful people of color who are protesting our rights and the fascist white supremacist groups who invaded our Capitol."
Rodriguez said legislative Democrats aren't trying to cut law enforcement budgets and called H2310 "just another attack on representative democracy by Republicans in Arizona" and an attempt to dictate to local governments.
"It falls in line with efforts to restrict citizen initiatives," Rodriguez said. "It falls in line with the other parts of their pre-emption agenda, and the people of Arizona are sick and tired of the Republican majority and the Republican (elected officials) pushing these attacks on representative democracy and what the people want."
These unnecessary bills should be defeated.