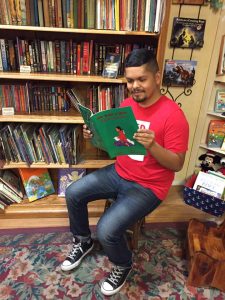 Esther Lumm, Chair, AHCF, Author
The mission and focus throughout the 33 years that the AHCF has existed, its mission has always included higher education.  Why?
Because it is higher education that has led many Latinos (and others) out of poverty, hunger, and sometimes abusive or dangerous situations;
Because it has given Latino students the opportunity to prove they have much to contribute when given the opportunity;
Because it has proven to business and society in general that Latinos can succeed in careers that traditionally were forbidden to them;
Because it has proven that Latinos are some of the hardest workers, with high integrity and values, and extremely dependable when it comes to completing a job;
Because it exposed the tremendous Latino talent that surfaced in education, arts, music, culture, architecture, business, financial, civic, medical, healthcare, judicial, mechanical, technical, culinary, social and other fields;
Because it concurs with the U.S. constitution that promotes equality, justice, and the pursuit of happiness.
The history of Deferred Action for Childhood Arrivals (DACA) has never been a smooth path.  In fact, we would describe it as a rickety bridge between two cliffs that students would have to cross to get to the other side. First of all, to even admit to being a DACA recipient, you had to admit you were in the United States as an undocumented person, not because it was your choice, but because it was your parent's choice to attempt to give you a better life than they experienced in their home countries.  The majority of DACA recipients were brought to the U.S. when they were too young to have a say in the decision.
Some of them came knowing only their native language, or too young to speak at all.  The ones that were only babies or toddlers were actually more fortunate because they may have grown up hearing two languages, their native tongue at home, and English outside the home.  Those that were a bit older, like Lilia Durán Holguin, a Forum member, who was born in Juarez, Chihuahua, had to start school here knowing only Spanish, without classes such as English as a Second Language, Dual Language, or bilingual classes.  She was pretty lost in those first elementary years, but because she was hearing both languages, she learned fast and ended up being an English, Spanish, and elementary teacher after earning her Bachelor's and Master's Degrees at Arizona State University.  This is what is possible when you give a student the opportunity to live, work hard, and succeed.  The AHCF is proud to have temporarily assisted several students in the past with university expenses by awarding them with the Rosie Lopez Scholarship, regardless of their citizenship status.
We were all very relieved when the Supreme Court recently voted in favor of DACA recipients remaining in the United States with all of the benefits afforded them during the Obama administration.  But we cannot relax and think that the struggle is over.  As easily as the Supreme Court found the reasons the Department of Homeland Security presented were "arbitrary and capricious," it can also rule with them the next time if their presentations are timelier and based more on "reason and decision-making" with facts to back up their arguments.
But there is much to consider when deciding to deport more than 650,000 DACA recipients, also called "Dreamers."  The majority of them have earned their college and university degrees, become very valuable to all types of companies as employees, managers, and many have started their own businesses. Employers are not willing to lose the investment they made in training them to contribute to their companies.  Many have married and had children who are now United States citizens.  They pay taxes, impacting the U.S. Revenue.  If they were to all be deported, the drop in revenue and Gross Domestic Product (GDP) would be enormously impacted.  And with the current COVID 19 Pandemic, we cannot ignore the fact that of the 650,000 Dreamers, at least 29,000 are working in the front lines in hospitals and medical centers as doctors, nurses, technicians, aides, administrators, etc.  Don't look now, but these 29,000 Dreamers are helping to save American lives every single day in every single state of the U.S.  None of these contributions were addressed in the Supreme Court during the recent hearings.  These are facts that must be taken into consideration by any insane attempt to deport these productive DACA recipients!
Make no mistake, hatred of people of color, Latinos, Blacks, Asians, or religions that bigoted people fear will embolden them to continue to fight against DACA recipients, no matter how many facts are presented to them about the value these Dreamers have brought to our country!  Therefore, we must all continue to fight for them to stop this insanity and allow them to stay permanently with a short path to U.S. citizenship!  They have already earned it and deserve it!  The only way we are going to win for them is to vote on November 3rd, 2020 to completely change the presidency, the current administration, and anyone in the U.S. House and Senate who does not support DACA.  Don't forget state and local races too – all up and down the ballot.  Please join the fight! It's true that the pen is definitely mightier than the sword, and anyone that can read and write can join this challenge!  Write to your elected officials at all levels and vote on November 3rd, 2020!