We finally have some follow-up reporting to an earlier New York Times report about Jared Kushner discussing some sweet Russian oligarch money to finance the Princeling's troubled "Kushner Tower" during the transition back in December. Jared Kushner had a previously undisclosed meeting with the CEO of 'the bank that financed Vladimir Putin's grandest ambitions':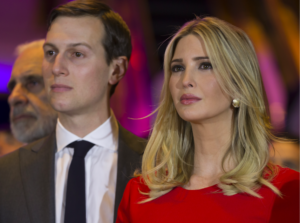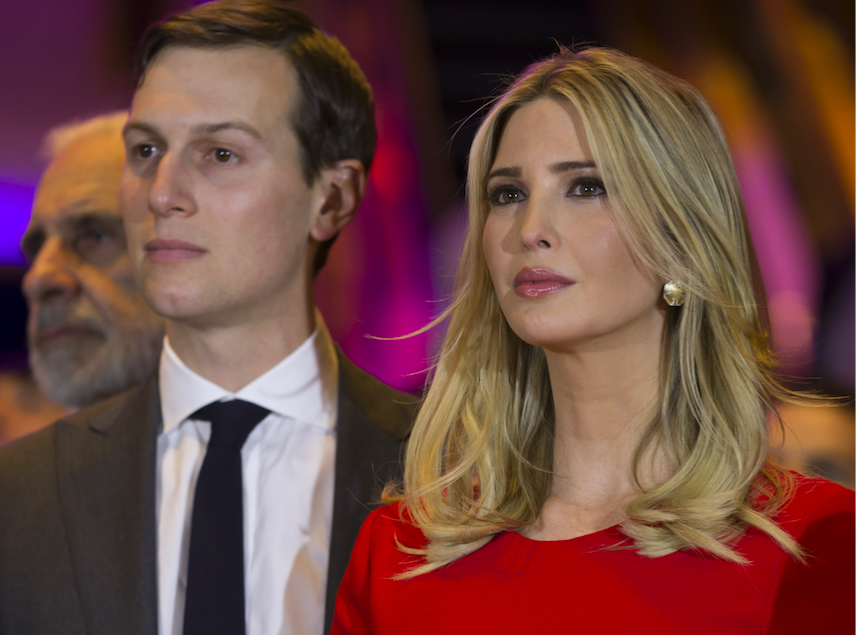 Kushner's meeting with Gorkov, the struggling bank's CEO, came as Kushner was trying to find investors for a Fifth Avenue office building in Manhattan that is set to be heavily financed by Anbang Insurance Group, a firm with ties to the Chinese government.
White House spokeswoman Hope Hicks told The Times on Monday that the "Kushner Tower" project wasn't discussed during his meeting with Gorkov, and a White House official said in a statement that Kushner took the meetings as part of his role as "the official primary point of contact with foreign governments and officials.
"White House spokeswoman Hope Hicks told The Times on Monday that the "The meeting did not appear to break any rules, and Hicks said it was "not much of a conversation" so didn't warrant a disclosure to the rest of the Trump transition team.
So said Hope Hicks, who is no better than "Baghdad Sean" Spicer with the truth.
The Washington Post now reports, Explanations for Kushner's meeting with head of Kremlin-linked bank don't match up:
The White House and a Russian state-owned bank have very different explanations for why the bank's chief executive and Jared Kushner held a secret meeting during the presidential transition in December.
The bank maintained this week that the session was held as part of a new business strategy and was conducted with Kushner in his role as the head of his family's real estate business.
The White House says the meeting was unrelated to business and was one of many diplomatic encounters the soon-to-be presidential adviser was holding ahead of Donald Trump's inauguration.
The contradiction is deepening confusion over Kushner's interactions with the Russians as the president's son-in-law emerges as a key figure in the FBI's investigation into potential coordination between Moscow and the Trump team.
The discrepancy has thrust Vnesheconombank, known for advancing the strategic interests of Russian President Vladi­mir Putin and for its role in a past U.S. espionage case, into the center of the controversy enveloping the White House. And it has highlighted the role played by the bank's 48-year-old chief executive, Sergey Gorkov, a graduate of the academy of the Federal Security Service, or FSB, the domestic intelligence arm of the former Soviet KGB, who was appointed by Putin to the post less than a year before his encounter with Kushner.
Either account of the meeting could bring complications for a White House undergoing intensifying scrutiny from a special counsel and multiple congressional committees.
A diplomatic meeting would have provided the bank, which has been under U.S. sanctions since 2014, a chance to press for rolling back the penalties even as the Obama administration was weighing additional retaliations against Moscow for Russia's interference in the U.S. election.
A business meeting between an international development bank and a real estate executive, coming as Kushner's company had been seeking financing for its troubled $1.8 billion purchase of an office building on Fifth Avenue in New York, could raise questions about whether Kushner's personal financial interests were colliding with his impending role as a public official.
* * *
The Kushner-Gorkov meeting came after Kushner met with the Russian ambassador to the United States, Sergey Kislyak, in early December. At the meeting, Kushner suggested establishing a secure communications line between Trump officials and the Kremlin at a Russian diplomatic facility, according to U.S. officials who reviewed intelligence reports describing Kislyak's account.
The bank and the White House have declined to provide the exact date or location of the Kushner-Gorkov meeting, which was first reported in March by the New York Times (above).
Hope Hicks is sticking with her original story, which is contradicted by Vnesheconombank:
White House spokeswoman Hope Hicks and Kushner's attorney said Kushner intends to share with investigators the details of his meeting with Gorkov.
"Mr. Kushner was acting in his capacity as a transition official and had many similar discussions with foreign representatives after the election," Hicks told The Post in a statement this week. "For example, he also started conversations with leaders from Saudi Arabia that led to the President's recent successful international trip."
The bank this week told The Post that it stood by a statement it issued in March that, as part of its new investment strategy, it had held meetings with "leading world financial institutions in Europe, Asia and America, as well as with the head of Kushner Companies."
* * *
Officially, VEB is Russia's state economic development bank, set up to make domestic and foreign investments that will boost the Russian economy.
Practically speaking, according to experts, the bank functions as an arm of the Kremlin, boosting Putin's political priorities.
VEB has also been used to promote the Kremlin's strategic aims abroad, experts say, financing projects across the Eastern bloc.
"Basically, VEB operates like Putin's slush fund," said Anders Aslund, a senior fellow at the Atlantic Center and a Russia expert who follows the bank's activities. "It carries out major Kremlin operations that Putin does not want to do through the state budget."
Before the United States imposed sanctions, VEB sought to extend its international reach to draw more investment to Russia.
* * *
Gorkov was named to head VEB in February 2016, after eight years as a senior manager at Russia's largest state-owned bank, Sberbank. While Gorkov was a deputy head of Sberbank, it was one of the sponsors of the 2013 Miss Universe Pageant in Moscow produced by Trump, who owned the pageant.
Gorkov's personal relationship with Putin is unclear.
VEB has played a role in Russian espionage efforts in the past, serving as the cover for a Russian operative convicted last year of spying in New York.
VEB, along with other Russian state-owned institutions, has suffered financially since 2014, when the United States imposed economic sanctions following Russia's incursion into Crimea.
Gorkov's meeting with Kushner took place at a time of major changes within the bank.
On Dec. 21, VEB announced that its proposed 2021 development strategy — which Gorkov dubbed "VEB 2.0" — had been approved by its supervisory board, which is chaired by Prime Minister Dmitry Medvedev.
As a result of the sanctions, U.S. companies are prohibited from lending the bank money or buying equity in the institution, an attempt to drain resources from the Russian economy.
The sanctions would not prohibit Kushner from conducting a business negotiation with VEB or even prevent the Russian bank from investing in a U.S. firm.
Experts on Russia's security services said that it would have been unlikely for Gorkov to meet with Kushner and not discuss sanctions.
In late December, Gorkov told Russian state television that he hoped "the situation with sanctions will change for the better."
"Of all the people he could be talking to in a transition period where you've got lots of balls in the air, that you end up talking to a Russian banker who is under sanction and who is related to Putin and has a KGB background," Rep. Jackie Speier (D-CA) told ABC News. Lawmakers ask whether looming debt left Jared Kushner vulnerable to Russian influence:
"I think the question has to be asked, was this about you trying to get financing for your troubled real estate that you have in New York City?"
The timing of Kushner's December meeting with executives from VneshEconomBank, or VEB, at the suggestion of the Russian ambassador, has also raised concerns from government watchdog groups across the political spectrum.
Peter Schweizer, president of the Government Accountability Institute, (which was founded by Trump adviser Stephen Bannon and funded in part by a Trump mega-donor, Rebekah Mercer), said the meeting "had conflict of interest written all over it."
"You worry about a quid pro quo, you worry about Kushner getting some financial arrangement from a Russian financial institution, and you worry about White House policy being shaped in a way that benefits either those banks or Russia at large," Schweizer told ABC News. "That's the concern."
* * *
Real estate analysts told ABC News that Jared Kushner's first major acquisition, a Fifth Avenue office tower signifying his family's move from New Jersey into Manhattan real estate, is shouldering a $1.3 billion in loans coming due in two years, and it is not bringing in sufficient rental income. An attempt by Kushner to broker a deal with a Chinese company to refinance and redevelop the building fell through shortly after the election.
Thomas Fink, a senior vice president at the firm Trepp, which analyzes commercial real estate, said the Kushner firm appears to be in a sizeable financial hole.
"I don't think they have a billion plus in the bank to just write a check to pay off the mortgage," Fink said. "Potentially they could sell the building, but you know, what will someone pay for it– that remains to be seen."
* * *
Kushner was already facing questions about a December meeting he held with the Russian ambassador to the U.S. when reports surfaced in March about a second contact. The White House confirmed that Kushner met in December with Sergei Gorkov of VEB Bank, but the substance of the previously undisclosed meeting remains something of a mystery.
A senior White House official said that the conversation was "general and inconsequential" and that Kushner took the meeting as part of his campaign role of interfacing with foreign dignitaries. The bank, however, described the discussion to ABC News as "negotiations" in which "the parties discussed the business practices applied by foreign development banks, as well as most promising business lines and sectors."
Gorkov brushed off an ABC News reporter Thursday at an economic forum in St. Petersburg, Russia, refusing to answer further questions about the meeting.
Rep. Adam Schiff, the ranking Democrat on the House Intelligence Committee, told ABC News his panel intends to question Kushner about the meeting in detail.
"This bank is of particular concern, because of course it's the subject of sanctions, but also because Gorkov, the head of this bank, comes out of a school essentially for Russian spies," Schiff told ABC News on Thursday. "He's someone that allegedly is very close to Putin, and I don't think if this was made at the suggestion as alleged by Ambassador Kislyak, I don't think the choice of Gorkov or this bank was any kind of coincidence."
After last week's revelations that Kushner suggested setting up a "back channel" at the Russian embassy using Russian secure communications to keep his communications with the Kremlin from being intercepted by U.S. intelligence agencies, 52 House Democrats demand Jared Kushner's security clearance be revoked to 'protect national security':
An increasing number of House Democrats are Russian to strip Jared Kushner's clearance in the name of "national security."
Fifty-two representatives on Thursday — up from just a handful in April — demanded the Trump son-in-law's security clearance be revoked over reports he tried to establish a secret backchannel with the Kremlin and failed to disclose meetings with Russian officials.
The White House should "immediately" revoke Kushner's clearance pending the conclusion of the FBI's Russia probe that has reportedly zeroed in on Kushner, the lawmakers wrote in a letter to White House counsel Don McGahn.
"Jared Kushner's actions are incompetent if not criminal, and he cannot be trusted," said Rep. Don Beyer (D-Va.), who led Thursday's letter co-signed by Reps. Ted Lieu (D-Calif.), Jerrold Nadler (D-N.Y.), Barbara Lee (D-Calif.), Pramila Jayapal (D-Wash.) and others.
Rep. Adam Schiff (D-Calif.), the ranking House Intelligence Committee member, had also called for renewed scrutiny of Kushner's clearance in a Sunday interview with ABC's "This Week."
Let's be clear: if this were anyone other than a Trump family member, his clearance would have been revoked immediately and he would have been escorted out of the White House to an interview with the FBI. Trump is protecting his son-in-law at risk to our national security.