Update to Rep. Shawnna Bolick – Running For Secretary Of State – Aided And Abetted The Trump Coup Plot.
Arizona Right Wing Watch reports:
Also spotted with the crowd of Proud Boys and counter protesters patrolling the We Will Not Go Back rally at Anthem Memorial was Paul Alan Carver, the lead registered agent for a local III% group + candidate for DVUSD school board, and Rep. Shawnna Bolick⁰https://t.co/QVjdIk2me5 pic.twitter.com/ERlYUDPaU9

— AZ Right Wing Watch (@az_rww) July 10, 2022
Somehow this did not make The Arizona Republic's coverage. Anthem community members march for abortion rights, counterprotesters gather.
Rep. Shawnna Bolick was elected to represent north Phoenix's District 20 in 2018 after two previously unsuccessful runs for office, and is currently running for Arizona Secretary of State, where this Coup Plotter aider and abetter would be in a postion to steal an election for Donald Trump or for whomever the GQP nominee is in 2024.
She is also the wife of Arizona Supreme Court Justice Clint Bolick, the former legal director of the "Kochtopus" Godwater Institute.
It looks like Justice Bolick has some serious conflicts of interest through his crazy far-right wife that he has to answer for. Shawnna Bolick has been tied to the Trump Coup Plot and she took active measures in furtherance of the Coup Plot (aiding and abetting). Now she is associating with groups identifed by the FBI as domestic terrorist organizations – organizations being prosecuted by the DOJ for seditious connsiracy on January 6 – participating in a counter-protest to disrupt a lawful abortion rights protest. Apparently she is into "thug life."
Are we to seriously believe, any more than we are to seriously believe Clarence and "Ginni" Thomas, that these two lead separate lives and maintain a firewall between their careers? That they don't talk to each other about their separate plots to overthrow American democracy and share strategies? Not buying it. We will never know because of the marriage privilege to testimony. But a third-party with whom these two have spoken could come forward, because there is no privilege for that conversation. Are there any real patriots out there, not those phony fascist Arizona Patriots?
In the meantime, Justice Bolick has more than a recusal problem with insurrectionist and abortion cases coming before the Arizona Supreme Court. His crazy far-right wife has destroyed any presumption of fairness and impartiality from Justice Bolick. He really should resign.
And his insurrectionist wife should NEVER be allowed near the Arizona Secretary of State's office.
Inmagine the serious conflict of interest which would result if she were elected Secretary of State and refused to certify the election results for the Democratic nominee for president in 2024, if he or she wins the popular vote in Arizona.
Any legal challenge would be reviewed by her husband on the Arizona Supreme Court. Clint Bolick would be forced to recuse himself from the case under the Rules of Judicial Ethics.
But wait! Shawmnna and Clint Bolick's close friends, Coup Plotter "Ginni Thomas" and Justice Thomas have an out for them. The activist radical Republican Supreme Court appears prepared to endorse Coup Plotter John Eastman's unfounded "Independent State Legislature" doctrine next term, which would open the door to a Republican-controlled state legislature (you can prevent this!) substituting a slate of Republican presidential electors for the slate of Democratic electors elected by the popular vote. Under the bogus "Independent State Legislature" doctrine, the Arizona Supreme Court has no jurisdiction to review the GQP's election theft – an election theft made possible by a corrupt Secretary of State Shawnna Bolick.
Arizona voters have it within your power to prevent this murder of American democracy in this year's election.
Here is some more background on Coup Plotter Shawnna Bolick from the Copper Courier earlier this year, Losing Arizona: Is Rep. Shawnna Bolick an Insurrectionist?:
Rep. Shawnna Bolick signed a letter to then-Vice President Mike Pence asking him not to certify election results.
She also signed on to a letter to Congress asking them to accept the 11 "alternate" electoral votes for Trump or to have all of the state's electoral votes "nullified completely until a full forensic audit can be conducted."
Bolick was the sponsor of a bill that would have given the state legislature the authority over the selection of presidential electors and to revoke the elector's certification any time before the Presidential inauguration—essentially giving the state lawmaker the power to override election results.
"The Legislature … by majority vote at any time before the presidential inauguration may revoke the secretary of state's issuance or certification of a presidential elector's certificate of election," the bill text states.
Bolick defended the bill in response to criticism.
"This bill would give the Arizona Legislature back the power it delegated to certify the electors. It is a good, democratic check and balance," she said in a statement.
The bill was criticized for being an overreach of power, with Secretary of State Katie Hobbs calling the proposal "breathtaking."
It was never assigned to a committee.
Now the activist radical Republican U.S. Supreme Court is taking it up next term.
During the early months of the COVID-19 pandemic, Bolick wrote an editorial in The Arizona Republic that stated mailing more ballots lends itself to "fraud and confusion"—echoing similar debunked claims made by then-President Donald Trump on Twitter.
Bolick is among the slew of Arizona Republicans that introduced a controversial bill in January that would force county prosecutors to file homicide charges against women who receive abortions and the doctor who performed the procedure. 
Again, a serious conflict of interest for her husband, Justice Bolick. She has destroyed any presumption of fairness and impartiality from Justice Bolick. He must recuse himself from all abortion cases. It would be better that he resign.
By the way, the tall Dude in the photo above is Ryne Bolick, the son of Arizona Rep. Shawnna Bolick (R-Phoenix) and Arizona Supreme Court Justice Clint Bolick. This bad apple did not fall far from the poisonous tree. Ryne Bolick, Son of Shawnna Bolick and Clint Bolick, Leads Arizona State University Students' Effort to Allow Open Carry on Campus:
Ryne Bolick, the son of Arizona Rep. Shawnna Bolick (R-Phoenix) and Arizona Supreme Court Justice Clint Bolick, is following in his parents' footsteps taking an interest in politics and the law. He started a chapter of Young Americans for Liberty at Arizona State University (ASU) last year, and soon afterward the club launched a petition drive to allow open carry at Arizona's universities.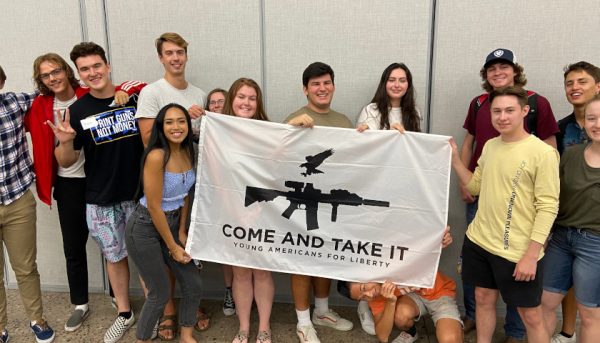 Ryne Bolick told The Arizona Sun Times that he saw a need for the change due to the alarming number of reports of rape, armed robbery, and other violent crimes on campus, which are emailed to students sometimes as often as once a week. [Wat for it …] It's especially a problem on the downtown ASU campus due to the large homeless population. [And there it is!]
Leaders of the ASU College Republicans and College Republicans United also support the measure.
Anyone can sign the petition, and as soon as the group compiles a substantial number of signatures they will present it to ASU President Michael Crowe and the Arizona Board of Regents (ABOR) requesting a change in university policy. The ban on firearms was enacted by ABOR in 1990, and the petition notes that it is vaguely written and subject to mistaken interpretations. It prohibits the "use, possession, storage, or display of any weapon" and broadly defines weapon as "any object or substance designed to (or which could be reasonably expected to) inflict a wound." Firearms are only allowed in locked cars and must not be visible.
The petition states in part, "The fundamental right to self-defense should not be usurped by partisan college administrators, especially when they are not the ones who are generally affected by campus crime. We, the undersigned, hereby petition the president of Arizona State University, Michael M. Crow, as well as his Board of Regents, to repeal PDP 201-05 and restore the basic right to self defense."
Ryne Bolick says states like Texas have passed legislation recently permitting firearms on university campuses. In Arizona, the legislature attempted to enact a similar law a couple of times but was narrowly defeated. Ryne Bolick said with the defeat of Republicans like former Sen. Heather Carter (R-Cave Creek), who often voted with the Democrats, the legislation may stand a better chance at getting passed in the future. However, he is focusing first at the university level and seeing if they can get that policy changed.
[In] Arizona, people age 18 and older may purchase and carry guns. While Arizona is often considered the most Second Amendment friendly state in the country, it it is not one of the 11 states that allow firearms on college campuses. However, it is one of the 23 states that do not prohibit it, so ABOR could change its policy.
Just what we need, make it easier for young white males who spend all their free time on the internet in  Neo-Nazi, White Christian Nationalist, or Incel chat rooms getting stoked up with hatred and then taking their AR-15 and a backpack full of extended clips to ASU to shoot up the campus or a classroom.
When this happens, the Young Americans for Liberty, ASU College Republicans and College Republicans United are complicit in the crime. Stupid college kids should not be allowed to graduate.