If I were to ask you "who is the worst Republican senator?," you literally could just "pick one" and I could make the case to support your choice.
But if I were to ask you "who is the most pathetic Republican senator?," I'm reasonably certain that the consensus choice would be John McCain's former puppet boy, now Trump Fluffer Sen. Lindsey Graham. Holy shit is this guy pathetic!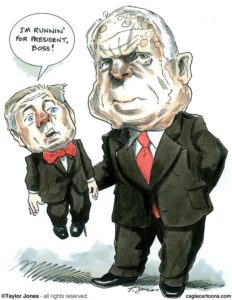 In a Rolling Stone feature titled "How Lindsey Graham Lost His Way," former McCain campaign strategist Steve Schmidt insisted that Graham hasn't really changed at all — because he's always been an ass-kisser, and Trump's ass is simply the most convenient place to pucker up these days.
"People try to analyze Lindsey through the prism of the manifest inconsistencies that exist between things that he used to believe and what he's doing now," Schmidt says. "The way to understand him is to look at what's consistent. And essentially what he is in American politics is what, in the aquatic world, would be a pilot fish: a smaller fish that hovers about a larger predator, like a shark, living off of its detritus. That's Lindsey. And when he swam around the McCain shark, broadly viewed as a virtuous and good shark, Lindsey took on the patina of virtue. But wherever the apex shark is, you find the Lindsey fish hovering about, and Trump's the newest shark in the sea. Lindsey has a real draw to power — but he's found it unattainable on his own merits."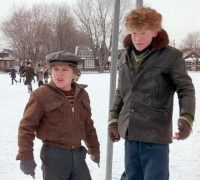 I'll offer another analogy everyone can relate to. There may not be anyone who is not familiar with the movie "A Christmas Story." There is a bully in the movie, Scott Farkas, who is Donald Trump in this analogy. Farkas has a smallish boy "toady," Grover Dill, who feels empowered by being Farkas's toady. Without aligning himself with Scott Farkas, this smallish boy Grover Dill would himself be the target of Farkas' bullying. So for Dill, it is a matter of self-defense.
When the main character Ralphie Parker snaps and beats up Scott Farkas, giving him a bloody nose, Grover Dill weakly tries to intervene, "Hey kid!" Ralphie knocks Dill down. The cowardly Grover Dill runs away saying "I'm calling my dad!" Lindsey Graham is the quintessential Grover Dill.
In 2016, after his failed candidacy for president, Lindsey Graham tweeted:
If we nominate Trump, we will get destroyed…….and we will deserve it.

— Lindsey Graham (@LindseyGrahamSC) May 3, 2016
Now Lindsey Graham has crawled so far up Donald Trump's ass, he can lick his teeth for him.
During the impeachment trial in which Graham had taken an oath to be an impartial juror, he was colluding with Trump's defense attorneys in the presentation of his defense, and what a shitshow of a defense it was! What Sens. Graham, Cruz and Lee did is called jury tampering, and it's a crime. It's also a clear conflict of interest. They should be disbarred.
During the Trump mob insurrection at the Capitol on January 6, a frightened little "Lindsey Graham, with his mask off, started screaming at one of the officers … saying, 'How come you didn't protect us? It's your job!'" A maskless Lindsey Graham yelled at an officer for not protecting members of Congress during the Capitol attack, Sen. Sherrod Brown said.
By February 13, Lindsey Graham voted to acquit the bully Donald Trump for his seditious insurrection against the United States government – the highest crime any president can commit – and for inciting his insurrectionist mob to hunt down his own Vice President to "hang Mike Pence" and likely execute other members of Congress, possibly even Lindsey Graham, had they succeeded in their failed coup attempt.
This pathetic little toady then went on the Sunday morning bobble head shows to defend his bully. "Hey kid!"
On Fox News (of course), Sen. Graham acknowledged that former President Donald Trump spread lies about the election (so did Graham) and could have "done more" to stop the deadly insurrectionist attack on the U.S. Capitol last month, but nonetheless, said he will stick by Trump's side because he likes "winning." Sen. Lindsey Graham Brushes Off Trump's Election Lies: 'I'm Into Winning':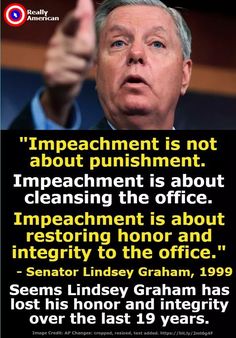 Asked during an appearance on "Fox News Sunday" whether Trump bears any responsibility for the Capitol riot, Graham said "no in terms of the law."
"He bears responsibility of pushing narratives about the election that I think are not sound and not true," said Graham, who helped peddle Trump's baseless claims of widespread election fraud and urged him not to concede the race days after President Joe Biden declared victory.
"I don't think that he caused the riot," Graham added. He conceded, however, that Trump's behavior after the election was "over the top."
Chris Wallace even showed video of Graham chiding Trump for his irresponsible actions on January 7th, but in response Graham just stuck to defending the former president and said his speech "didn't cause the riot."
"Could the president have done more? Yeah," Graham said. "Did he incite this riot by his speech? Absolutely not."
Either way, Graham added, Republicans can't win back the House in 2022 without Trump, who lost the popular vote to Biden by more than 7 million votes.
"To the Republican Party, if you want to win and stop the socialist agenda, we need to work with President Trump," Graham told Fox News. "We can't do it without him. … I'm into winning. And if you want to get something off your chest, fine. But I'm into winning."
It didn't end there. Lindsey Graham Digs In on 'Trump-Plus' as Future of GOP, Talks Up Lara Trump Senate Run, Swipes at Nikki Haley:
[To] make clear he believes Trump is the future of the GOP, Graham talked up a Lara Trump Senate run and swiped at Nikki Haley for saying Republicans can't follow Trump again.
Graham reiterated "we need Trump-plus" and said Haley's "wrong about President Trump."
One of the Republicans who voted to convict Trump was North Carolina Senator Richard Burr, and this is what Graham had to say in response:
"North Carolina, the biggest winner I think of this whole impeachment trial is Lara Trump. My dear friend Richard Burr… just made Lara Trump almost the certain GQP nominee for the Senate seat in North Carolina to replace him if she runs."
But wait! There's more!
Lindsey Graham Is Now Threatening To Impeach Kamala Harris:
Sen. Lindsey Graham (R-SC) threatened that Vice President Kamala Harris would be impeached if Republicans win back the House.
Graham said on Fox News Sunday, "The trial record was a complete joke. Hearsay on top of hearsay, and we've opened Pandora's Box for future presidents and if you use this model, I don't know how Kamala Harris doesn't get impeached if Republicans take over the House because she actually bailed out rioters, and more of the rioters went back to the streets and broke somebody's head open, so we've opened Pandora's Box here, and I'm sad for the country."
Lindsey Graham was lying about Harris bailing out rioters. A Washington Post fact check debunked that claim. Then Sen. Harris posted no bail for rioters, but she did tweet about an organization that helps people raise money for cash bail, but that organization did not post bail for rioters, and 92% of those charged in the violence after the death of George Floyd did not have a bail requirement.
If Republicans try to impeach Vice President Harris for something that she never did, it will not end well for the GQP. Graham is making empty threats because his political meal ticket has been dealt a career death blow.
How much more from this South Carolina sack of shit are Americans going to be forced to endure?
Georgia prosecutors may be able to rescue us, because Sen. Lindsey Graham was a co-conspirator and accessory to Donald Trump's election interference in Georgia.
The Washington Post reports, Graham's post-election call with Raffensperger will be scrutinized in Georgia probe, person familiar with inquiry says:
An Atlanta-area prosecutor plans to scrutinize a post-Election Day phone call between Sen. Lindsey O. Graham (R-S.C.) and Georgia Secretary of State Brad Raffensperger as part of a criminal investigation into whether former president Donald Trump or his allies broke Georgia laws while trying to reverse his defeat in the state, according to a person familiar with the probe.
The individual, who spoke on the condition of anonymity because of the ongoing probe, said the inquiry by Fulton County District Attorney Fani Willis will include an examination of the call Graham, a staunch Trump ally, made to Raffensperger 10 days after the Nov. 3 election.
During their conversation, Graham asked the Georgia secretary of state whether he had the power to toss out all mail ballots in certain counties, Raffensperger told The Washington Post in an interview days later. He said Graham appeared to be asking him to improperly find a way to set aside legally cast ballots.
"Lyin' Lindsey" Graham denied that, saying he was seeking information to better understand how the state verified mail ballots. At the time, Trump was trailing Joe Biden by about 14,000 votes in Georgia, which was recounting by hand all 5 million ballots cast in the election.
The call will "be looked at," said the individual familiar with the investigation — though the person cautioned that little is known about the call for now, or whether Graham violated any laws.
On Friday, Graham spokesman Kevin Bishop said the notion that Graham's call was improper was "ridiculous."
Every criminal defendant says "I'm innocent I tell ya!"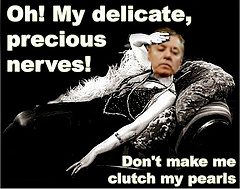 In keeping with the Republicans' embrace of "Q", Graham's spokesman asserted a conspiracy theory: "The timing on this is also quite curious. It seems to be a less than transparent effort to marginalize anyone who helps President Trump." OMG! Cancel Culture! WTF is wrong with you people?
Willis announced Wednesday that her office would investigate potentially criminal attempts to influence the state election result, including calls Trump made to Raffensperger and to the state's chief elections investigator.
In addition to the Fulton district attorney's probe, Raffensperger's office is investigating Trump's calls to state officials. Jordan Fuchs, Raffensperger's deputy secretary of state, said Friday that his office would not look at Graham's call as part of its investigation, in part because there is no audio recording of the call.
Raffensperger said Graham asked on the call whether political bias could have prompted poll workers to accept ballots with nonmatching signatures. The senator pressed the secretary of state to audit ballot-envelope signatures — and wondered if all ballots should be tossed in counties that yielded high discrepancy rates, since it would be impossible to toss only the affected ballots, which are separated from their envelopes before counting to protect voter privacy, according to Raffensperger.
Raffensperger said at the time he was stunned that Graham appeared to suggest that he find a way to toss legally cast ballots. Absent court intervention, Raffensperger didn't have the power to do what Graham suggested because counties administer elections in Georgia.
"It sure looked like he was wanting to go down that road," Raffensperger said at the time.
[I]n multiple interviews in recent weeks, Graham described how he has been in close touch with Trump in both the run-up to the Jan. 6 attack on the Capitol and the subsequent aftermath.
Graham said he spoke to Trump the night before to warn him that Congress was going to formalize Biden's win during its joint session that day. Graham said he told Trump, "It's not going to work out for you," adding that the president didn't push back.
Graham also met with the then-president for four hours on the Friday after the riots, helping him, among other things, to plan events for the final week of his presidency.
Once the impeachment process was underway, Senate Republican Leader Mitch McConnell (R-Ky.) told other senators that Graham, rather than McConnell, would serve as the point person in the chamber supporting the president — unlike Trump's first impeachment last year.
A loyal little toady to the end, Graham to meet with Trump to talk future of GOP: Sen. Lindsey Graham said he'll be meeting with former President Donald Trump in the coming weeks to talk about the future of the Republican Party.
"I'm going to try and convince him that we can't get there without you, but you can't keep the Trump movement going without the GOP united," Graham said. "If we come back in 2022, then, it's an affirmation of your policies. But if we lose again in 2022, the narrative is going to continue that not only you lost the White House, but the Republican Party is in a bad spot."
The future of the Republican Party?
Stuart Stevens, Mitt Romney's chief political strategist during his 2012 presidential campaign, and author of the book, It Was All a Lie: How the Republican Party Became Donald Trump, offers one prescription for the party: "burn it to the ground."
Stuart Stevens was echoed by Republican campaign strategist Steve Schmidt when he left the Republican Party:
So the Republican party of Teddy Roosevelt and John McCain and Ronald Reagan and George W. Bush is dead. It's over. It doesn't exist anymore. It has been taken over, lock, stock, and barrel. For there to be any redemption of a right of center conservative party in the United States of America means the party of Trump must be destroyed politically. It's like a fire. Fires are a part of the ecosystem, part of the natural progress. And when the forest burns, it's purified. There can be new growth. For there to be new growth of a conservative movement, of a right center party, the one that I joined in 1988, it needs to burn to the ground.