Vox.com reported, State-level Republicans are going all in on extreme anti-trans, anti-abortion laws:
Republican-controlled state legislatures across the country are taking up anti-trans and anti-abortion bills at a shocking rate, as lawmakers seize on an enforcement mechanism first tested by Texas's SB 8.
Multiple states — including Florida, Idaho, Texas — and Arizona — have enacted, or hope to enact, new and draconian restrictions, including banning abortion after six weeks of pregnancy (functionally equivalent to an outright ban on abortion), or banning gender-affirming health care for transgender children.
[L]egislation regarding transgender youth, in particular, has also increased. In April 2021, Republican lawmakers in Arkansas passed Act 626, becoming the first state to outlaw gender-affirming treatment for trans youth (the bill is currently being blocked by a federal court order). Other states have since followed suit: A month later, Tennessee lawmakers passed a slew of anti-trans bills, including the state's own ban on gender-affirming treatment for trans minors. And this year, Alabama is pushing one of the most extreme anti-trans health care laws to date with legislation that would jail doctors who provide health care treatment or perform gender-affirming procedures to trans minors.
"There has been an explosion of these bills," Cathryn Oakley, who tracks legislation for the Human Rights Campaign, an LGBTQ advocacy group, told Mother Jones. She said that out of more than 130 anti-trans bills introduced in the country this year, at least 38 would deny trans children access to gender-affirming health care.
Part of the explanation could lie in an increasingly conservative Supreme Court. Though the constitutionality of many new state-level restrictions may be questionable at best, the 6-3 conservative bench may prove more receptive to Republican arguments.
There's also an overtly political component, however. Out of power on a federal level and hoping to reclaim control of Congress in the 2022 midterm elections, Republicans have signaled that they view legislation targeting trans children as good politics for them.
That's right, victimizing trans children is "good politics" in the GQP. They are soulless, morally bankrupt, and sadistic. As Adam Serwer explained, The Cruely Is The Point.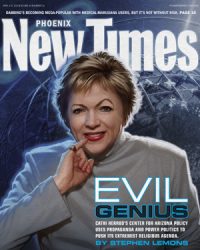 It's Cathi Herrod (Center for Arizona Policy) Day again today in the Arizona legislature. This culture warrior for white christian nationalism and dominionism, who wants to turn the U.S. into a theocracy, is Arizona's unofficial unelected "31st senator" only because white christian nationalist Republicans control the legislature. You can end her evil stranglehold over the legislature by electing more Democrats into the legislature majority, and governor.
The Arizona Legislature on Thursday joined the growing list of Republican-led states to pass aggressive anti-abortion legislation based upon the Mississippi law before the U.S. Supreme Court, which is in direct conflict with the 49-year old precedent of Roe v. Wade. Arizona Legislature approves 15-week abortion ban:
The House voted on party lines to outlaw abortion after 15 weeks of pregnancy, mirroring a Mississippi law now being considered by the nation's high court.
The bill explicitly says it does not overrule a state law in place for more than 100 years that would ban abortion outright if the Supreme Court overrules Roe v. Wade, the 1973 case that enshrined the right to abortion in law.
The bill now goes to Republican Gov. Doug Ducey, an abortion opponent who has signed every piece of anti-abortion legislation that has reached his desk since he took office in 2015. [Cathi Herrod was an adviosr on his campaign team in 2014.]
[T]he Arizona 15-week abortion ban bill contains no exceptions for rape or incest or for a medical emergency. It would also bar abortions for families that learn in pregnancy later on that a fetus is not viable. 
That's right, forced birth for a rapist's or incestual relative's baby. The state victimizing the victim for a second time.
And forcing women with a nonviable pregnacy to wait for spontaneous expulsion, i.e., a miscarriage. (Women who retain the dead embryo/fetus can experience severe blood loss or develop an infection of the womb.) The fetus is dead, I fail to see the point of this, other than for the sadistic cruelty. (A surgical procedure, usually a dilation and curettage (D&C) or medication is needed to remove remaining fetal tissue).
The measure was pushed by Cathi Herrod from the Center for Arizona Policy, a prominent social conservative group that pushes religious freedom, anti-abortion and parental rights bills that wields great power among Republican lawmakers.
Democrats criticized what they called GOP lawmakers' disconnect between opposing abortion and refusing to provide more funding for the poor and uninsured.
Minority Democrats have said the measure is unconstitutional and that any ban would disproportionally impact poor and minority women who won't be able to travel to states without strict abortion laws.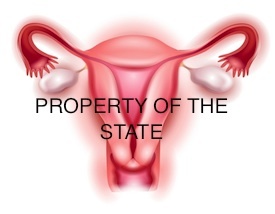 Republican backers said little during the floor debate.
But Sen. Nancy Barto, the Republican sponsor of the bill, has said she hopes the high court upholds Mississippi's law banning abortion after 15 weeks.
"The state has an obligation to protect life, and that is what this bill is about," Barto said during Senate debate last month. [No, it is not.]
Arizona already has some of the nation's most restrictive abortion laws, including one that would automatically outlaw it if the high court fully overturns Roe.
Republicans hope to put the 15-week ban in place [it is a "trigger law" which is currently unconstitutional] so it takes effect quickly if the Supreme Court further limits abortion rights but stops short of fully overturning Roe. The measure closely mirrors the Mississippi law.
Barto's bill would make it a crime for a doctor to perform an abortion after 15 weeks but would prohibit the prosecution of pregnant people for receiving one. Doctors could face felony charges and lose their license to practice medicine. There is an exception for cases when the mother is at risk of death or serious permanent injury, but no exception for instances of rape or incest.
The debate and vote on the 15-week abortion ban came the same morning that the House also passed a ban on transgender girls from playing on the high school or college sports team that aligns with their gender identity. Arizona lawmakers vote to restrict trans athletes, surgeries:
The Arizona Legislature passed bills Thursday to prohibit gender reassignment surgery for minors and ban transgender athletes from playing on girls sports teams, joining a growing list of Republican-controlled states attempting to restrict transgender rights as they gain more visibility in culture and society.
Republicans have said blocking transgender athletes from girls sports teams would protect the integrity of women's sports, claiming that trans athletes would have an advantage.
But there are few trans athletes in Arizona schools. Since 2017, about 16 trans athletes have received waivers to play on teams that align with their gender identities out of about 170,000 high school athletes in the state, according to the Arizona Interscholastic Association.
"This bill to me is all about biology," said Republican Rep. Shawnna Bolick [wife of Suprem Court Justice Clint Block, formerly with the Goldwater Institute], who said she played on a coed team in the 1980s but could not have made the high school boys team. "In my opinion, its unfair to allow biological males to compete with biological girls sports."
Critics said the legislation dehumanizes trans youth to address an issue that hasn't been a problem.
"We're talking about legislating bullying against children who are already struggling just to get by," said Democratic Rep. Kelli Butler, fighting back tears.
Until two years ago, no state had passed a law regulating gender-designated youth sports. But the issue has become front and center in Republican-led statehouses since Idaho lawmakers passed the nation's first sports participation law in 2020. That law is now blocked in court, along with another in West Virginia.
Republicans around the country have leaned into culture war issues including transgender rights.
Arizona is one of 20 states that have considered legislation to restrict gender-affirming health care. The bill originally would have banned all such care for minors but was scaled back to restrict only irreversible procedures, such as surgeries related to gender reassignment.
Similar legislation passed the Idaho House earlier this month but it died in the Senate amid concerns from some Republicans about restricting parental rights.
No such concern for parental rights in Arizona. it is parens patriae in Arizona (state or court has a paternal and protective role over its citizens or others subject to its jurisdiction). All that protesting about "parental rights" earlier this year over GQP culture war issues like book banning and critical race theory was all just bullshit, when the state can insert itself into the most personal of medical decisions a famly can make for their child.
Supporters of the Arizona bill said it would prevent children from making permanent decisions that they might later come to regret. Republican Rep. John Kavanagh compared the vote to the Legislature's unanimous decision in 2014 to ban genital mutilation.
"We should stand the same way today because this is mutilation of children," Kavanagh said. "It is irreversible. It is horrific."
Critics said the decision should be left to parents, their children and the health care team caring for them. They said surgeries are only performed after extensive care and therapy.
"We're talking about our kids, who are already going to be taking the proper steps with their parents to be able to be who they are," said Democratic Rep. Andres Cano.
Republican Gov. Doug Ducey has not said whether he will sign either bill. But two conservative Republican governors just this week have vetoed similar Anti-Trans bills in their states. Will our "Wimpy Kid" Governor ever find the moral courage to do the same? There is no reason to believe that this craven coward will do so.
First, Indiana's GOP governor vetoes bill banning transgender girls from female sports in schools, citing 'unanswered questions':
Indiana Gov. Eric Holcomb, a Republican, struck down a bill on Monday that would have banned transgender girls from competing in femalesports at school — making him an outlier in a party that has passed similar laws in nearly a dozen states.
In a letter addressing his decision, Holcomb wrote that the bill "leaves too many unanswered questions." He also challenged the need for state intervention.
"It implies that the goals of consistency and fairness in competitive female sports are not currently being met," Holcomb said. "After thorough review, I find no evidence to support either claim even if I support the overall goal."
The governor also noted that the bill would probably face legal challenges. Holcomb referenced a lawsuit filed in federal court before the measure was introduced that involved a middle school forbidding a transgender male student from playing on boys' sports teams, among other alleged discrimination.
"Any bill brought forward should address the issues raised in these lawsuits," Holcomb wrote.
(With a Republican majority in the state House and Senate, Indiana legislators could still override the veto.)
Republican Gov. Doug Burgum of North Dakota vetoed a similar bill last April, citing reasons similar to those Holcomb noted in his letter and adding that there has "not been a single recorded incident of a transgender girl attempting to play on a North Dakota girls' team."
Then, Utah governor becomes latest to veto transgender sports ban:
Utah Gov. Spencer Cox vetoed a ban on transgender students playing girls' sports on Tuesday, becoming the second Republican governor to overrule state lawmakers who have taken on youth sports in a broader culture war over how Americans view gender and sexuality.
Cox joins Indiana Gov. Eric Holcomb, who vetoed a statewide ban on Monday. Holcomb said Indiana's Legislature had not demonstrated that transgender kids had undermined fairness in sports.
"I struggle to understand so much of it and the science is conflicting. When in doubt however, I always try to err on the side of kindness, mercy and compassion," Cox wrote in a letter to Utah legislative leaders.
[In Utah] there are four transgender players out of 85,000 who are competing in school sports after being ruled eligible by the state's high school athletic association. There are no public concerns about competitive advantages. Only one competes in girls' sports.
"Four kids who are just trying to find some friends and feel like they are a part of something. Four kids trying to get through each day," Cox said in the letter explaining his veto, in which he cited suicide rates for transgender youth. "Rarely has so much fear and anger been directed at so few. I don't understand what they are going through or why they feel the way they do. But I want them to live."
Banning transgender kids from competition, their advocates argue, would have little impact on sports but would send a wider, deeply painful message to already vulnerable kids that they don't belong in an important piece of American school culture.
In Utah, the ban was introduced less than four hours before lawmakers were set to adjourn for the year[.]
[M]inutes after the veto, legislative leaders announced they would convene lawmakers on Friday to further consider the bill and discuss overriding the veto. To succeed, they'll need support from two-thirds of lawmakers, which means they'll have to sway some who voted against the ban in the final hours before the Statehouse adjourned for the year.