Are the Senate Judiciary Committee confirmation hearings for Judge Amy Coney Barrett beginning on Monday going to become a "COVID-19 super-spreader event"?
Judge Barrett tested positive for COVID-19 in summer but has since recovered. Judge Barrett was administered a COVID-19 test following the "COVID-19 super-spreader event" for her at the White House two weeks ago.Barrett's test results reportedly came back negative.
"She is following CDC guidance and best practices, including social distancing, wearing face coverings, and frequently washes hands," deputy White House press secretary Judd Deere told the Post, referring to the Centers for Disease Control and Prevention.
Oh really? Because Judge Barrett and her family, and everyone else in attendance at that "COVID-19 super-spreader event" for her at the White House were not following any of these CDC guidelines. Stop lying to everyone.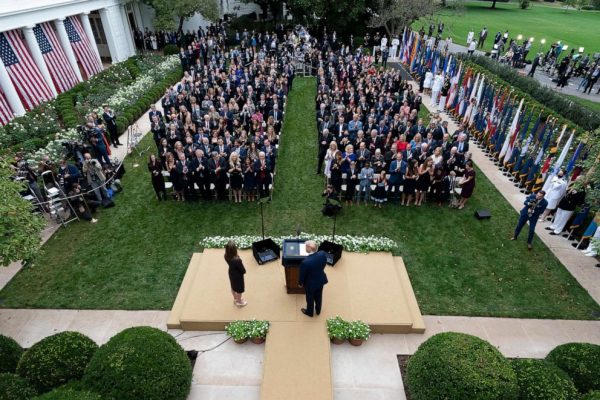 Two Republican senators in attendance at the "COVID-19 super-spreader event" for Judge Barrett, Sens. Mike Lee of Utah and Thom Tillis of North Carolina announced they'd tested positive — just days after attending the "COVID-19 super-spreader event" for Judge Barrett. Two GOP senators test positive for Covid-19, potentially jeopardizing Barrett confirmation vote.
The chairman of the Senate Judiciary Committee, Senator Lindsey "Stonewall" Graham, may also have been infected with COVID-19, but this little prick is refusing to get tested (an infected person can be asymptomatic but also be shedding the virus). Lindsey Graham Refuses COVID Test:
Sen. Lindsey Graham, who chairs the Senate Judiciary Committee set to consider President Trump's Supreme Court nominee next week, refused on Friday to be tested for the coronavirus, AFP reports:
Graham's move prompted the debate with Jaime Harrison to be scrapped, with separate interviews of the candidates conducted instead.
But the issue could prove to be a critical one in Washington.
Graham is expected to preside in person over next week's hearings on the confirmation of conservative Judge Amy Coney Barrett to fill the Supreme Court seat made vacant by the death last month of liberal justice Ruth Bader Ginsburg.
Should Graham test positive and be forced into 10 days or more of quarantine, that could postpone the hearings, something Republicans have fiercely opposed.
Nate Silver: "The reason Lindsey Graham won't get tested despite having been exposed to many COVID+ people is because if he reveals a positive test and has to quarantine the Amy Coney Barrett nomination could get scuttled. There is no other logical reason."
Reminder: 10 of the Judiciary Committee's 22 members are age 68 or older. Democrat Dianne Feinstein and Republican Chuck Grassley are both 87.
AFP contines:
Feinstein and other Democrats on the panel penned a letter to Graham, 65, saying he is putting Barrett and the senators at "serious risks" by holding the hearing, especially without mandatory testing for participants.
"We urge you against unsafely moving forward with these hearings while no clear testing regime is in place to ensure that they do not become another super-spreader of this deadly virus," wrote the Democrats.
One of the signatories was Senator Kamala Harris, who is Democratic nominee Joe Biden's vice presidential running mate.
So Lindsey Graham is willing to risk spreading COVID-19 to his Senate colleagues because packing the Supreme Court is more important to him than the health and safety of his Senate colleagues.
His Senate colleagues ought to get together and beat the snot out of this little prick … a sort of going away present before he loses his seat to Jaime Harris in November.