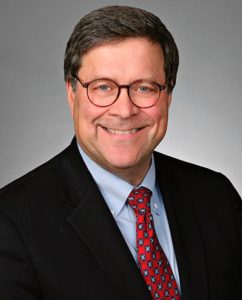 William P. Barr, who faces a Senate Judiciary Committee confirmation hearing this week, should not be confirmed by the Senate due to his past and present sins against the rule of law and constitutional democracy.
Past Sins
William Barr was previously the Attorney General under President George H. W. Bush when he advocated that the president issue a blanket pardon to everyone charged in the Iran-Contra Affair just as independent prosecutor Lawrence Walsh was focused on obstruction of justice by President Bush himself. Barr thus was an architect of the cover-up of the Iran-Contra Affair in which no one was ever brought to justice for their crimes, establishing the perverse precedent that IOKIYAR. See, Bush Pardons 6 in Iran Affair, Aborting a Weinberger Trial; Prosecutor Assails 'Cover-Up' (December 24, 1992):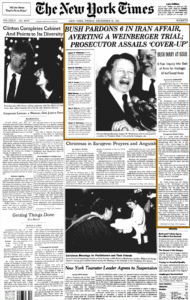 Six years after the arms-for-hostages scandal began to cast a shadow that would darken two Administrations, President Bush today granted full pardons to six former officials in Ronald Reagan's Administration, including former Defense Secretary Caspar W. Weinberger.
Mr. Weinberger was scheduled to stand trial on Jan. 5 on charges that he lied to Congress about his knowledge of the arms sales to Iran and efforts by other countries to help underwrite the Nicaraguan rebels, a case that was expected to focus on Mr. Weinberger's private notes that contain references to Mr. Bush's endorsement of the secret shipments to Iran.
In one remaining facet of the inquiry, the independent prosecutor, Lawrence E. Walsh, plans to review a 1986 campaign diary kept by Mr. Bush. Mr. Walsh has characterized the President's failure to turn over the diary until now as misconduct.
Decapitated Walsh Efforts
But in a single stroke, Mr. Bush swept away one conviction, three guilty pleas and two pending cases, virtually decapitating what was left of Mr. Walsh's effort, which began in 1986. Mr. Bush's decision was announced by the White House in a printed statement after the President left for Camp David, where he will spend the Christmas holiday.
Mr. Walsh bitterly condemned the President's action, charging that 'the Iran-contra cover-up, which has continued for more than six years, has now been completed.'
Mr. Walsh directed his heaviest fire at Mr. Bush over the pardon of Mr. Weinberger, whose trial would have given the prosecutor a last chance to explore the role in the affair of senior Reagan officials, including Mr. Bush's actions as Vice President.
Mr. Walsh hinted that Mr. Bush's pardon of Mr. Weinberger and the President's own role in the affair could be related. For the first time, he charged that Mr. Weinberger's notes about the secret decision to sell arms to Iran, a central piece of evidence in the case against the former Pentagon chief, included 'evidence of a conspiracy among the highest ranking Reagan Administration officials to lie to Congress and the American public.'
The prosecutor charged that Mr. Weinberger's efforts to hide his notes may have 'forestalled impeachment proceedings against President Reagan' and formed part of a pattern of 'deception and obstruction.' On Dec. 11, Mr. Walsh said he discovered 'misconduct' in Mr. Bush's failure to turn over what the prosecutor said were the President's own 'highly relevant contemporaneous notes, despite repeated requests for such documents.'
The notes, in the form of a campaign diary that Mr. Bush compiled after the elections in November 1986, are in the process of being turned over to Mr. Walsh, who said, 'In light of President Bush's own misconduct, we are gravely concerned about his decision to pardon others who lied to Congress and obstructed official investigations.'
* * *
Throughout the deliberations, Mr. Bush consulted with Attorney General William P. Barr and Brent Scowcroft, the national security adviser, who had sat on a Presidential review panel that examined the affair in early 1987.
In lengthy Oval Office meetings in the last week, Mr. Bush and his advisers, none of whom offered a sharp dissent, discussed how to balance their desire to grant a pardon with their realization that such an act would almost certainly provoke hostility.
In the end, Mr. Bush's advisers decided he could surmount his critics by expressing, as did in his statement, his willingness to make public additional documents about the affair, like his statement to the prosecutors and Mr. Weinberger's notes.
Rachel Maddow asked the relevant question about William Barr on Thursday's show:
Is it really possible that the Senate is about to confirm someone whose most notable achievement in public office is that he was the architect of the last time a major criminal presidential scandal was shut down with blanket pardons for everyone?
Present Sins
William Barr holds an expansive view of the imperial presidency and extra-constitutional views, not supported at law, that a president is not accountable for crimes committed while president.
Worse, Barr effectively lobbied for the attorney general position by submitting an unsolicited memo to Trump attacking the Special Counsel's Russia investigation and asserting his extra-constitutional views on the powers of the presidency, playing to an audience of one: the authoritarian despot loving Donald Trump. Trump Will Nominate William P. Barr as Attorney General:
President Trump on Friday said he intended to nominate William P. Barr, who served as attorney general during the first Bush administration from 1991 to 1993, to return as head of the Justice Department.
"He was my first choice since Day 1," Mr. Trump told reporters as he walked from the White House to a helicopter for a trip to Kansas City, Mo. [An obvious lie.]
Mr. Trump's focus on Mr. Barr, who supports a strong vision of executive powers, had emerged over the past week following the ouster last month of Jeff Sessions as attorney general and the turbulent reception that greeted his installation of Matthew G. Whitaker as the acting attorney general.
Mr. Barr has criticized aspects of the Russia investigation, including suggesting that the special counsel, Robert S. Mueller III, hired too many prosecutors who had donated to Democratic campaigns. Mr. Barr has defended Mr. Trump's calls for a new criminal investigation into his 2016 opponent, Hillary Clinton, including over a uranium mining deal the Obama administration approved when she was secretary of state.
"There is nothing inherently wrong about a president calling for an investigation," Mr. Barr told The New York Times last year. "Although an investigation shouldn't be launched just because a president wants it, the ultimate question is whether the matter warrants investigation."
Mr. Barr added then that he saw more basis for investigating the uranium deal than any supposed conspiracy between Mr. Trump's associates and Russia. "To the extent it is not pursuing these matters, the department is abdicating its responsibility," he said.
Norman L. Eisen, who served as special counsel for ethics and government overhaul under President Barack Obama, predicted that Mr. Barr would be vigorously vetted because of what he saw as blots on Mr. Barr's record, including his push for scrutiny of the mining deal, involving a company called Uranium One.
Mr. Barr "has put forward the discredited idea that Hillary Clinton's role in the Uranium One deal is more worthy of investigation than collusion between Trump and Russia," Mr. Eisen wrote in a text message. "That is bizarre. And he was involved in the dubious George H.W. Bush end of term pardons that may be a precedent for even more illegitimate ones by Trump."
Barr is an acolyte of the Bush-Cheney regime's Unitary Executive Theory and the Imperial Presidency.
In July 1989, shortly after his appointment to the Office of Legal Counsel, Mr. Barr sent an apparently unsolicited 10-page memo to top agency and department lawyers across the executive branch urging vigilance in pushing back against ways in which Congress might try to intrude on what he saw as the rightful powers of the president. It covered topics such as "attempts to gain access to sensitive executive branch information" and efforts to limit a president's power to fire a subordinate official without a good cause.
"It is important that all of us be familiar with each of these forms of encroachment on the executive's constitutional authority," Mr. Barr wrote. "Only by consistently and forcefully resisting such congressional incursions can executive branch prerogatives be preserved."
Years later, in 2005, after the leaking of a secret George W. Bush administration memo blessing the torture of terrorism detainees despite anti-torture laws and treaties, Neil Kinkopf, a Georgia State law professor who worked in the Office of Legal Counsel during the Clinton administration, pointed back to Mr. Barr's 1989 memo as a precursor to the torture memo's vision of unfettered executive power.
"Never before had the Office of Legal Counsel, known as the O.L.C., publicly articulated a policy of resisting Congress," Mr. Kinkopf wrote in a Legal Affairs essay. "The Barr memo did so with belligerence, staking out an expansive view of presidential power while asserting positions that contradicted recent Supreme Court precedent."
He added, "Bridging a 15-year gap, the Barr memo provides the theoretical and strategic foundations for the torture memo."
[A]t a 1990 symposium, Mr. Barr invoked a constrained understanding of lawmakers' ability to cut off funds for government actions they oppose, declaring that "Congress cannot use the appropriations power to control a presidential power that is beyond its direct control."
And when issues of war power came up — like Mr. Bush's 1989 invasion of Panama, the 1990-91 Persian Gulf War or the 1992 deployment of troops to Somalia — Mr. Barr repeatedly told Mr. Bush that he could deploy American troops without specific prior authorization from Congress.
* * *
[A]t a 1997 panel discussion on the independent counsel law, Mr. Barr criticized the statute and expressed concern about using the criminal justice system to prosecute high-level executive branch officials over minor offenses, saying such conduct should be checked by politics.
Top Senate Republicans emerged Wednesday from meetings with attorney general nominee William Barr insisting that if confirmed, he would not hinder Robert Mueller III's investigation of the Trump campaign's Russia ties, despite previous statements blasting the probe for looking into whether President Donald Trump attempted to obstruct justice. GOP senators promise Barr wouldn't touch Mueller's investigation if confirmed:
"Based on what I heard, he has a high opinion of Mr. Mueller, believes Mr. Mueller is doing a professional job, will do a professional job and be fair to the president and the country as a whole," Senate Judiciary Committee Chairman Lindsey Graham, R-S.C., told reporters, adding that Barr sees "no reason for Mr. Mueller to stop doing his job and is committed to allowing Mr. Mueller to finish."
Anyone who believes anything that Lindsey Graham says at this point is a damned fool. No one has debased himself more than Lindsey Graham in becoming a Trump apologist in Congress. (His friend John McCain must be turning over in his grave).
Barr's previous public statements about the Mueller probe have become a sticking point for Senate Democrats, who question whether he will be truly impartial in overseeing the investigation. Chief among Democratic lawmakers' concerns is a memo Barr wrote last year blasting the Mueller investigation's focus on whether President Trump attempted to obstruct justice, in particular when he fired FBI Director James Comey. Some Democrats have pressed for Barr to recuse himself over that memo, as well as opinion pieces he wrote defending Comey's termination and pressing the Justice Department to further investigate Hillary Clinton.
Democrats also want Barr to explain his view of presidential pardons, out of concern that Trump may move to pardon his former campaign chairman Paul Manafort or other associates caught in Mueller's investigation, the staffer said.
But thus far, Democrats have not had an opportunity to interview Barr – and it is unclear if all of those who wish to will have the opportunity before his confirmation process begins in earnest next week.
"William Barr's refusal to meet with Democratic senators on the Judiciary Committee is entirely unprecedented and unacceptable," Blumenthal said in a statement. "The Department of Justice's attempt to excuse this gross break in the norms by citing a 'truncated schedule' is galling when they are the ones who have rushed it. My Republican colleagues should share my outrage at this appalling violation of the Senate's independent authority."
Senator Mark Warner (D-VA) has taken the position that Trump 'should withdraw' his attorney general nomination. Barr definitely should not be confirmed by the Senate. It would be a travesty of justice.
Contact Senators Kyrsten Sinema and Martha McSally and demand that they vote no to confirm William Barr.
---
Support volunteer citizen journalism at the Blog for Arizona with a donation today. Your secure contribution keeps the Blog online and sustains a free press in Arizona.
---