It didn't look good for the Cubbies after they dropped two games in the friendly confines of Wrigley Field and went down 3-1 in the Series. But they eked out a win in game 5, and the bats came alive in Cleveland in  game 6.
Now the entire season comes down to one game, Game 7, winner take all. One for the ages. WORLD SERIES 2016: CHICAGO CUBS FORCE GAME 7 AGAINST CLEVELAND INDIANS, WINNER TO MAKE HISTORY: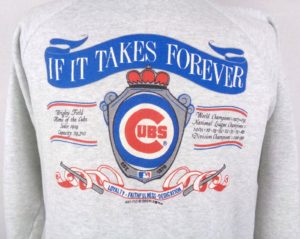 One more game. For everything. Either a 108-year World Series championship drought will come to an end, or another that's lasted 68 years. Hysteria for one fan base, more heartbreak for the other. Cubs vs. Indians in a winner-take-all Game 7. As it should be.
"It's just correct and apt that we'd go seven games," Chicago manager Joe Maddon said.
Addison Russell hit a grand slam and tied a Series record with six RBIs, and Chicago took advantage of a huge early misplay in Cleveland's outfield as the Cubs, their offense finally revving, throttled the Indians 9-3 on Tuesday night in Game 6 to push this tense tug-of-war between baseball's two longest title drought holders to the limit.
Baseball fans started lining up outside Progressive Field before 11 a.m. Wednesday to get inside for the last game of the World Series.
The Cubs tweeted a light-hearted note fans might send to their bosses if they are a bit distracted Wednesday.
Other fans shamelessly flew the "W" at Progressive Field Tuesday night and hope to do the same Wednesday night.
"We're sitting in the bleachers, but we'll make it up here with that 'W.' We'll make it," one fan said.
"One more win. That's all we need. We died in San Diego. Almost faded in San Francisco. With Bartman in 2003 we lost. But tomorrow we're going to win the World Series!" another fan said.
I used to have a version of the T-shirt pictured above for years. I wore it out before the Cubs could win a Series.
Fingers crossed! Game 7 starts at 5 p.m. tonight.
Go Cubbies! Fly the W!