Vice President Mike Pence has not ruled out an effort to invoke the 25th Amendment and wants to preserve the option in case President Donald Trump becomes more unstable, a source close to the vice president says.
The source said there is some concern inside Pence's team that there are risks to invoking the 25th Amendment or even to an impeachment process, as Trump could take some sort of rash action putting the nation at risk.
I'm sorry, but an armed insurrection against the United States government is not enough for you, Mikey?
What about the fact that Trump set you up to be hanged by his "white riot" MAGA red cap thugs? Trump winds up DC protesters: 'If Mike Pence does the right thing, we win the election':
At a "Stop the Steal" rally in Washington, D.C., Trump egged on thousands of supporters who were demanding that the 2020 election be overturned.
"What an absolute disgrace that this could be happening to our Constitution," Trump opined. "And I hope Mike is going to do the right thing. I hope so."
"Because if Mike Pence does the right thing, we win the election," he continued. "All he has to do — this is from the number one or certainly one of the top constitutional lawyers in our country. He has the absolute right to do it. We're supposed to protect our country, support our country, support our Constitution and protect our Constitution."
Trump added: "All Vice President Pence has to do is send it back to the states to recertify and we become president and you are the happiest people."
"I just spoke to Mike and I said, 'Mike, that doesn't take courage. What takes courage is to do nothing,'" Trump asserted. "And then we're stuck with a president who lost the election by a lot and we have to live with that for four more years. We're just not going to let that happen."
When Mike Pence did his constitutional duty in perfunctorily presiding over the certification of the Electoral College vote, Trump's MAGA red cap thugs became enraged that he did not do as their "Dear Leader" had just demanded. 'Hang Mike Pence!' Trump supporters intended to execute vice president during Capitol riots:
Some of President Donald Trump's supporters apparently intended to kidnap Vice President Mike Pence and execute him if he didn't overturn their election loss.
The president's supporters stormed into the U.S. Capitol on Wednesday, as Pence presided over the congressional certification of Joe Biden's election win, and video captured some of them threatening to execute the vice president — who Trump had singled out in a speech just minutes before they burst into the building.
"Hang Mike Pence, hang Mike Pence," the crowd chanted as alarms sounded after the mob broke into the Capitol.
Photographs show some rioters carrying flex cuffs used as restraints by law enforcement and a gallows set up outside the Capitol, and the vice president was taken to safety, along with lawmakers, congressional staffers and reporters, after the president's supporters broke in.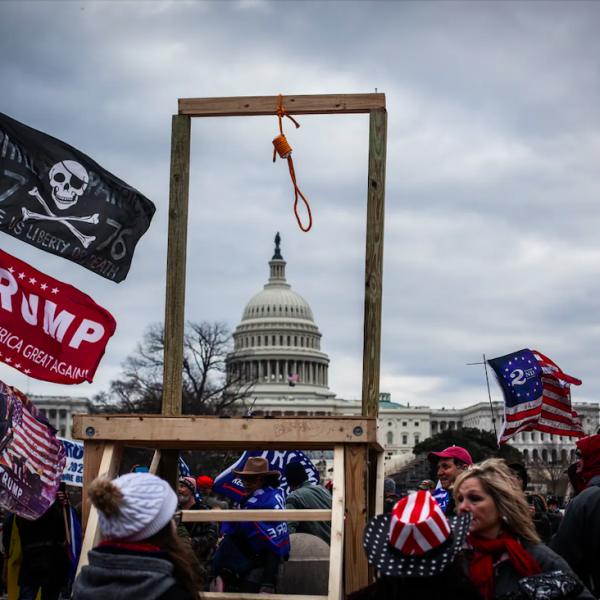 "I heard at least 3 different rioters at the Capitol say that they hoped to find Vice President Mike Pence and execute him by hanging him from a Capitol Hill tree as a traitor," reported Reuters photographer Jim Bourg. "It was a common line being repeated. Many more were just talking about how the VP should be executed."
Capitol Hill reporter Andrew Feinberg said the rioters were looking for Pence, Senate Minority Leader Chuck Schumer House Speaker Nancy Pelosi — whose office was ransacked by the president's supporters.
I heard at least 3 different rioters at the Capitol say that they hoped to find Vice President Mike Pence and execute him by hanging him from a Capitol Hill tree as a traitor. It was a common line being repeated. Many more were just talking about how the VP should be executed. https://t.co/fxHREouEWF

— Jim Bourg (@jimbourg) January 8, 2021
A Trump supporter who spoke to local news outlet CBS17 said the crowd in D.C. turned violent after hearing reports that Pence would not help the president overturn his election loss.
"People got news on their phone that Mike Pence said he is not going to object to these seven states, and he was going to accept the electoral college that promotes [President-elect Joe] Biden," she explained. "That is when everybody got really upset and that's when they started storming."
Yahoo News and multiple news outlets reported, Trump reportedly didn't bother checking on Pence after unleashing a violent mob that rampaged through the Capitol shouting 'Where's Mike Pence?':
President Donald Trump put hardly any effort into checking up on Vice President Mike Pence and his family's safety after inciting a violent mob that swarmed the US Capitol, a source close to Pence told CNN.
Pence, who's president of the Senate, was at the Capitol with his wife Karen Pence, daughter Charlotte, and brother, GOP Rep. Greg Pence of Indiana, to president over the Electoral College certification – a generally ceremonial, perfunctory affair.
Ahead of the Capitol siege on Wednesday, Trump repeatedly pressured Pence to do something he did not have unilateral authority to do: overturn the election result before a joint session of Congress.
During the chaos, some of the rioters could be heard screaming, "where's Mike Pence?"according to the source close to the vice president who spoke to CNN.
"Was [Trump] concerned at all that an angry mob that he commanded to march on the Capitol might injure the vice president or his family?" the source said, going on to say that Trump and his allies made Pence a "scapegoat" for his 2020 loss.
"Rudy, Meadows and their teams have been trying to set up the vice president to take the fall as opposed to admitting they laid out false hope in all of this," the source told CNN, referring to the president's personal attorney Rudy Giuliani and White House Chief of Staff Mark Meadows.
* * *
Meanwhile, as the Capitol building was overwhelmed by the pro-Trump mob, Trump attacked his own vice president via Twitter [further inciting violence against his Vice President.]
"Mike Pence didn't have the courage to do what should have been done to protect our Country and our Constitution," Trump said, going after Pence for not adhering to his impossible demands, furthering inciting violence against Pence.
Later in the day, the vice president's chief of staff, Marc Short, said that Trump banned him from the White House.
Senator Ben Sasse (R-NE), said senior White House officials told him that the president was "excited" and "delighted" by the riot he was watching on his television. Republican senator: White House aides say Trump was "delighted" as Capitol was stormed:
"I don't have any idea what was in his heart about what he wanted to happen once they were in the Capitol, but he wanted there to be chaos," Sen. Ben Sasse (R-NE) said, during an interview with conservative radio host Hugh Hewitt Friday morning.
"And I'm sure you've also had conversations with other senior White House officials, as I have," Sasse continued. "As this was unfolding on television, Donald Trump was walking around the White House confused about why other people on his team weren't as excited as he was as you had rioters pushing against Capitol Police trying to get into the building."
Sasse added: "He was delighted."
This account generally coincides with other reporting, sourced to anonymous White House aides, about how Trump responded to his supporters' actions, and why he took so long to tell them to "go home." (Though an adviser who spoke to New York magazine's Olivia Nuzzi said that Trump disliked the optics of the mob, viewing them as "low class.")
No doubt Trump would have been "excited" and "delighted" had his MAGA red cap thugs succeeded in taking members of the House and Senate hostage, and had hanged Vice President Mike Pence and likely House Speaker Nancy Pelosi, next in line for presidential succession.
The Washington Post reports, FBI focuses on whether some Capitol rioters intended to harm lawmakers or take hostages:
FBI agents are trying to determine whether some who stormed the U.S. Capitol on Wednesday intended to do more than cause havoc and disrupt the certification of President-elect Joe Biden's victory, and they are sifting through evidence to see whether anyone wanted to kill or capture lawmakers or their staffers, according to people familiar with the investigation.
Some rioters, for instance, were photographed carrying zip ties, a plastic version of handcuffs, and one man was arrested allegedly carrying a pistol on the Capitol grounds.
"We're not looking at this as a grand conspiracy, but we are interested in learning what people would do with things like zip ties," said a law enforcement official, who, like others, spoke on the condition of anonymity to discuss the investigation.
No photos or videos that have surfaced so far suggest any of the individuals with zip ties tried to take hostages. One possibility being pursued by investigators is that some who burst into the building may be current or former law enforcement officers, or current and former military personnel, people familiar with the investigation said.
Some who participated in the larger pro-Trump protest this week do work in law enforcement.
* * *
[A]uthorities also found suspected pipe bombs outside the headquarters of the Democratic National Committee and the Republican National Committee, and they arrested the owner of a truck they said was spotted nearby with 11 molotov cocktails inside. The FBI is still searching for the person who left the suspected pipe bombs.
ABC News adds, FBI posts photo of person who placed suspected pipe bombs outside DNC, RNC:
The FBI has shared a photo of the person responsible for placing the suspected explosive devices outside the Republican National Committee and Democratic National Committee Wednesday, prior to the U.S. Capitol protests.
On Thursday night, the FBI tweeted a photo of the suspect and posted a reward of up to $50,000 "for information leading to the location, arrest, and conviction of the person(s) responsible for the placement of suspected pipe bombs in Washington, D.C. on January 6, 2021."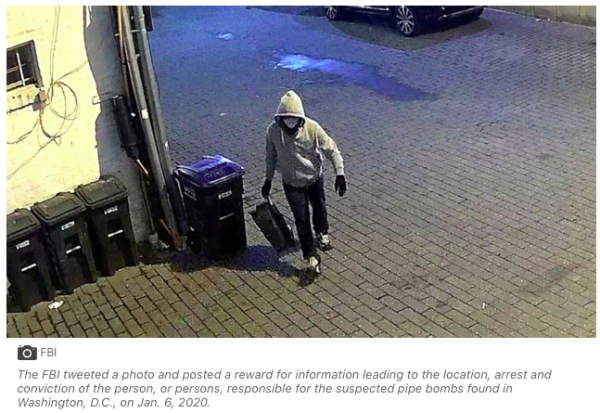 ABC News then obtained an exclusive photo of the suspected explosive device found outside the RNC, which is located just a couple blocks away from the Capitol.
A federal law enforcement source told ABC News that the suspected pipe bombs were indeed active, and U.S. Capitol Police confirmed that the devices could have caused "great harm."
"The USCP Hazardous Materials Response Team determined that both devices were, in fact, hazardous and could cause great harm to public safety," police said in statement.
* * *
The FBI is is still seeking information on those involved in the siege, and on Thursday night tweeted photos of some of the pro-MAGA protesters, asking the public for help in identifying them.
The Post continues:
Adding to the investigation's urgency, Twitter on Friday noted that plans for future armed protests have begun circulating online, including a proposed second attack on the U.S. Capitol and assaults on state government buildings Jan. 17. [Twitter wrote: "Plans for future armed protests have already begun proliferating on and off-Twitter, including a proposed secondary attack on the US Capitol and state capitol buildings on January 17, 2021."] Officials cautioned that there may be a variety of motives among those who broke into Congress, and they said that a key part of their investigation is determining whether any individuals or groups had planned in advance or were coordinating in the moment to commit violence against individual politicians. Others may simply have been caught up in the moment and committed rash, unplanned crimes, officials said.
UPDATE: According to NBC News, there has been discussion on social media about coming back to Washington, DC, on January 17 and January 20, the day of President-elect Joe Biden's inauguration.
Reuters reports, U.S. Capitol siege emboldens motley crew of extremists:
As most Americans recoiled in horror at scenes of rioting and chaos in the U.S. Capitol on Wednesday, some right-wing and anti-government extremists saw the violence as the fulfillment of a patriotic duty or opportunity to advance their agenda.
Among the inspired was Mike Dunn, a 20-year-old follower of the "boogaloo" anti-government movement, whose adherents anticipate a revolution toppling the federal government or a second U.S. civil war.
Dunn, who lives in Virginia, said three or four groups of loyalists under his command helped storm the Capitol this week amid a motley mix of rioters who supported President Donald Trump's attempts to overturn the results of the November presidential election. While most "boogaloos" are libertarians who largely oppose Trump, Dunn said the group embraced the moment to strike against the government.
The mob swarmed the home of the U.S. House of Representatives and Senate, succeeding in temporarily interrupting a formal vote to confirm Democratic President-elect Joe Biden's victory.
Dunn's hope is that the incident – which resulted in five deaths – will trigger more actions in the months ahead. He said his group would seek to advance its own agenda by participating at protests and other events with those angry over Trump's loss, even if they held other beliefs.
Dunn said boogaloos would be "working overtime" to advance their cause. When asked whether boogaloos had planned to attack the Capitol, he responded: "Just know there is more to come."
* * *
[T]he mob's strike at the symbolic heart of the U.S. government suggests that Trump's baseless claims of election fraud may have unified a broader coalition of extremists who could pose a threat again when Biden takes office on Jan. 20 and into his four-year term in office, experts said.
Far-right groups have praised the siege in encrypted chat rooms and defended the participants as "patriots" on social media. Experts tracking protests expected actions in Texas and the Pacific Northwest in coming weeks, as well as around the inauguration in Washington. But turnout for those events remains unclear as Trump on Thursday finally conceded defeat and said he will be leaving office.
A NEW COALITION
Protesters who gathered at the Capitol building on Wednesday included some of the most extreme elements of the president's base, including white nationalists, militia groups and QAnon conspiracy theorists, according to Devin Burghart, executive director of the Institute for Research and Education on Human Rights, which tracks extremism.
The mix of ideologies have been drawn together in recent weeks by "Stop the Steal" protests in cities across the country, pro-Trump efforts that seek to overturn the results of the presidential election, Burghart said.
"They formed this kind of new coalition and have been holding rallies virtually nonstop ever since the defeat," he said.
* * *
The Federal Bureau of Investigation and U.S. Department of Homeland Security issued memos last year warning that threats by domestic extremists would likely increase around the election.
Alleged domestic violent extremists in the United States killed 48 people in 2019 – more than in any year since the 1995 Oklahoma City bombing, according to a DHS report released in October.
Trump has faced criticism during his presidency for failing to take seriously the threat posed by far-right extremists in particular. Following a deadly 2017 rally organized by white supremacists and white nationalists in Charlottesville, Virginia, where a woman was killed, Trump blamed "many sides" for the violence. On Wednesday, amid intense pressure to disperse the Washington mob, he told his supporters in a video posted to social media to "go home," adding, "We love you. You're very special."
The right-wing, white nationalist and militia groups that participated in the Capitol siege have not tended to coordinate in the past, due in part to infighting and clashing personalities, according to Amy Cooter, a senior sociology lecturer at Vanderbilt University who has studied extremist groups for a decade.
But Wednesday's spectacle, which brought them together in Washington, might inspire them to try to work more closely in the future, Cooter said.
Biden's inauguration stands out as a possible target for disruptive or violent protests, but any new Biden policies that deal with race and gender equity could also trigger actions, she said.
'THE FIRST SHOT'
Tom O'Connor, a former FBI special agent, said he worries that far-right extremists and people who embrace conspiracy theories will feel that the Capitol attack represents "the first shot" in a broader war. He said lone actors may feel increasingly "victimized by the continued beat of the drum of conspiracies which will cause them to act out violently in a plethora of potential actions."
Enrique Tarrio, the Florida-based leader of the right-wing Proud Boys, told Reuters on Thursday that he would not broadly denounce people who entered the Capitol building during riots a day earlier, calling it "a form of protest."
Tarrio is under a court order to stay away from Washington following his arrest there Monday for destruction of property and possession of two firearm magazines. He said he did not participate in the siege.
Tarrio said the Proud Boys did not have plans to reconvene for Biden's inauguration later this month, but would be active during the Democrat's presidency.
"You're definitely going to see more of us," he told Reuters.
Vice President Mike Pence is guarded by Secret Service agents, no doubt in a secret secure location where Donald Trump and his private army of MAGA red hat thugs cannot find him or do him harm. Trump's domestic terrorists are threatening more violence in the coming days and weeks on his behalf. Mike Pence has a duty to protect the American people against further domestic terrorism.
WTF is this craven coward waiting for? Invoke the 25th Amendment now.