There were no note takers allowed at Donny and Vlad's first date, with only the principals (Trump, Putin), their foreign ministers (Tillerson, Lavrov), and translators for each side present. The Trump-Putin Bromance Is Back On. So there is no official record or transcript of what was actually said in this meeting (well, maybe the Russians have a recording). Both men, known to be world-class liars, are free to claim whatever they want in an effort to spin their first date.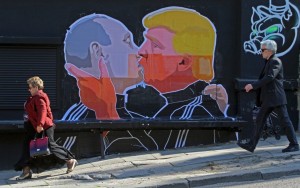 Our always insecure egomaniacal Twitter-troll-in-chief was so enamored with the man who engaged in a cyber war against the United States to hack our U.S. election for the purpose of making him president — "Oh Vlad, you bad boy! You really shouldn't have! But thank you! It's lovely" — that he says he wants to continue dating.  'Time to Move Forward' on Russia, Trump Says, as Criticism Intensifies:
President Trump's account of his lengthy and closely scrutinized closed-door meeting with Mr. Putin on the sidelines of theGroup of 20 summit meeting came in a series of Twitter posts the morning after he had returned from the gathering in Hamburg, Germany. They appeared to be an attempt to move beyond the controversy after Moscow characterized the election discussion as a meeting of minds rather than a showdown between the American president and his Russian counterpart.
* * *
On Sunday, it appeared that Mr. Putin had to some degree succeeded in doing just that, after Mr. Trump's refusal to answer questions about the encounter essentially ceded the narrative to Mr. Putin.

Mr. Trump broke with tradition and declined to hold a news conference at the end of the G-20 summit meeting, instead sending three top officials to brief a small group of reporters on Air Force One as he was returning on Saturday to Washington. None of them would address the claims of Mr. Putin and Sergey V. Lavrov, the Russian foreign minister, that Mr. Trump had seemed satisfied with Mr. Putin's denial of involvement in the hacking.
Mr. Trump's tweets on Sunday did little to dispel the notion that he had backed down on the election meddling issue. He characterized his position as an "opinion" and asserted that he was prepared to team with Moscow — which United States intelligence agencies say carried out a large-scale effort to interfere with American democracy last year, and will try to again — on forming an "impenetrable Cyber Security unit" to thwart future breaches.
"I strongly pressed President Putin twice about Russian meddling in our election," Mr. Trump said in one post. "He vehemently denied it. I've already given my opinion."
* * *
President Trump tried without success on Sunday to put the matter of Russia's election meddling behind him, insisting that he had "strongly pressed" President Vladimir V. Putin on the matter twice in a private meeting last week and declaring that it was "time to move forward."
But if Mr. Trump believed his willingness to raise the election interference directly with Mr. Putin would quiet questions about whether he could be trusted to stand up to Moscow — an issue that has shadowed his presidency — he grappled instead on Sunday with the reality that the meeting might have raised more suspicions than it quelled.
Lawmakers in both parties said Mr. Trump had appeased the Russian president by failing to insist that he was responsible for the breach or threaten any consequences, and empowered him by appearing willing to partner on a cybersecurity effort to prevent future incursions.
"You are hurting your ability to govern this nation by forgiving and forgetting and empowering," Senator Lindsey Graham, Republican of South Carolina, said of Mr. Trump, calling his meeting with Mr. Putin "disastrous."
"The more he talks about this in terms of not being sure, the more he throws our intelligence communities under the bus, the more he's willing to forgive and forget Putin, the more suspicion," Mr. Graham added in an interview on NBC's "Meet the Press." "And I think it's going to dog his presidency until he breaks this cycle."
* * *
Mr. Trump's highlighting of the potential cybersecurity initiative with Moscow — which he backed away from hours later saying on Twitter that  it would never happen — prompted derision from Republicans and Democrats who said Russia was the last country the United States should trust on such matters.
"I am sure that Vladimir Putin could be of enormous assistance in that effort, since he's doing the hacking," Senator John McCain, Republican of Arizona and the chairman of the Armed Services Committee, said on CBS's "Face the Nation."
Representative Adam B. Schiff, Democrat of California and the ranking member of the House Intelligence Committee, called the idea "dangerously naïve."
"I don't think we can expect the Russians to be any kind of a credible partner in some cybersecurity unit," he said on CNN's "State of the Union." "If that's our best election defense, we might as well just mail our ballot boxes to Moscow."
Also over the weekend there was this report from the New York Times, Trump Team Met With Lawyer Linked to Kremlin During Campaign:
Two weeks after Donald J. Trump clinched the Republican presidential nomination last year, his eldest son arranged a meeting at Trump Tower in Manhattan with a Russian lawyer who has connections to the Kremlin, according to confidential government records described to The New York Times.
The previously unreported meeting was also attended by Mr. Trump's campaign chairman at the time, Paul J. Manafort, as well as the president's son-in-law, Jared Kushner, according to interviews and the documents, which were outlined by people familiar with them.
While President Trump has been dogged by revelations of undisclosed meetings between his associates and Russians, this episode at Trump Tower on June 9, 2016, is the first confirmed private meeting between a Russian national and members of Mr. Trump's inner circle during the campaign. It is also the first time that his son Donald Trump Jr. is known to have been involved in such a meeting.
Representatives of Donald Trump Jr. and Mr. Kushner confirmed the meeting after The Times approached them with information about it. In a statement, Donald Jr. described the meeting as primarily about an adoption program. The statement did not address whether the presidential campaign was discussed.
Donny Jr., also a Twitter-troll, is a world-class liar like his old man as well. It's a Trump family value. The Times follows up its report today with this reporting, Trump's Son Met With Russian Lawyer After Being Promised Damaging Information on Clinton:
President Trump's eldest son, Donald Trump Jr., was promised damaging information about Hillary Clinton before agreeing to meet with a Kremlin-connected Russian lawyer during the 2016 campaign, according to three advisers to the White House briefed on the meeting and two others with knowledge of it.
The meeting was also attended by his campaign chairman at the time, Paul J. Manafort, and his son-in-law, Jared Kushner. Mr. Manafort and Mr. Kushner recently disclosed the meeting, though not its content, in confidential government documents described to The New York Times.
The Times reported the existence of the meeting on Saturday. But in subsequent interviews, the advisers and others revealed the motivation behind it.
The meeting — at Trump Tower on June 9, 2016, two weeks after Donald J. Trump clinched the Republican nomination — points to the central question in federal investigations of the Kremlin's meddling in the presidential election: whether the Trump campaign colluded with the Russians. The accounts of the meeting represent the first public indication that at least some in the campaign were willing to accept Russian help.
While President Trump has been dogged by revelations of undisclosed meetings between his associates and the Russians, the episode at Trump Tower is the first such confirmed private meeting involving his inner circle during the campaign — as well as the first one known to have included his eldest son. It came at an inflection point in the campaign, when Donald Trump Jr., who served as an adviser and a surrogate, was ascendant and Mr. Manafort was consolidating power.
It is unclear whether the Russian lawyer, Natalia Veselnitskaya, actually produced the promised compromising information about Mrs. Clinton. But the people interviewed by The Times about the meeting said the expectation was that she would do so.
When he was first asked about the meeting on Saturday, Donald Trump Jr. said that it was primarily about adoptions and mentioned nothing about Mrs. Clinton.
But on Sunday, presented with The Times's findings, he offered a new account. In a statement, he said he had met with the Russian lawyer at the request of an acquaintance from the 2013 Miss Universe pageant, which his father took to Moscow. "After pleasantries were exchanged," he said, "the woman stated that she had information that individuals connected to Russia were funding the Democratic National Committee and supporting Mrs. Clinton. Her statements were vague, ambiguous and made no sense. No details or supporting information was provided or even offered. It quickly became clear that she had no meaningful information."
He said she then turned the conversation to adoption of Russian children and the Magnitsky Act, an American law that blacklists suspected Russian human rights abusers. The 2012 law so enraged President Vladimir V. Putin of Russia that he halted American adoptions of Russian children.
"It became clear to me that this was the true agenda all along and that the claims of potentially helpful information were a pretext for the meeting," Mr. Trump said.
Two people briefed on the meeting said the intermediary was Rob Goldstone, a former British tabloid journalist and the president of a company called Oui 2 Entertainment who has worked with the Miss Universe pageant. He did not immediately respond to messages seeking comment.
Mark Corallo, a spokesman for the president's lawyer, said on Sunday that "the president was not aware of and did not attend the meeting."
Donald Trump appears to suffer under the delusion that as long as he himself did not directly participate in collusion, he is insulated from charges that his family members and campaign staff colluded with the Russians. So he is willing to throw any of them under the bus. He obviously does not understand how a conspiracy charge operates. He should ask the mafia bosses he used to pal around with who are now serving time in federal prison on conspiracy charges to educate himself.
Lawyers for Mr. Kushner referred to their statement a day earlier, confirming that he voluntarily disclosed the meeting but referring questions about it to Donald Trump Jr. Mr. Manafort declined to comment. In his statement, Donald Trump Jr. said he asked Mr. Manafort and Mr. Kushner to attend, but did not tell them what the meeting was about.
Political campaigns collect opposition research from many quarters but rarely from sources linked to foreign governments.
* * *
On Sunday morning on Fox News, the White House chief of staff, Reince Priebus, described the Trump Tower meeting as a "big nothing burger."
"Talking about issues of foreign policy, issues related to our place in the world, issues important to the American people is not unusual," he said.
But Representative Adam B. Schiff of California, the leading Democrat on the House Intelligence Committee, one of the panels investigating Russian election interference, said he wanted to question "everyone that was at that meeting."
"There's no reason for this Russian government advocate to be meeting with Paul Manafort or with Mr. Kushner or the president's son if it wasn't about the campaign and Russia policy," Mr. Schiff said after the initial Times report.
Ms. Veselnitskaya, the Russian lawyer invited to the Trump Tower meeting, is best known for mounting a multipronged attack against the Magnitsky Act.
The adoption impasse is a frequently used talking point for opponents of the act. Ms. Veselnitskaya's campaign against the law has also included attempts to discredit the man after whom it was named, Sergei L. Magnitsky, a lawyer and auditor who died in 2009 in mysterious circumstances in a Russian prison after exposing one of the biggest corruption scandals during Mr. Putin's rule.
Ms. Veselnitskaya's clients include state-owned businesses and a senior government official's son, whose company was under investigation in the United States at the time of the meeting. Her activities and associations had previously drawn the attention of the F.B.I., according to a former senior law enforcement official.
Ms. Veselnitskaya said in a statement on Saturday that "nothing at all about the presidential campaign" was discussed at the Trump Tower meeting. She recalled that after about 10 minutes, either Mr. Kushner or Mr. Manafort left the room.
She said she had "never acted on behalf of the Russian government" and "never discussed any of these matters with any representative of the Russian government."
The Trump Tower meeting was disclosed to government officials in recent weeks, when Mr. Kushner, who is also a senior White House aide, filed a revised version of a confidential form required to obtain a security clearance.
* * *
Mr. Manafort, the former campaign chairman, also recently disclosed the meeting, and Donald Trump Jr.'s role in organizing it, to congressional investigators who had questions about his foreign contacts, according to people familiar with the events. Neither Mr. Manafort nor Mr. Kushner was required to disclose the content of the meeting.
* * *
Because he does not serve in the administration and does not have a security clearance, Donald Trump Jr. was not required to disclose his foreign contacts. Federal and congressional investigators have not publicly asked for any records that would require his disclosure of Russian contacts.
But in an interview with The Times in March, he denied participating in any campaign-related meetings with Russian nationals. "Did I meet with people that were Russian? I'm sure, I'm sure I did," he said. "But none that were set up. None that I can think of at the moment. And certainly none that I was representing the campaign in any way."
That was a lie.
In addition to her campaign against the Magnitsky Act, Ms. Veselnitskaya represents powerful players in Russia. Among her clients is Denis Katsyv, the Russian owner of Prevezon Holdings, an investment company based in Cyprus. He is the son of Petr Katsyv, the vice president of the state-owned Russian Railways and a former deputy governor of the Moscow region. In a civil forfeiture case in New York, the Justice Department alleged that Prevezon had helped launder money linked to the $230 million corruption scheme exposed by Mr. Magnitsky by putting it in real estate and bank accounts. Prevezon recently settled the case for $6 million without admitting wrongdoing.
Ms. Veselnitskaya and her client also hired a team of political and legal operatives in the United States. The team included Rinat Akhmetshin, an émigré to the United States who once served as a Soviet military officer and who has been called a Russian political gun for hire. Fusion GPS, a consulting firm that produced an intelligence dossier that contained unverified allegations about Mr. Trump, was also hired to do research for Prevezon.
The status of Special Counsel Robert Mueller's investigation into the Trump-Putin cmapaign is unknown, but he has assembled a veteran team of prosecutors and agents to dig into any possible collusion. They clearly have their work cut out for them.