This coming Thursday, August 6, is the 50th anniversary of the Voting Rights Act of 1965, one of the most consequential pieces of legislation in American history.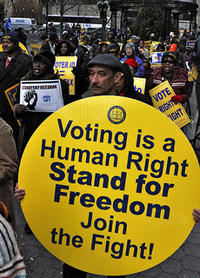 When the U.S. Supreme Court gutted the coverage section, Section 4 of the Act, in 2013 in Shelby County v. Holder, Chief Justice Roberts wrote that Congress remained free to try to impose federal oversight on states where voting rights were at risk, but must do so based on contemporary data.
The Tea-Publican controlled Congress has failed to act on this suggestion from the Court, preferring the status quo of a gutted Voting Rights Act, followed by the largest number of voting restrictions enacted by GOP states since the Jim Crow era.
A bipartisan bill introduced by Reps. Jim Sensenbrenner (R-Wis.) and John Conyers (D-Mich.) in response to the Supreme Court ruling that struck down Section 4 of the law in 2013 was introduced in 2014, and again earlier this year (The Sensenbrenner-Conyers bill, known as the Voting Rights Amendment Act). Bill To Restore Voting Rights Act Gets Another Bipartisan Push. A separate Democratic bill has also been introduced. Democrats Unveil Bill To Restore Gutted Voting Rights Act (The Voting Rights Advancement Act of 2015, which goes beyond the version introduced in 2014).
Democrats have made a push for Congress to vote on these bills on the eve of the anniversary of the Voting Rights Act, but Tea-Publican congressional leaders have refused.