With normalization of relations with Cuba, that leaves only one Communist country in the world with which the U.S. does not maintain relations: the "Hermit Kingdom" of North Korea (Democratic People's Republic of Korea).
This will be a tougher nut to crack. North Korea is a cult of personality, with its citizens required to worship Dear Leader, Li'l Kim (Kim Jong-un), as a demigod.
Pick up a copy of Without You, There Is No Us, by Suki Kim for a description of life in North Korea. This place is a seriously effed up hell hole.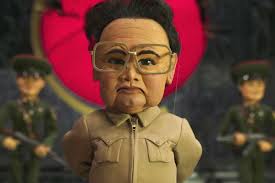 It turns out that Li'l Kim and the Hermit Kingdom are sensitive to criticism. I mean really sensitive to any criticism. Remember the controversy over Team America: World Police (2004) by South Park creators  Trey Parker, Matt Stone,and Pam Brady? Li'l Kim's old man, Kim Jong-il was parodied in the film, and North Korea sought to ban the film in the Czech Republic. The Czechs told them to go pound sand.
Ten years later his son Li'l Kim apparently has ratcheted things up a notch, or two, or three.
Sony Pictures scheduled a Christmas day release of a supposed action-comedy, The Interview, in which the plot is that two producers of a popular celebrity tabloid TV show are recruited by the CIA to assassinate Kim Jong-un during an interview, after they discover the North Korean dictator Kim Jong-un is a fan of their show.
Yeah, assassinations are hilarious. Not at all inappropriate, especially on Christmas day.
North Korea is alleged to have hired some computer hackers to hack into Sony Pictures. The hackers call themselves the Guardians of Peace (probably because the Guardians of the Galaxy was already taken) and recently threatened violence against movie theater patrons if the movie was released.
Riiight. Somehow I can't imagine computer hackers wanting to get their hands dirty with actual physical acts of terrorism and a risk of being captured or killed. That's not their thing. This is the equivalent of someone phoning in a bomb threat. Nevertheless, Sony Pictures panicked and pulled the movie from release.