The Political Calendar is posted on Sundays. Please send us notice of your political events prior to the Sunday before your event (7 days would be most helpful). See the calendar icon in the right-hand column of the blog page for easy access to the calendar.
The Citizens Clean Elections Debates are posted in the calendar. Here is the Debate Schedule (.pdf). For more information go to Citizens Clean Elections Commission. Watch video replays of the debates at View Candidate Debates.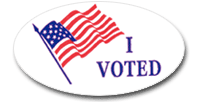 Have you filled out your Early Vote-by-Mail Ballot, remembered to sign and date the affidavit envelope, and return it by mail? If not, DO IT NOW! The last day to request an early mail-in ballot is this Friday.
If you have not yet volunteered your time in this election, now is the time for you to contact your local Democratic Party office to volunteer for Get Out The Vote (GOTV) Ballot Chase door-to-door canvasses and phone banks.
Note: For Event Notices and Fliers, click on the "Calendar" button in the menu options above.
Political Calendar for the Week of October 19, 2014:
Sunday, October 19, 2:00 p.m.: Foothills Forum presents Inequality For All (registration), at St. Phillips in The Hills Episcopal Church, 4440 N. Campbell Road, Tucson, for a screening of this informative film, with a roundtable discussion to follow. Free of Charge. Please RSVP.
Monday, October 20, Noon: Democrats of Greater Tucson luncheon, Dragon's View Restaurant (400 N. Bonita, South of St. Mary's Road between the Freeway and Grande Avenue, turn South at Furr's Cafeteria), buffet lunch costs $8.50. Featured speakers are Mark Hannah and Michael Duran, candidates Pima Community college Governing Board. Next Week: Warren Tenney and Sharon Megdal, candidates for reelection to the Central Arizona Water Conservation District Board.