First, a preface.
The NRA's largest 2016 outlay was the $30.3 million it spent in support of Donald Trump. "[T]he NRA's investment, which was more than any other outside group, paid for a slew of ads that directly targeted the same voters who propelled Trump to victory."
Now the FBI is investigating whether a top Russian banker with ties to the Kremlin illegally funneled money to the National Rifle Association to help Donald Trump win the presidency. FBI investigating whether Russian money went to NRA to help Trump: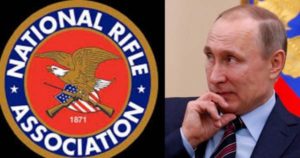 FBI counterintelligence investigators have focused on the activities of Alexander Torshin, the deputy governor of Russia's central bank who is known for his close relationships with both Russian President Vladimir Putin and the NRA, the sources said.
It is illegal to use foreign money to influence federal elections.
It's unclear how long the Torshin inquiry has been ongoing, but the news comes as Justice Department Special Counsel Robert Mueller's sweeping investigation of Russian meddling in the 2016 election, including whether the Kremlin colluded with Trump's campaign, has been heating up.
Disclosure of the Torshin investigation signals a new dimension in the 18-month-old FBI probe of Russia's interference.
* * *
Investigators for three congressional committees probing Russia's 2016 operations also have shown interest in Torshin, a lifetime NRA member who has attended several of its annual conventions. At the group's meeting in Kentucky in May 2016, Torshin spoke to Donald Trump Jr. during a gala event at the group's national gathering in Kentucky in May 2016, when his father won an earlier-than-usual NRA presidential endorsement.
So there's this aside.