The Senate voted on Thursday to end debate on fast-track trade legislation, handing a significant victory to President Obama and moving the bill a step closer to passage. Senate takes key step toward passing fast-track for Obama: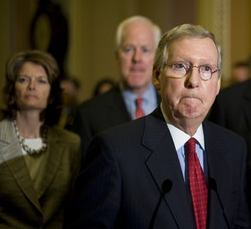 Senators voted 62-38 on the bill, which will allow the president to send a sweeping Asia-Pacific trade deal to Congress for an up-or-down vote, and prevent the deal from being amended by Congress.
 * * *
Thirteen Democrats in total voted to end debate on a measure that badly divided Obama from his party.
Sens. Patty Murray (Wash.), Maria Cantwell (Wash.) and Jeanne Shaheen (N.H.) were among the final Democratic yes votes.
[The other Democrats who voted to end debate were Sens. Tom Carper (Del.), Claire McCaskill (Mo.), Dianne Feinstein (Calif.), Heidi Heitkamp (N.D.), Chris Coons (Del.), Mark Warner (Va.), Michael Bennet (Colo.), Tim Kaine (Va.), Bill Nelson (Fla.) and Ron Wyden (Ore.), the ranking member of the Senate Finance Committee.]
They appeared to vote after Cantwell secured an agreement from Senate Majority Leader Mitch McConnell (R-Ky.) to allow a vote in June on renewing the Export-Import Bank's charter.
The bank, which has come under criticism from conservative Republicans, helps finance U.S. investments meant to increase trade, and has been supported in the past by Boeing.
Senate Republicans say votes on amendments and final passage of fast-track are unlikely before Friday. They are hoping to wrap up the trade package Friday afternoon.