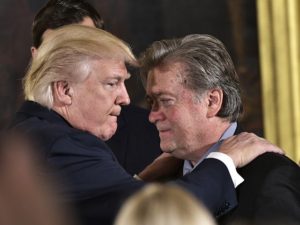 After being fired by the White House and losing his "wingnut welfare" from his enablers Robert and Rebekah Mercer, as well as his white nationalist propaganda platform at Breitbart News, it appears that Stephen Bannon may have decided to take his revenge on his boy Donald Trump.
Bannon reportedly is cooperating by fully answering all of the Special Counsel's questions in more than 20 hours of interviews this past week, while he is stonewalling Devin Nunes's House Intelligence Committee so that Nunes cannot provide his testimony to the Trump White House.
Well played, sir. "Revenge is a dish best served cold," likely in a tell-all book.
NBC News reports that Steve Bannon met with Mueller multiple times over the past week:
Steve Bannon, who served as President Donald Trump's chief strategist, was interviewed by special counsel Robert Mueller over multiple days this week, NBC News has learned from two sources familiar with the proceedings.
Bannon spent a total of some 20 hours in conversations with the team led by Mueller, who is investigating possible collusion between the Trump campaign and Russia as well as other issues that have arisen around the probe.
Bannon left his job as a senior White House adviser in August and returned to a leadership role at Breitbart, the right-wing news site based out of Washington. But he fell out of favor with the site's financial backers, the Mercer family, after criticizing the president and his family in "Fire and Fury," a book about the Trump administration published earlier this year by author Michael Wolff.