The so-called "Trump rally" in the stock market is fueled by unbridled greed and giddy anticipation of a huge corporate welfare tax cut package "even as Washington remains gridlocked and evidence of any real pickup in the economy is scarce."
The market impact of the Trump presidency is based so far on prospects — with details and congressional dynamics left to be sorted out — rather than accomplishments.
* * *
The cause for bullishness on Tuesday was Mr. Trump's new call to cut the corporate tax rate to 15 percent, from 35 percent — deficits, perhaps, be damned.
As the Sith Lord Dick Cheney infamously reminded us, "Reagan proved that deficits don't matter" to Republicans when they are in the White House.
The New York Times reports, Trump's Tax Plan: Low Rate for Corporations, and for Companies Like His: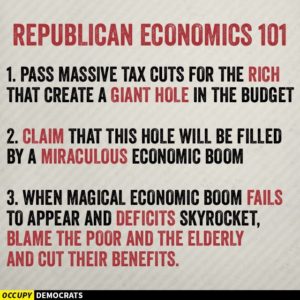 President Trump plans to unveil a tax cut blueprint — not an actual bill — on Wednesday that would apply a vastly reduced, 15 percent business tax rate not only to corporations but also to companies that now pay taxes through the personal income tax code — from mom-and-pop businesses to his own real estate empire, according to several people briefed on the proposal.
The package would also increase the standard deduction for individuals, providing a modest cut for middle-income people and simplifying the process of filing tax returns, according to people briefed on its details. That proposal is opposed by home builders and real estate agents, who fear it would diminish the importance of the mortgage interest deduction. And it is likely to necessitate eliminating or curbing other popular deductions, a politically risky pursuit.
As of late Tuesday, the plan did not include Mr. Trump's promised $1 trillion infrastructure program, two of the people said, and it jettisoned a House Republican proposal to impose a substantial tax on imports, known as a border adjustment tax, which would have raised billions of dollars to help offset the cost of the cuts [and to pay for Trump's folly of a border wall.]