Mark your calendars for April 29. The current funding of the federal government expires on April 28, and Congress is set for a two-week recess just before that deadline.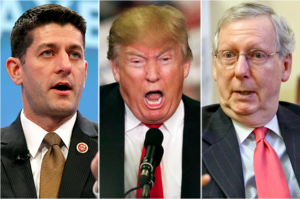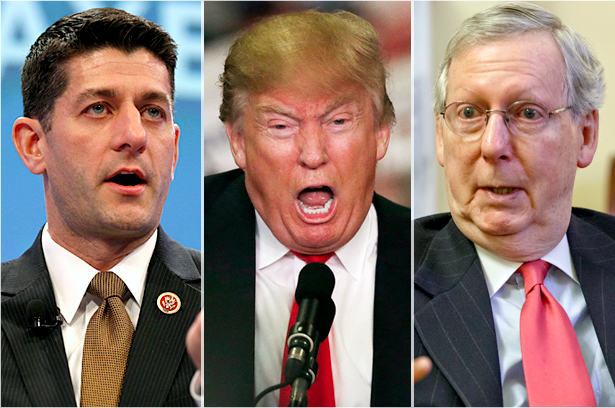 The Tea-Publican "Gang That Couldn't Shoot Straight," fresh off their "Obamacare repeal" clusterfuck last week, now have a month to figure out how to avoid yet another GOP government shutdown.
Good luck with that.
Remember, the Septuagenarian Ninja Turtle, Senate Majority Leader Mitch McConnell, vowed: No more government shutdowns while he runs the Senate. But the Turtle Man does not run the House, where the GOP's alleged boy genius, "the zombie-eyed granny starver from the state of Wisconsin" and Ayn Rand fanboy Paul Ryan — the architect of the "Obamacare repeal" clusterfuck last week — is in charge. Boy genius just realized last week that "doing big things is hard." No shit Sherlock. Ryan proved that he cannot herd cats in his own caucus, i.e., the GOP House Freedom Caucus. This is not likely to turn out well.
The New York Times reports, Congress Is Headed to Another Government Funding Showdown:
Ten legislative days before funding would run out, Congress is heading toward another government shutdown showdown. Democrats and many Republicans are likely to refuse to go along with President Trump's request for money for a border wall financed in part by outsize cuts to medical research. And the specter of another fight over Planned Parenthood funding is also in the offing.
Fresh off the humiliating implosion of the House health care bill last week, Mr. Trump appears to be courting another disaster. To help pay for his proposed border wall with Mexico, Mr. Trump has asked for $18 billion in cuts to domestic programs, including many with broad bipartisan support, and an additional $1.5 billion in funding as part of the spending bill to keep the government open for the rest of the year.
Among the cuts, the administration proposes a $1.2 billion reduction to the National Institutes of Health — which Congress enriched last year in a bill to fight cancer and other diseases — and a $2.8 billion reduction to the State Department and other international operations as well as major cuts in grants for transportation, infrastructure and housing.
Democrats said such a plan would arrive dead at the doorstep of the Senate, and Republicans on Tuesday sounded no more enthusiastic. "We just voted to plus up the N.I.H.," said Senator John Cornyn, Republican of Texas, who has also been lukewarm on the border wall plan. "It would be difficult to get the votes to then cut it."
Senator Susan Collins, Republican of Maine, was more blunt. "I think it is too late for this year," she said about the proposed cuts, echoing several Republican colleagues. As for a border wall, which is not well supported by American voters, "that debate belongs in the next fiscal year," she said.
Congressional Republicans are desperate to avoid another legislative failure and demonstrate their ability to effectively govern with one-party control of Washington. Another fight over funding to keep the government open would do little to advance their cause.
Mr. Trump's proposals also run counter to House and Senate appropriators, who have been working in a bipartisan manner for weeks trying to come up with a series of spending bills that could be bundled together in some form to avoid a shutdown.
The spending talks also could be threatened by pledges of House Republicans to stop funding Planned Parenthood, a proposition that has little chance of success in the Senate.
For now, House Republicans are pressing ahead to attack Planned Parenthood through either a revived health care bill or a bill to overhaul the tax code, both of which would require only 51 Senate votes to pass, known as reconciliation. "We think reconciliation is the tool, because that gets it into law," Speaker Paul D. Ryan said Tuesday.
But if that process seems to lose steam — it is going to be difficult for the House to put together another health care plan or any other budget plan that would defund Planned Parenthood before next month — some House Republicans may once again wage the Planned Parenthood fight, which would spell trouble for the measure.
"There is a path to a positive outcome, which I define as a bipartisan omnibus," said Representative Nita M. Lowey of New York, the highest-ranking Democrat on the House appropriations committee, referring to a collection of appropriations bills cobbled together as one.
"It's going to require Republican leadership to reject poison-pill riders like defunding Planned Parenthood and wasting billions of dollars on a border wall," Ms. Lowey said.
The Washington Post adds, Trump's plan to avoid a government shutdown tests his fellow Republicans:
President Trump's plan to fund the government after April 28 would add to the deficit, testing GOP fiscal hawks who vigorously opposed deficit spending during the Obama administration.
Trump's Office of Management and Budget has proposed that the government spend an additional $30 billion on military operations and $3 billion more for border security for the period between April 29 and Sept. 30. The OMB has recommended $18 billion in cuts — to social and educational programs and others — to offset the new $33 billion in spending, but the changes would still widen the deficit by $15 billion.
Congress has agreed to fund the government only until April 28, and a partial government shutdown will occur on April 29 if there is not an agreement.
* * *
Many Republicans oppose raising taxes to reduce the deficit, but they have also said the deficit must be eliminated. This means Trump's new budget request forces them to make tough choices. If a bloc of Republicans won't agree to Trump's spending proposal, which increases the deficit, the spending bill won't pass the House or Senate without support from Democrats.
But Democrats have said they won't vote for a spending bill that includes new money to build a wall along the U.S. border and cuts spending for social programs [and Planned Parenthood].
If all Democrats oppose the spending bill and a bloc of Republicans refuse to vote for anything that increases the deficit, how will Trump find the votes to avoid a shutdown?
He won't.
There have been 12 government shutdowns since 1980, but there has never been a government shutdown in that period that occurred when one party controlled the White House, the House and the Senate.
The Post continues, Hill Republicans trying to avert a shutdown need Democrats — and Trump:
Congressional Republicans are working aggressively to craft an agreement intended to keep the government open past April 28, but their bid to avert a shutdown hinges on courting Democrats wary of President Trump and skirting the wrath of hard-line conservatives and Trump himself.
The murky path forward on government funding sparked unease Wednesday within the business community and at the Capitol, where Republicans speculated that Trump's request for money to build a wall along the border with Mexico and $30 billion in new defense spending may need to be delayed to avoid a shutdown.
Several Republicans said Wednesday that there is little appetite within their ranks to engage in a protracted showdown over Trump's call to begin funding a border wall in the near-term spending bill, which Democrats and some conservative Republicans oppose. And they said Trump's wishes would gravely threaten any deal.
"It would blow up the great opportunity," said Sen. Roy Blunt (R-Mo.). "I'm convinced."
Instead, leaders are hoping to put together a spending bill that can win approval from enough Democrats to render negotiations with most intransigent conservatives unnecessary. Blunt and others said it is certain they will need Democratic support: Republicans hold a 52-48 advantage in the Senate, meaning they will need at least eight Democrats to reach the 60 votes necessary to pass the spending bill in that chamber.
"We can't pass anything without them," said Sen. John Cornyn (R-Tex.), a top deputy to Senate Majority Leader Mitch McConnell (R-Ky.).
In the House, Democratic support would be critical in neutralizing any opposition from the roughly three dozen members of the conservative GOP House Freedom Caucus, many of whom have routinely opposed previous spending bills.
But for the moment, neither House nor Senate Democratic leaders have committed to supporting a spending plan.
* * *
Meanwhile, several congressional aides said that Republicans are agitated by the lack of clarity from White House officials over a strategy to avert the awkward theater of a Republican-driven shutdown on the watch of a Republican president.
It also remains unclear whether opposition from the Freedom Caucus — or from Trump himself — could derail Republicans' plans. The hard-line conservatives in the House were an enormous factor last week in the defeat of the American Health Care Act, and the fallout for Trump and House Speaker Paul D. Ryan (R-Wis.) has ruptured the chamber's dynamics and made many GOP members unsure of whether major legislation can find sufficient Republican support.
Equally unclear is the role these conservatives intend to play in the next rounds of policy and budget battles. "We're not going to have a government shutdown," Ryan said in an interview with CBS scheduled to air Thursday, according to a tweet from Norah O'Donnell.
Yeah, boy genius confidently predicted passage of his "Obamacare repeal" plan also, so what is his word worth?
Trump allies in the House said Wednesday that the president should not allow Republican leaders to shape the spending agreement and urged him to make a firm demand that the wall be funded. "Everything to do with a shutdown carries some risk, but we should take the risk because Trump has a mandate to build the wall," Rep. Steve King (R-Iowa) said.
Trump's response to any emerging deal on spending will be another significant factor, congressional aides said. If he does not support the measure, it could be in jeopardy.
* * *
The uncertainty has left top Democrats prepared for the seemingly promising spending talks to fall apart.
"It's in their hands now," Sen. Richard J. Durbin (D-Ill.), the minority whip, said in an interview.
Yet there is also room for agreement.
Democrats have said privately that they would be open to approving some spending on border security and defense, as long as it does not directly fund construction of the wall, said several Senate Democratic aides who were granted anonymity to speak about ongoing negotiations. But those funds would have to be narrowly tailored, because Senate Democrats have vowed to block any attempt to start construction on the wall.
"Senate Democrats are prepared to fight this all the way," Senate Minority Leader Charles E. Schumer (D-N.Y.) said at an event highlighting their opposition Tuesday.
Democrats "will do everything possible to make sure that U.S. taxpayer moneys do not go to build a wall," said Sen. Robert Menendez (D-N.J.), adding later: "At the end of the day, he should keep his word and make someone else pay for it — not the United States taxpayer."
Democrats also remain opposed to granting fresh funding for new hires at Immigration and Customs Enforcement, but they could support supplies for Border Patrol agents such as drones or sensors that aid enforcement, the aides said.
One option lawmakers have to keep the government open past April 28: pass a "clean," short-term resolution that holds the budget to current spending levels, although leaders in both parties said they would prefer to pass an omnibus spending bill that would allow them to make changes.
* * *
Cornyn added that the goal for now remains avoiding a shutdown — "absolutely" — and seeing if Republicans can avoid having to pass a "clean" continuing resolution that lacks new appropriations.
"I'm not there yet, but it could happen," Cornyn said of the likelihood of a clean spending measure becoming at some point next month the only legislation that could pass both chambers.
"It could happen," is the best you've got? Get ready for another GOP government shutdown.