(Permanent musical accompaniment to this post, Whoomp! There It Is)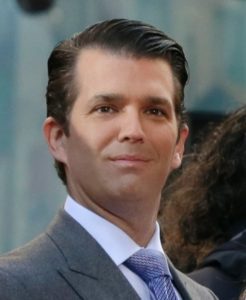 With the New York Times report Trump's Son Met With Russian Lawyer After Being Promised Damaging Information on Clinton, we have the first direct public admission against interest that the Trump campaign attempted to collude with a Kremlin-connected Russian lawyer in an effort to obtain damaging information against Hillary Clinton.
The most interesting point of the Times story is that it is sourced to five advisors inside the White House, after Trump son-in-law Jared Kushner updated his national security clearance forms to reveal yet another meeting that he "forgot" to disclose on his initial form. The Sunday Afternoon of the Long Knives.
Donald Trump Jr. has recanted his earlier denials about any such meetings, saying that he did agree to the meeting to see what dirt the Russians had on Clinton, but that they didn't deliver anything useful–instead using it as a pretext to lobby for changes to the Magnitsky Act (sanctions against Russia). When the Kremlin Says 'Adoptions,' It Means 'Sanctions'.
This was not just any Russian lawyer. As Martin Longman explains in detail at the Political Animal blog, Trump's Inner Circle Met With No Ordinary Russian Lawyer. Natalia Veselnitskaya is the lawyer for the Russian mafia:
More than that, though, she should have been seen as an attorney for murderous Russian mobsters with high-level connections to the Russian Ministry of the Interior. Simple prudence should have prevented them [Trump campaign] from getting entangled with such a person, and not just for political reasons. The potential for blackmail or violence were too high to be acceptable to a rational person.
The New York Times followed up with a third installment in its Donny Jr. series on Monday evening. Trump Jr. Was Told in Email of Russian Effort to Aid Campaign:
Before arranging a meeting with a Kremlin-connected Russian lawyer he believed would offer him compromising information about Hillary Clinton, Donald Trump Jr. was informed in an email that the material was part of a Russian government effort to aid his father's candidacy, according to three people with knowledge of the email.