The long-anticipated Department of Justice Inspector General Report, "A Review of Various Actions by the Federal Bureau of Investigation and Department of Justice in Advance of the 2016 Election," was released today. DOJ OIG Press Release (.pdf), and Full Report (download).
The New York Times reports, Comey Cited as 'Insubordinate,' but Report Finds No Bias in F.B.I. Decision to Clear Clinton: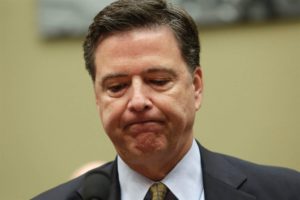 The former F.B.I. director James B. Comey was "insubordinate" in his handling of the investigation of Hillary Clinton during the 2016 presidential election, a critical Justice Department report concluded on Thursday.
But the report, by the department's inspector general, Michael E. Horowitz, does not challenge the decision not to prosecute Mrs. Clinton. Nor does it conclude that political bias at the F.B.I. influenced that decision, the officials said.
"We found no evidence that the conclusions by department prosecutors were affected by bias or other improper considerations," the report said. "Rather, we concluded that they were based on the prosecutor's assessment of facts, the law, and past department practice."
The report has been highly anticipated in Washington, not least by President Trump, who has argued that a secret coterie of F.B.I. agents rigged the investigation to help Mrs. Clinton win the presidency. The findings cite no evidence to support that [conspiracy] theory.