There is a regular pattern to Trump administration lies. First, deny everything. Then when the facts come out that the denial is a lie, deflect and attempt to shift blame to others. Finally, when more facts come out to prove the deflection is a lie, diminish the lie by admitting that "Yeah we did it, but so what? What's the big deal?" The important fact here is that every step is a lie and an effort to mislead. The truth is never seriously considered.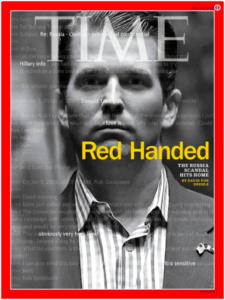 We have seen this play out with the Trump campaign's meeting with Russian operatives last June. At first, everyone denied that they ever met with any Russians. Then when the facts came out that they did, they attempted to deflect by claiming they did not know what the meeting was about beforehand and it turned out to be a "nothingburger" about Russian adoptions. Then when the facts revealed that the participants were disclosed and that the subject of the meeting was revealing dirt on Hillary Clinton, the narrative shifted to "Yeah we did it, but so what? What's the big deal?" Trump sycophants like FAUX News even went so far as to argue that collusion with the Russian government is not a crime (foreign contributions — including "in kind" contributions of opposition research — does, in fact, violate federal campaign laws).
Rinse, lather, repeat.
When the Trump campaign meeting with Russian operatives was revealed, Donald Trump Jr. issued a statement that left out key details (lies by omission) and sought to deflect with the Russian adoption cover story (lies by commission).  The Washington Post reported last week that Trump dictated son's misleading statement on meeting with Russian lawyer:
On the sidelines of the Group of 20 summit in Germany last month, President Trump's advisers discussed how to respond to a new revelation that Trump's oldest son had met with a Russian lawyer during the 2016 campaign — a disclosure the advisers knew carried political and potentially legal peril.
The strategy, the advisers agreed, should be for Donald Trump Jr. to release a statement to get ahead of the story. They wanted to be truthful, so their account couldn't be repudiated later if the full details emerged.
But within hours, at the president's direction, the plan changed.