Former crackhead (are we certain?) Mike Lindell, the MAGA/QAnon Big Lie election denier and Coup Plotter (after January 6, 2021, he handed notes to Trump which appeared to include a suggestion to invoke the Insurrection Act, and "martial law if necessary"), finally got a visit from the FBI, but only to seize his cell phone.  WTF!  This POS really needs to go to prison for a long stint.
The New York Times reports, Federal Investigation Into Colorado Clerk Reaches MyPillow's Mike Lindell:
When federal agents seized the cellphone of Mike Lindell, the founder of MyPillow, in the drive-though line of a Hardee's fast-food restaurant in Minnesota on Tuesday, it was a clear indication that the Justice Department had intensified its interest in a state case against a Colorado county clerk accused of tampering with voting machines.
Hardee's tweet references MyPillow CEO's FBI encounter at Mankato drive-thru:
Hardee's took advantage of the national attention it is receiving after MyPillow CEO Mike Lindell said he was approached by the FBI at one of their restaurants.

The fast food franchise sent out a tongue-in-cheek tweet Monday morning referencing Lindell's statement during his podcast.
Now that you know we exist… you should really try our pillowy biscuits.

— Hardee's (@Hardees) September 14, 2022
Mr. Lindell, both in interviews and on his online television show, said that the agents who took his phone had asked about his ties to Tina Peters, the clerk of Mesa County, Colo., who is facing a state indictment over an effort to obtain data from voting machines produced by Dominion Voting Systems. The Dominion machines were central to conspiracy theories about the 2020 election, and Ms. Peters is accused of engineering a scheme that she believed would prove the devices had been used to steal the race from former President Donald J. Trump.
By seizing Mr. Lindell's phone, federal investigators brought into the case one of the most prominent purveyors of pro-Trump disinformation about elections. The warrant used against him went even further, placing him on a list of what it described as several "co-conspirators."
Those people, according to a copy of the warrant, included not only Tina Peters but also Douglas Frank, an influential activist who claims to have mathematical proof that the 2020 election was stolen, and Sherronna Bishop, a former campaign manager for Representative Lauren Boebert, Republican of Colorado.
The warrant also said that investigators were seeking information about Conan Hayes, a surfer-turned-infotech expert who, according to court records and interviews, posed as an elections office employee to gain access to the voting machines.
How did they miss this guy?
If the FBI is investigating Tina Peters' breach of CO voting machines, then they're probably looking into Ron Watkins' involvement in that incident. Watkins posted sensitive voting system info to Telegram. Both Peters and Watkins appeared at Lindell's "Cyber Symposium" in 2021. https://t.co/dNKysjEFgK

— Travis View (@travis_view) September 14, 2022
QAnon influencer and failed Arizona GOP primary candidate Ron Watkins has moved to Australia, his father says. Nice try, "Q", but Australia has an extradition treaty with the U.S.
While the full scope of the inquiry remained unclear, the F.B.I. was investigating at least three federal crimes, the warrant said: identity theft, intentional damage to a protected computer and a conspiracy charge. The warrant added that prosecutors were seeking records and information about "damage to any Dominion computerized voting system" as well as other attempts to alter or manipulate the voting machines or their software.
The episode involving Ms. Peters was only one of several instances in which local officials and activists motivated by a belief in election fraud have gained access to Dominion machines in the hopes of proving their theories true. Prosecutors in Michigan and Georgia are also investigating whether data was improperly copied from machines in their states.
It remained unclear if the Justice Department was also investigating any of these other data breaches.
Late Tuesday, the F.B.I. field office in Denver confirmed that it had served Mr. Lindell with a warrant, but Deborah Takahara, a spokeswoman for the U.S. attorney's office in Denver, said the office would have no further comment.
In an interview with The New York Times on Tuesday night, Mr. Lindell said that he had been in the drive-through line at a Hardee's restaurant in Mankato, Minn., that afternoon, while returning with a friend from a duck-hunting trip in Iowa, when his vehicle was surrounded by several cars driven by federal agents. The agents, he said, presented him with the warrant for his phone and interviewed him for about 15 minutes.
In addition to his ties to Ms. Peters, he said, they also asked about an image copied from a Dominion machine in Mesa County that appeared on FrankSpeech, a website and hosting platform he operates.
Others named in the documents did not comment publicly on the F.B.I. investigation. Ms. Bishop, the former aide to Ms. Boebert, declined to directly answer when asked if she had received a warrant for her phone, writing in a text message on Tuesday, "Nothing to report here." Mr. Hayes and Mr. Frank could not be reached for comment.
Mr. Lindell protested loudly against the F.B.I.'s confiscation of his phone. "They think they're going to intimidate me," he told The Times. "That's disgusting."
He said he did not own a computer and ran his entire business off his phone. "I do everything off my phone," he said. "It's all texting or talking."
Still, since the warrant was served, Mr. Lindell has posted twice on Telegram, including a post urging his followers to "fight back" by buying more of his pillows.
Grifters gotta grift, like sharks gotta keep swimming.
Prosecutors have said Ms. Peters enlisted help from a network of activists, some of them close to Mr. Lindell. Data purported to have come from machines under her supervision was later shown at a symposium hosted by Mr. Lindell last year. Ms. Peters appeared onstage at the event.
Among the questions the F.B.I. asked Mr. Lindell, he told The Times, was whether he had paid Ms. Peters to show up at his gathering. The agents "asked if I gave her any money after the symposium," he said.
Mr. Lindell once told a local reporter that he had funded Ms. Peters's legal efforts directly. He now says that he was mistaken about his contributions and that he did not directly contribute to her defense. "I was financing everything back then," he said, referring to the various lawsuits filed in relation to the 2020 election. "I thought I'd financed hers, too."
Like this frivolous lawsuit in Arizona. Mike Lindell Bankrolls Kari Lake And Mark Finchem Lawsuit To Ban Ballot-Counting Machines In Arizona, and Court Dismisses 'Big Lie' Election Deniers 'Krazy Kari' Lake And Mark Finchem Lawsuit To Ban Ballot-Counting Machines.
UPDATE @KariLake & @RealMarkFinchem will appeal federal judge's ruling throwing out their bid to banish ballot-counting machines & use hand count for November election in just 55 days. Back story: https://t.co/8KETegHXZS https://t.co/0V6wNS07xl pic.twitter.com/Nj8tP1eaXH

— Brahm Resnik (@brahmresnik) September 15, 2022
Mr. Lindell earlier told The Times that he had funneled as much as $200,000 to her legal defense through his legal fund, the Lindell Legal Offense Fund. Ms. Peters had directed supporters to donate to that fund.
On his web TV show — which is streamed on Facebook and several other platforms — Mr. Lindell claimed that the F.B.I. agents had also asked about Mr. Frank. They wanted to know specifically, he said, whether he had ever employed Mr. Frank. Mr. Lindell said that Mr. Frank didn't work for him that "but I've helped him out a couple of times," according to the MyPillow executive's account.
In February 2021, Dominion filed a defamation lawsuit against Mr. Lindell claiming that he had repeatedly promoted "the 'Big Lie' that Dominion had stolen the 2020 election." The suit, which was filed in Federal District Court in Washington, seeks damages of more than $1 billion.
Alongside his efforts to attack Dominion, Mr. Lindell also helped to sponsor so-called Stop the Steal events in Washington after the election as well as a pro-Trump bus tour that recruited protesters for Mr. Trump's rally in the city on Jan. 6, 2021.
While the search warrant for his cellphone did not suggest that the government was directly interested at this point in anything related to his activities leading up to Jan. 6, prosecutors could, in theory, obtain that sort of material from the phone at some point in the future.
In recent days, the Justice Department has ramped up its investigation of attempts by Mr. Trump's allies to overturn the election, issuing more than 40 subpoenas with a broad reach. One of the many subjects the subpoenas are seeking information about is evidence "tending to show that there was fraud of any kind in or relating to the 2020 presidential election."
Secretary of State Katie Hobbs had some fun with this reporting at Big Lie election denier "Krazy Kari" Lake's expense.
E.J. Montini writes, Katie Hobbs got salty (if only on Twitter) and sent Kari Lake into a tizzy:
Katie Hobbs, the Democratic candidate for Arizona's governor, is running as the grown-up in the room, one of the reasons she decided not to share a debate stage with Republican Kari Lake.
But the political arena, which has never been a field of honor, is even less so in the year 2022, particularly when you factor in the mud wrestling pit that is social media.
Hobbs tends to avoid the muck her opponent wallows in.
But every now and then she slips on the galoshes and kicks up a little sludge … and my, my, my how the opposition squeals.
It's bizarre, actually.
You'd think they'd be accustomed to the mire.
Hobbs tweets about the My Pillow guy's phone
Earlier this week Hobbs' Twitter account got a little salty after news broke that the My Pillow guy, Mike Lindell, a full-time election conspiracy kook, had his phone confiscated by the FBI, which apparently is investigating a possible election security breach in Colorado having to do with individuals (like those here in Arizona) who tried to overturn valid election results.
Kari Lake, a promoter of the Big Lie, has been in the company of Lindell.
When a news article was published about Lindell, and the FBI, and the phone, Hobbs retweeted it with a photo of Lindell taking a selfie with Lake under the comment, "You mean this phone?"
You mean this phone? https://t.co/HODWB3uvvB pic.twitter.com/4GbipO0UmW

— Katie Hobbs (@katiehobbs) September 14, 2022
It's more funny than biting, even playful, but it seemed to leave a mark.
Lake, by way of her Kari Lake War Room responded with a tweet reading, "@katiehobbs celebrates the Biden administration's continued political persecution of America First Patriots. Katie is on record saying that ALL #MAGA Republicans are Neo-Nazis. Is this what she has in store for us if she ever gains power?"
America First Patriots?
You mean those [Big Lie election deniers] who spread lies about election fraud, which eventually led to an assault on the U.S. Capitol, which caused both death and destruction, and which has been followed by the arrests of more than 900 individuals with charges ranging from trespass all the way up to seditious conspiracy by members of the Oath Keepers?
Lake's pal, the Oath Keeper, weighs in
Two "proud" members of the Oath Keepers, by the way, are state Sen. Wendy Rogers and secretary of state candidate Mark Finchem, who also are prominent Lake supporters.
Finchem also apparently was stung by Hobbs' tweet. He responded in kind, tweeting, "Completely uncalled for by a lawless politician."
Reminder: Hobbs only said "You mean this phone?" This is what's completely uncalled for? A little unhinged there, fake cowboy. Accusing Hobbs of being "lawless" based upon your Big Lie election denier conspiracy theories, now THAT's "completely uncalled for."
That comment is actually funny, coming as it does from someone who was in Washington on the day of the insurrection, and in the mob, though he says he never breached the Capitol.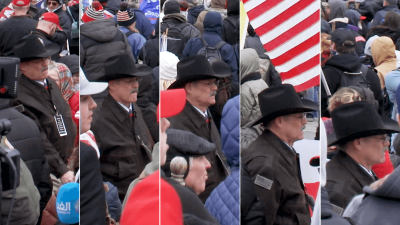 This also comes from a guy who is now saying that former Vice President Mike Pence staged a coup against Donald Trump. New Video Shows Trump's Pick to Run AZ Elections Accusing Pence of 'Coup'. (The Jan. 6 mob was chanting, "Hang Mike Pence.")