House GOP leaders found enough votes to pass a short-term CR over Democratic opposition after a deal was reached with conservatives in the House Freedom Caucus, who had threatened to oppose the bill throughout Thursday. House approves spending bill, shifting shutdown drama to Senate: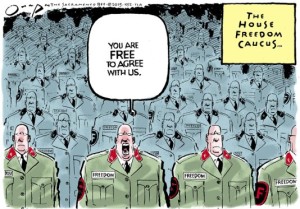 The group's chairman, Rep. Mark Meadows (R-N.C.), secured an agreement with GOP leaders to consider military spending within 10 legislative days.
Most GOP defense hawks said they would vote to avert a shutdown, despite their frustration with repeated short-term bills to fund the military.
Nearly all Democrats refused to support the legislation, which would extend funding through Feb. 16, in the absence of a solution to protect young immigrants known as "Dreamers."
* * *
The final vote was 230-197, with six Democrats voting for the measure and 11 Republicans voting against it.
The 11 Republicans who voted against the stopgap were mostly members of the Freedom Caucus, but included two Florida centrists — Reps. Carlos Curbelo and Ileana Ros-Lehtinen — who, like Democrats, are demanding a solution for immigrants brought to country as children.
Six Democrats defected to support the bill: Reps. Salud Carbajal (Calif.), Jim Costa (Calif.), Henry Cuellar (Texas), Vicente González (Texas), Josh Gottheimer (N.J.) and Collin Peterson (Minn.).
The Senate is expected to vote on a procedural motion Thursday to take up the House bill. The procedural vote is expected to be approved, but a follow-up procedural motion to move the bill to a final up-or-down vote is expected to fail and may not even clinch a simple majority as several Republicans have already voiced opposition.