Donald Trump played to nativist and racist fears in the 2016 campaign by focusing heavily on illegal immigration: "I will build a great, great wall on our southern border and I will make Mexico pay for that wall."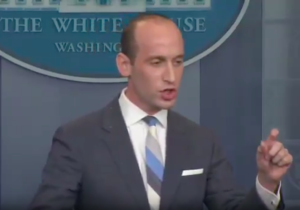 However, Trump's alt-right campaign advisors, Steven Bannon and Stephen Miller, are also opposed to legal immigration.
On Wednesday, Trump, GOP senators reintroduced a bill to slash legal immigration levels (this is a modified version of a bill submitted in February that went nowhere):
Trump appeared with Republican Sens. Tom Cotton (Ark.) and David Perdue (Ga.) at the White House to unveil a modified version of a bill the senators first introduced in February to create a "merit-based" immigration system that would put a greater emphasis on the job skills of foreigners over their ties to family in the United States.
The legislation seeks to reduce the annual distribution of green cards awarding permanent legal residence to just over 500,000 from more than 1 million.
The bill also gives a preference to those who speak English.
The bill faces dim prospects in the Senate, where Republicans hold a narrow majority and would have difficulty reaching 60 votes to fend off a filibuster. But the president's event came as the White House sought to move past a major political defeat on repealing the Affordable Care Act by pivoting to issues that resonate with Trump's core supporters.
White House alt-right advisor Stephen Miller attended the White House press briefing with Press Secretary Sarah Huckabee Sanders to explain and defend the bill, and wound up being the story with his outrageous behavior.