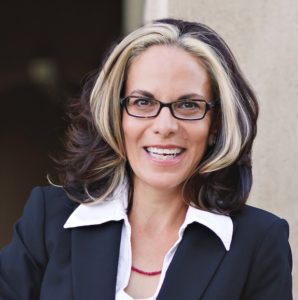 With her husband as a campaign manager and 30 volunteers at her disposal, retired 21 Year Air Force Veteran Master Sergeant and local Civic Activist Michelle Harris is seeking the LD 13 Senate Seat this November in order to make it Blue. Her potential opponent, to be determined after the August 28 Primary, may be disgraced expelled State House Member Don Shooter. This well qualified and experienced Clean Elections candidate, with a compelling message and agenda, is one of many Democrats that will help shift the balance of power from Republicans in the November Elections.
Over water, coffee, croissants, and a very huge Blueberry Muffin at Mimi's Café at Dysart and the I-10, Master Sergeant Harris enthusiastically relayed why she is the best candidate for the State Senate in LD 13 and the its residents whose territory stretches from Yuma in the South to Wickenburg in the North with parts or all of Glendale, Goodyear, Litchfield Park, Buckeye, and Avondale in between. Motivated to run because local state leaders from the district or the Corporation Commission did not take the time to address concerns in a either a timely (sewage rate increase) or any (school voucher expansion) manner, Harris wants to use the training and experience gained from her service in the Air Force to engage with all stakeholders on the needs of the district and solve problems in a consensus fashion. If she prevails this November, she will be the first Democrat in recent memory to win a legislative seat in this district.
Who is Master Sergeant Michelle Harris?
 A wife and mother, Master Sergeant Michelle Harris is a 21 Year Retired Service Air Force Veteran who has served her country all over the country and the world. She is one of many veterans across the county who are flocking to the Democratic Party Banner as new candidates for this election season (https://www.cnn.com/2018/06/30/politics/veterans-running-democrats-midterms/index.html). She feels that her military training has enabled her to develop leadership skills and the ability to form teams with a goal to address and solve problems. In her view, problems "are not partisan," and that the current Republican leadership and its inattention to the wishes of the people have forgotten that. Feeling that political labels are "meaningless," it is essential to "reach out to the people," connect with them, "let them know that you are there for them, solicit views from them (without yelling at each other), and forge solutions together." She believes she is the best candidate out there that is familiar with the issues of the district who can lead the area forward. By traveling the district and talking with potential constituents in events like campaign forums, Fourth of July events, and house parties, she has found that the top three issues for her district are Education, Infrastructure (particularly HURF-Highway User Revenue Fund), and a Drought Contingency Plan for the area and states water supply.
Michelle Harris on the Issues
 Education
 Like all the Democrats running that have been profiled, Master Sergeant Harris believes education is the key ingredient to a strong state and its economic, cultural, and social foundations. Recounting the story of how she decided to spend a year serving her country in Crete so her son could remain at a good school in Nebraska, Harris believes, along with the other Democrats running, that businesses looking to move major operations to Arizona would be swayed more by the quality of our education system than the opportunity to pay low Corporate Tax Cuts.
She believes, like all the Democrats, that education funding needs to be raised. She supports the Invest in Ed Ballot Initiative and believes more revenues need to be generated by cutting corporate tax loopholes, lessening the amount in tax credits that can go to private and parochial schools, and an excise tax on energy being sold out of state. She feels that school district boards, with guidance from the state, are the best decision makers in determining how any funding should be allocated.
She is against vouchers and believes charter schools need the same oversight as traditional public schools.
She is aghast at the debt burdens placed on students because the state will not follow its constitutional responsibilities in providing as free tuition as possible. This debt compromises our local and state economies and foundations because students, saddled with debt, may not be able to buy a house or start a family. Furthermore, she is supportive of free community college but wants the state to fully fund them first like the neglected districts in Maricopa and Pima. She feels Dreamers should be charged in-state tuition and the Koch Centers should not receive state funds.
The Economy and Good Paying Jobs
 She believes that a quality public education system along with a community college mission that trains skilled workers and a modern and well-maintained infrastructure are key to attracting businesses and growing the economy. She feels that there needs to be a new upper tax bracket to even out all the revenue the people on the lower brackets pay through the sales tax. She feels wages need to go up and businesses that invest in their workers with benefits and good compensation should be rewarded compared to those that do not.
Green Energy
 Having solar panels on her house, she feels Arizona should be at the "forefront" of solar battery research and storage and new, forward-thinking, and non-Dark Money encumbered leaders at the Arizona Corporation Commission and Legislature are needed to accomplish that end.
Infrastructure
 Roads: Highway Funds need to be better allocated. There are rural areas in her district and other parts of the state that need development and expansion.
Light Rail and Public Transportation: While her district is not immediately affected by light rail and its potential expansion, she firmly believes that bussing and van routes need to increase so people can have more opportunities to succeed.
Internet Broadband: It is a necessity to invest in increasing Internet broadband capacity in the rural areas of her district. This would help in areas such as education, finding a job, financial transactions, and health care (Tell A Doctor).
Water Supply: Need to institute conservation classes for the current and new arriving populace and strategies to conserve supply such as "watching for leaks, sprinkling maintenance, and setting timers." She may be receptive to desalination but wants to see environmental and labor impact studies first.
Health Care
 "Everybody in Arizona should have affordable access to healthcare wherever they live." "Needing a capable workforce" to steer the economy, preventive health care (physical and mental) should be emphasized, a possible buy into Medicaid should be studied and considered, and the system should ensure that the elderly are well cared for without financial burdens or risk of ruin.
Reducing Poverty and Homelessness
According to Master Sergeant Harris, there are many ways to reduce the rates of poverty. These include investments in:
Public Transportation
Health Care Affordability
Increasing Wages
Child Care
With regards to the plight of the homeless, she, being a veteran, is very sensitive to this area because many veterans, scarred from their military experiences, find themselves struggling on the streets. She feels a larger "safety net needs to be in place" and greater outreach needed because sometimes the homeless do not ask for help on their own. Some programs to help the homeless (and one option may not be applicable to a particular person) include providing stable living environments, job training, and larger investments in mental health care.
Criminal Justice Reform
 She has several ideas for criminal justice reform. First, judges should have the discretion to pass sentences based on the circumstances of the case. Furthermore, police, in addition to community police, should take a more active role in connecting with the community to develop a comfort level with greater rapport. Law Enforcement needs to be respected with police well trained and compensated. Law Enforcement officers who misuse their responsibilities with the public need to be dismissed. Finally, private prisons, with their profit motive, needs to be abolished.
Gun and School Safety
 Relaying that she had been twice deployed to Afghanistan while in the Air Force, Harris "understands the responsibility with carrying a weapon." While people have the right to own a weapon, convicted criminals, domestic abusers, and other "prohibited possessors" should not be allowed that right. She also feels gun owners should be trained on how to use the firearm. Finally, any mechanism that makes semi-automatic weapons "automatic" should be prohibited.
Extending these ideas to schools, she does not feel teachers should be armed. She favors more school counselors and support staff to detect possible problems before they manifest themselves in "reaching out to kids." She favors gun storage and security measures like safes, trigger locks, or potential new technologies like signature guns.
Border Security
 She wants to see a way for "people to come out of the shadows." If illegal aliens stay in the shadows for fear of being deported, they will be taken advantage of and may not be as likely to report criminal acts if they do occur. Illegal aliens that are law abiding and positive contributors to society should be helped but those who have committed crimes need to be deported. She feels the wall along the border is counterproductive and security measures such as unmanned aerial vehicles and drones are more flexible and effective. She also feels that it is better and more humane to make sure illegals crossing the border are safe and apprehended in good health rather than dying in the desert. She also feels that children should not be separated from their parents and it is extortion to get families to pay to reunite or for sponsors to pick up the children.
Equal Rights Amendment
 Totally supports and is surprised it is taking too long to ratify.
LGBTQ Rights
 Totally supports.
A Woman's Right to Choose
 Fully supports and feels we need a Democratic legislature to stop the "chipping away" of a woman's rights before the Supreme Court considers the issue again.
Dark Money and the War on Democracy
 She fully supports the Outlaw Dirty Money Ballot Initiative and believes this is the only way we are going to get non-Clean Election candidates to be transparent and reveal who their multimillion donors are.
She believes early voting should be expanded like all the county recorders recommended (and the Republican legislators rejected). The ballot initiative process should not be made more difficult either and she believes "the people sent a message" by supplying well over the minimum required signatures on all the progressive ballot initiatives, saying "you need to listen" to us.
Moving Forward
 Believing that local races and elected officials have the potential to affect people every day and more directly than national leaders, she encourages everyone to be active citizens and engage with their local leaders in institutions like the legislature, city councils, utility boards, school boards, and HOAS.
Master Sergeant Harris strongly encourages the people in her district to contact her and research her background and positions on her social media sites (links are below). She plans to engage voters and work hard by knocking on doors, having house parties, putting out signs, sending out personalized handwritten postcards with "personal testaments" from neighbors, and maintaining a presence on social media (phone, texting, Facebook, the web).
Michelle Harris is a very energetic and dynamic candidate that would provide a different consensus building forward-looking governing perspective that the people of LD 13 are not used to with the current conservative (and disgraced with one person) candidates competing for the nomination in the Republican primary. She is a candidate worthy of voters consideration this November
https://www.facebook.com/mh4az/
https://www.harrisforarizona.com/
https://votesmart.org/candidate/key-votes/178430/sine-kerr#.W0aNMGRKiCQ
https://blogforarizona.net/azs-worst-legislator-don-shooter-disgraces-the-ld-13-senate-race/
https://ballotpedia.org/Arizona_State_Senate_District_13
https://ballotpedia.org/Arizona_House_of_Representatives_District_13
https://statisticalatlas.com/state-lower-legislative-district/Arizona/District-13/Overview
https://www.facebook.com/mh4az/
https://www.cnn.com/2018/06/30/politics/veterans-running-democrats-midterms/index.html
https://www.azdot.gov/about/FinancialManagementServices/transportation-funding/highway-user-revenue-fund