Back in June, the morally depraved Trump administration actually argued before a Ninth Circuit Court of Appeals panel that the government is not required to give soap or toothbrushes to children apprehended at the U.S.-Mexico border and can have them sleep on concrete floors in frigid, overcrowded cells, despite the Flores settlement agreement that requires detainees be kept in "safe and sanitary" facilities. Feds Tell 9th Circuit: Detained Kids 'Safe and Sanitary' Without Soap.
On Thursday, the Ninth Circuit Court of Appeals panel ruled that migrant children must get soap and bedding, rejecting the government's appeal:
Detained migrant children must be given soap, dry clothes and clean bedding, US federal judges ruled Thursday, dismissing an appeal by the Trump administration.
The ruling by three judges at San Francisco's federal appeals court follows reports of severe overcrowding and disease-ridden cells at US detention centers.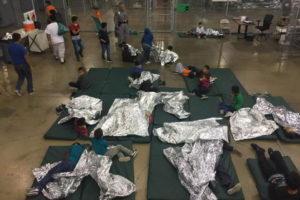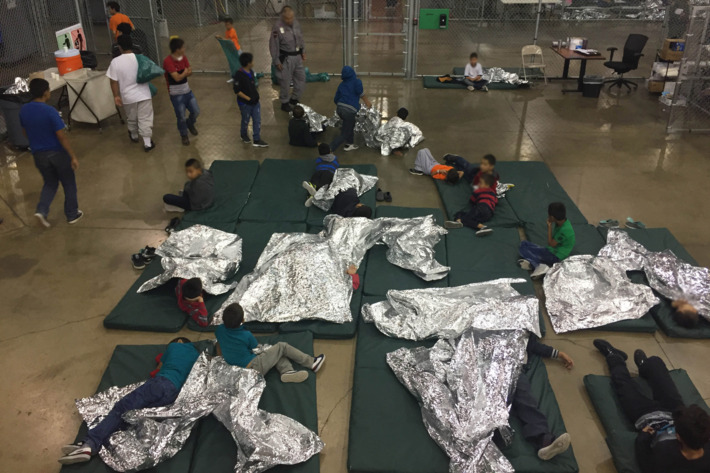 The panel found that basic hygiene items and adequate sleeping arrangements were essential under a 1997 law requiring "safe and sanitary" facilities.
In doing so, they upheld an earlier ruling by a lower court which found the government was in breach of its obligations by failing to provide these.
The Department of Homeland Security had appealed that ruling, arguing that the "safe and sanitary" law did not specify that any of these items be provided.
"We emphatically disagree," the judges said in their judgment Thursday.
"Assuring that children eat enough edible food, drink clean water, are housed in hygienic facilities with sanitary bathrooms, have soap and toothpaste, and are not sleep deprived are without doubt essential to the children's safety," they wrote.
The lower court ruling in 2017 was right to require such conditions "rather than allowing the government to decide whether to provide them," they found.
Last month, the UN human rights chief said she was "deeply shocked" by conditions under which migrant children were held at US detention centers.
"As a pediatrician, but also as a mother and a former head of State, I am deeply shocked that children are forced to sleep on the floor in overcrowded facilities, without access to adequate health care or food, and with poor sanitation conditions," Michelle Bachelet, the United Nations High Commissioner for Human Rights, said in a statement.
The ruling was hailed as a "victory" by some immigration advocates, while others have been left baffled as to why such a ruling was needed in the first place. Critis Mock Need For Court Ruling That Detained Migrant Childrn Must Get Soap and Toothepaste: 'In What World Was a Lawsuit Needed?' (Answer: Trump World, where The Cruelty Is the Point):
"In what world was a lawsuit needed to establish that?" asked Harvard Law School professor Laurence Tribe in a tweet.
* * *
The decision was celebrated as a "major victory for children in federal immigration custody" by lawyer and Director of the Immigrants' Rights Clinic at Columbia Law School Elora Mukherjee, who had been part of a group of lawyers who helped shine a light on "appalling" conditions at detention centers for migrant children.
Speaking to The New York Times, Mukherjee, who has served as an official monitor in the ongoing court case on Flores, said the ruling "guts all of those arguments" seeking to undermine the decades-old agreement. "It shows that they have no basis," she said.
Antonio Arellano, the interim executive director of Jolt Action, a Latino progressive organization based in Texas, also hailed the ruling as a "victory for everyone who believes in the humane treatment of migrant children."
Sharing Tribe's sentiment, Arellano said it was "unbelievable that our government would argue it has no responsibility to provide them basic necessities like clean water and soap in detention. That should never have been a question."
Many appeared to agree, with human rights and civil liberties attorney Jameel Jaffer, who is also the inaugural director of the Knights First Amendment Institute at Columbia University, expressing disbelief at the need for the ruling. "Imagine having to be told by a federal court that the children in your custody are entitled to toothpaste," he said.
Screenwriter Craig Engler weighed in, saying: "How is it we as a country need a court decision to force us to do this?"
What I find "unbelievable" is that self-described "good Christians," around 42% of Trump voters, support the moral depravity and abject cruelty of the Tump administration towards migrants seeking asylum, especially the young children. For them, "the cruelty is the point."