Crossposted from DemocraticDiva.com
Rule of Holes: When you're in one, stop digging.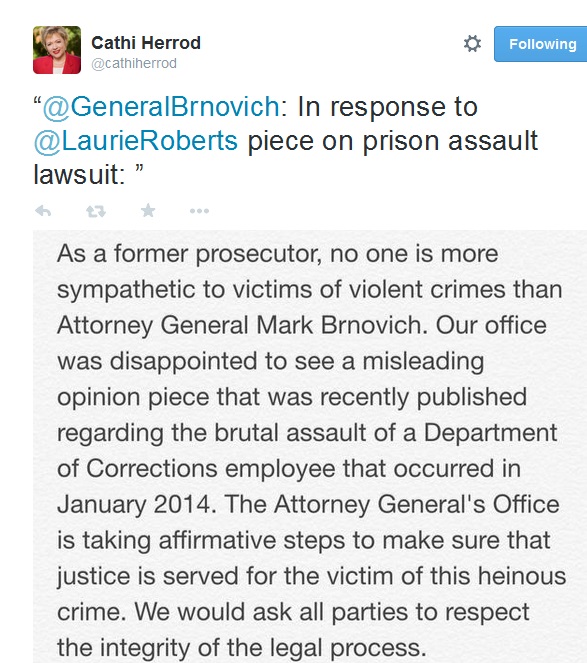 It's possible that this isn't an approving retweet by Cathi Herrod but, given her ardent support of Mark Brnovich in the election and her just being an all-around terrible person, I'd say it's a safe bet that it is.
Arizona Attorney General Mark Brnovich decided to lash out at Republic columnist Laurie Roberts by euphemistically calling her a liar ("misleading"). Roberts merely directly quoted what was in the motion to dismiss filed by his office against a lawsuit filed by a rape victim alleging shocking negligence by the state prison. Here are some exact words from the motion:
"By being placed in a classroom at the complex, the officers were not placing Plaintiff in any type of situation that she would not normally face. The risk of harm, including assault, always existed at a prison like Eyman."
Roberts wasn't even the only reporter who covered the story but Brnovich focused his ire on her for some reason. I often disagree with Laurie Roberts but there was nothing dishonest in her column and it's puzzling why Brnovich is being so recalcitrant on this instead of simply pulling the motion to dismiss and issuing a sincere apology to the victim.
Perhaps Brnovich feels he needs to display this kind of bravado as a new AG, but he really picked the wrong battle to do it on. Since the election I've spoken to more than a few people, including some Democrats who were deeply disappointed that Felecia Rotellini lost, who were hopeful that Brnovich would at least be more professional and levelheaded than his predecessor Tom Horne. If his handling of this lawsuit is any predictor, though, it does not bode well for that.