The Washington Post reported on Thursday that Paul Manafort is gone, but his business associate remains a key part of Trump's operation: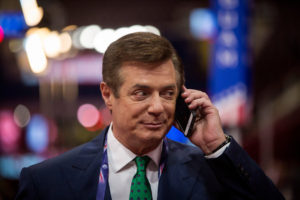 The White House on Wednesday sought to again distance itself from President Trump's former campaign chairman, Paul Manafort, who is under increasing scrutiny over his connections to Russian business interests.
But even as Trump officials downplay Manafort's role, his ­decade-long business associate Rick Gates remains entrenched in the president's operation. Gates is one of four people leading a Trump-blessed group that defends the president's agenda. As recently as last week, he was at the White House to meet with officials as part of that work.
Through Manafort, Gates is tied to many of the same business titans from Ukraine and Russia, including Oleg Deripaska, a Russian oligarch with strong ties to Russian President Vladi­mir Putin. On Wednesday, the Associated Press reported that Manafort had a multimillion-dollar contract with Deripaska between at least 2005 and 2009 that was aimed at helping the political interests of Putin.
Manafort has acknowledged the contract with Deripaska but denied that it, or any other of their dealings, had anything to do with the Russian government. In a brief interview, Gates described his work as being focused on "supporting the private equity fund started by the firm and democracy building and party building in Ukraine."
Gates also acknowledged a role in at least two recent, controversial deals involving separate Putin-connected oligarchs, including one other with Deripaska. Both led to lawsuits in which Gates was listed as a partner to Manafort, though Gates said he holds no equity interest in the firm.
Manafort's role in potential dealings with Russia gained new attention Wednesday when the AP reported that Manafort proposed in 2005 a plan to influence politics, business dealings and news coverage inside the United States, Europe and the former Soviet republics to benefit the Putin government. Gates did not join the firm until the following year.
* * *
In the mid-1990s, Manafort and Richard H. Davis, a longtime Republican political consultant, formed Davis Manafort. Gates joined the firm in 2006.
That year, the firm wooed Deripaska as a client, telling him that their goal was to set up a $200 million fund to make a series of private equity investments and acquisitions, primarily in Russia and Ukraine, according to documents in the lawsuit. The partnership making the investments was created in the Cayman Islands in 2007.
By 2014, relations between Manafort and Gates and Derispaska had soured considerably.
That year, Gates and Manafort were sued by Deripaska, who accused them in a Cayman Islands court of taking nearly $19 million intended for investments, then failing to account for the funds, return them or respond to numerous inquiries about exactly how the money was used.
At one point, attorneys for Deripaska claimed that they could not locate Manafort or Gates. The Russian tycoon hired a private investigator to track them down, according to a 2014 petition that Deripaska's attorneys filed in a Cayman Islands court seeking recovery of the money.
"It appears that Paul Manafort and Rick Gates have simply disappeared," the petition stated.
A spokeswoman for Deripaska issued a statement Wednesday in Moscow indicating that the suit may still be pending. Vera Kurochkina, the spokeswoman, said that Deripaska did not pay Manafort for Russia-related work but instead paid him for investment consulting that is "the subject of legal claims."
Manafort's attorney, Richard Hibey, did not respond to repeated requests for comment on the status of the Cayman Islands dispute.
Deripaska's ties to Putin are so close that Russia's foreign minister has asked U.S. secretary of states for more than a decade to help Deripaska secure a visa to enter the United States. According to a 2007 account in the Wall Street Journal, Deripaska had been denied admission by the Justice Department because of alleged ties to organized crime.
As recently as 2016, Russian Foreign Minister Sergei Lavrov asked then-Secretary of State John F. Kerry for assistance in getting a visa for the aluminum magnate.
In 2014, Manafort and Gates were also named in a different lawsuit alleging that they were helping a Ukrainian oligarch named Dmitry Firtash, who has ties to Putin. In attempting to put together an $850 million deal to build luxury housing on the site of the Drake Hotel in New York City, the legal complaint alleged, Manafort and Gates were investing ill-gotten gains Firtash received for an energy deal he had done with a Russian firm. That lawsuit was dismissed.
During that same time, Manafort and Gates were active in Washington promoting the policy priorities of the political party of then-Ukrainian President Viktor Yanukovych, who fled to Russia after violent street protests against him broke out in Kiev in late 2014. Between 2012 and 2014, Gates arranged introductions for two Washington lobbying firms — the Podesta Group and Mercury LLC — to represent the European Center for a Modern Ukraine.
After publication of the AP report and this Washington Post report, this happened. Rick Gates out at America First Policies over Manafort ties to Russia:
Rick Gates, the longtime deputy to President Donald Trump's former campaign chairman Paul Manafort, was forced to leave his position with a nonprofit supporting Trump this week due to his longstanding relationship with Manafort, two sources familiar with the matter told CNN.
Gates' exit from America First Policies came after the Associated Press reported this week that Manafort had sought to further Russian government interests in his work for a Russian businessman. Gates did not return CNN's requests for comment.
One administration source familiar with the matter called the departure "amicable." A second source told CNN that Gates was asked to leave after his name popped back into the news this week due to his connections to Manafort.
Gates previously served as Manafort's deputy when he was campaign chairman, and has long worked with him in the private sector, including in consulting work for foreign interests.
* * *
Gates was one of six former Trump campaign aides who joined forces after the campaign to form the nonprofit after Trump was elected president in November. Gates was one of the group's top officials alongside the Trump campaign's digital director Brad Parscale and longtime Mike Pence aide Nick Ayers, both of whom remain at the helm of the nonprofit.
The Manafort ally's departure adds to the woes the nonprofit has faced in its first months.
Despite initially expecting to draw millions of dollars in funding from the wealthy family of Bob and Rebekah Mercer, America First Policies has floundered in its opening months amid squabbles between Rebekah Mercer and Parscale. The Mercers were among the top donors supporting Trump's presidential bid and maintain a close relationship with Trump advisers in the White House.
* * *
Other group aides, beyond Gates, have even considered aiding multiple rival nonprofits at the same time, which would be a highly unusual relationship.
The Mercer family has yet to publicly commit to supporting the group.
The AP has a follow-up exclusive report, AP Exclusive: US probe of ex-Trump aide extends to Cyprus:
The U.S. government investigation of President Donald Trump's former campaign chairman, Paul Manafort, crossed the Atlantic earlier this year to the Mediterranean island nation of Cyprus, once known as a haven for money laundering by Russian billionaires.
Treasury agents in recent months obtained information connected to Manafort's transactions from Cypriot authorities, according to a person familiar with the matter who was not authorized to speak publicly. The request was part of a federal anti-corruption probe into Manafort's work in Eastern Europe. The Cyprus attorney general, one of the country's top law enforcement officers, was also aware of the American request.
Manafort was Trump's unpaid campaign chairman from March until August last year, during the critical run-up to the Republican National Convention. He's been a leading focus of the U.S. investigation into whether Trump associates coordinated with Moscow to meddle in the 2016 presidential campaign.
* * *
Federal prosecutors became interested in Manafort's activities years ago as part of a broad investigation to recover stolen Ukrainian assets after the ouster of pro-Russian President Viktor Yanukovych there in early 2014. No U.S. criminal charges have been filed in the case.
It was not immediately clear what time period of Manafort's transactions was covered under the request from the Treasury Department's Financial Crimes Enforcement Network. Manafort was known to route financial transactions through Cyprus, according to records of international wire transfers obtained by the AP and public court documents filed in a 2014 legal dispute in the Cayman Islands with Russian billionaire Oleg Deripaska.
As part of their investigation, U.S. officials were expected to look into millions of dollars' worth of wire transfers to Manafort. In one case, the AP found that a Manafort-linked company received a $1 million payment in October 2009 from a mysterious firm through the Bank of Cyprus. The $1 million left the account the same day — split in two, roughly $500,000 disbursements to accounts with no obvious owner.
There is nothing inherently illicit about using multiple companies as Manafort was doing. But it was unclear why he would have been involved with companies in Cyprus, known for its history of money laundering before joining the European Union, with unclear sources of the money flowing in to them and with such secrecy surrounding the firms' connections to him.
* * *
A Treasury Department spokesman, Stephen Hudak, declined to answer the AP's questions about Manafort's records, citing a policy never to confirm or deny an investigation's existence.
Cypriot officials said further information would have to come to the agency through a formal request to the Cypriot Ministry of Justice and Public Order under a mutual legal assistance treaty. No request has been made, according to two officials who spoke on condition of anonymity because they were not authorized to publicly discuss the case.
This week, the AP revealed Manafort's secret work for a Russian billionaire to advance the interests of Russian President Vladimir Putin a decade ago. Manafort did not dispute working for Oleg Deripaska but said he had represented him only in personal and business matters.
* * *
The Financial Crimes Enforcement Network, known as FinCEN, was established in 1990 and became a Treasury Department bureau soon after the Sept. 11, 2001, terror attacks. It is part of an international network of so-called financial intelligence units that share information with each other in money laundering and terrorism financing investigations.
UPDATE: This AP article leaves out a critical fact: Commerce Secretary Wilbur Ross presided over a deal with a Russian businessman with ties to Vladimir Putin while serving in his previous role as vice-chairman of the Bank of Cyprus. Trump's commerce secretary oversaw Russia deal while at Bank of Cyprus.
Ross resigned from the Bank of Cyprus board only after he was confirmed as commerce secretary last month. Democrats raised questions about Ross's tenure at the Bank of Cyprus before his confirmation, but Ross has said the White House has refused to allow him to respond to the queries.
Ross should be required to recuse himself from any role in the investigation by Treasury and FinCEN into Manafort, and possibly his own Russian connections.
Finally, Tim Weiner writes at the New York Times today, Following the Russian Money:
We now know that President Vladimir V. Putin of Russia attacked American democracy by meddling in the 2016 election. Did he enlist American mercenaries?
A tantalizing clue came at the House Intelligence Committee hearing on Monday.
First, Democrats named names: the former Trump campaign director, Paul Manafort, dismissed shortly after the F.B.I.'s investigation started in late July; then the former Trump national security adviser, Michael T. Flynn, who lost his job last month. Both appear to have had pecuniary ties to Mr. Putin's allies — in Mr. Manafort's case, a politician and an oligarch; in Mr. Flynn's case, RT, the news and propaganda network.
Then Mr. Comey was asked to explain the Foreign Agents Registration Act.
"Sure," the director said.
The act, known as FARA, is intended to prevent espionage or illicit foreign influence on American public opinion, policy and laws. It requires Americans acting as agents of a foreign government to register with the Justice Department. A willful failure to register can be a crime.
If members of Team Trump were paid by Russians to exert political influence, they should have registered under FARA. In fact, Mr. Flynn belatedly filed a FARA report two weeks ago: He received $500,000 as an agent for the government of Turkey during the Trump campaign. According to The Associated Press, Mr. Manafort failed to report work he did a decade ago for a Russian billionaire closely allied with Mr. Putin.
FARA is a potentially powerful but rarely enforced law. It began when President Franklin D. Roosevelt called the F.B.I. director J. Edgar Hoover into the White House in 1936 and asked him for "a broad picture" of "subversive activities in the United States, particularly Fascism and Communism," according to a Hoover memo.
Mr. Hoover used wiretapping to gather intelligence — but Congress had outlawed it. He interpreted the law his way: If it was secret, it was legal. But he still could not use it as evidence at a trial. The solution was FARA. The law, passed in 1938, allowed the F.B.I. to arrest those suspected of spying without prosecuting them for espionage. If they failed to register, Mr. Hoover could try to lock them up.
In May 1941, the bureau charged Moscow's economic and commercial chief in New York under the law. The man, Gaik Ovakimian, won diplomatic protection and returned to Moscow. But he was Stalin's chief spy in the United States. It took the F.B.I. a decade to confirm that.
Indeed, the Justice Department seldom proves that violators of the registration act are secret agents of a foreign power: Just five people have been convicted under the law in the past 50 years. The Government Accountability Office, the oversight arm of Congress, has warned repeatedly since the Watergate era that people were acting as foreign agents without registering, and registered agents were concealing their real work. No "comprehensive enforcement strategy" exists, the Justice Department's inspector general reported in September.
The F.B.I.'s national-security division has vowed to establish a FARA strategy starting on March 31. The investigation into possible Russia ties to the Trump campaign may well turn on the enforcement of that arcane law.
The thoroughness of the F.B.I. investigation is all the more important now amid growing evidence that Congress is unwilling or unable to conduct an impartial investigation. That was made clear on Thursday when Representative Devin Nunes, a California Republican who is chairman of the House Intelligence Committee, disclosed that American intelligence agencies may have "incidentally" collected information about Trump transition team members.
Democrats said that Mr. Nunes's release of classified information appeared intended to buttress Mr. Trump's widely disputed accusation that he had been "wiretapped." Representative Adam Schiff, the ranking Democrat on the committee, questioned Mr. Nunes's objectivity, adding that "there is more than circumstantial evidence" that the Trump team colluded with the Russians during the 2016 election.
Who, then, is going to handle this keg of Kremlin dynamite? If a case proceeds, the first step may well be taken under FARA. And if that case goes to court, the F.B.I. will need an impartial overseer. But the ability of Congress to investigate fairly is dubious. Attorney General Jeff Sessions, who oversees the F.B.I., has recused himself owing to his own contacts with the Russian ambassador. The best answer may be an independent prosecutor, a step Democrats want but Republicans oppose.
Without one, Round 2 of this contest could go to Team Putin. Be prepared for a long battle: Mr. Comey warned on Monday that the Russians will be back for the next election.
For those of you too young to remember, All The President's Men is the account of the Wategate scandal by Washington Post reporters Bob Woodward and Carl Bernstein.