Stephanie Stahl Hamilton would bring a spirit and commitment towards Public Service to the Arizona Legislature if she wins one of Tucson's two statehouse seats in Legislative District Ten.
Hamilton, an ordained Presbyterian Minister and community activist in the Tucson area, is one of three Democrats (the others being Domingo DeGrazia and Paul Stapleton-Smith) competing for the party's two nominations this August.
A wife and mother of three along with two dogs and a tortoise, Ms. Hamilton discussed her reasons for seeking public office, qualifications for office and views on the issues facing the people in Legislative District Ten and the state.
The questions and her responses are below.
Please tell the reader about yourself (education and experiences).
 "I was born in Flagstaff and spent my early childhood years on Navajo Tribal Lands, where my parents began their teaching careers."
 "I am the wife of a public middle school teacher and the mom of three children who attend public schools in the Tucson Unified School District. By training and vocation, I am an ordained minister in the Presbyterian Church, USA. I earned a B.A. in Christian Education from Eastern Nazarene College and an MDiv from Princeton Theological Seminary."
 "When my oldest child began kindergarten in 2007, I became involved in the PTO and served on the School Site Council. Getting involved with my children's schools has translated into coordinating an after school garden program, coaching cross-country, basketball, and track & Field, and substitute teaching within the district."
 "I spent six years working as the Executive Director of Montlure Presbyterian Church camp, a summer camp serving children and teenagers from all over the state of Arizona."
Please tell the reader what are at least three qualifications you have for the Legislative seat you are seeking.
"Through my advocacy and political work, I have gained a unique understanding of the legislative process and how much power the legislature has in changing the lives of Arizonans. Through my advocacy work, I was able to gain a clear understanding of how the legislature works and the process that legislation goes through. I learned how legislators prioritize, in both their time and the issues they work on. I was the regional lead for Save Our Schools in 2018 and learned a lot about the ways the legislature has failed Arizonans and failed to stand up for some of our most vulnerable populations. I also did contract work to get children of school district employees enrolled in KidsCare to make sure every child had healthcare and knew of all the resources available to them. I not only understand the legislative process and the importance of having legislators that understand the issues and care about all Arizonans, but I know how to help constituents access the services they need and the challenges they often face."
What are at least two reasons you would be a better public servant than your likely Republican opponent?
"Serving the public is my calling and my vocation. The best I can tell, our state has been balancing the budget on the backs of our children and the most vulnerable for a very long time. I am compelled to work hard to create a sustainable future for the next generation and beyond. And that begins with making investments in what I value. As a mom, education is a priority in my home and I know how to be my child's best advocate. It is a very simple step for me to expand my embrace to all of our children in the state of Arizona. And with an eye to the future, I am committed to putting in place policies that will create opportunities for this next generation and safeguarding the resources in such a way that generations beyond will have what they need."
If elected, please describe the top two education issues you would like to focus on as a legislator?
"Really, it all comes down to funding. Our per-pupil spending is one of the lowest in the nation. Our capital funding should not only be restored from the deep cuts in 2008 but increased beyond that level in order for school districts to maintain safe learning environments for all of our children. Crumbling schools, temperamental HVAC systems, unreliable school buses, and outdated and nonfunctional technology all speak to a system woefully underfunded. Our educators do not garner the respect due to the profession and are still grossly underpaid."
"The other issue that should be addressed is how we measure levels of engagement.   Standardized testing is an arbitrary metric for determining brain development and engaged learning.   Furthermore, funding schools based upon test scores/ability continues to divert necessary funding away from the school communities who need it the most."
"I support the new Invest in Ed Ballot Initiative because that is probably the only way we are going to get the necessary funds for schools under this leadership."
If elected, please describe the top two healthcare issues you would like to focus on as a legislator?
 "Increasing the income index for accessible & affordable healthcare for children through the State Medicaid Program (AHCCCS) or KidsCare.. In regards to determining income guidelines for family support, our state uses a different baseline for different programs.   A family of four making $60,000 a year is considered a low-income family when applying for a school voucher.   But the guideline for a family of four to enroll children in KidsCare is between $35,000–$52,000.   Providing quality, affordable healthcare for our children is an investment in our state's future. Like education, helping to provide quality affordable healthcare for our children is one of the best investments our state can make for its future."
 "YATI (Young Adult Transitional Insurance) is insurance available for Young Adults transitioning out of the state's foster care system.   Most do not realize that they are eligible for health insurance through YATI until they turn 26. Within our system, we need to do a better job of making sure our young adults coming out of foster care know about and utilize this health insurance."
 "Telehealth could be a viable way to help address doctor and medical specialist shortages."
If elected, please describe the top two sustainability issues you would like to focus on as a legislator?
 "Ensuring that everyone in the state has access to clean air and water as a reasonable price no matter their location or economic status. We should also make sure to preserve our natural resources and stop efforts to mine on state and federal lands like the Grand Canyon. Arizona is a uniquely beautiful state and we need to work hard to preserve that. We need to forge a clean air act that bridges the interests of urban and rural areas. The state has to strike a better balance on water usage and obtaining water. We need to have statewide regulations in this area and not just the Five Management Areas. I support solar energy development and making it accessible, especially on rooftops. Wind power is also a viable option for clean energy. I am also a supporter of expanding broadband in the rural areas of our state."
If elected, please describe the top two helping children issues you would like to focus on as a legislator?
 "High-quality infant and toddler care are the areas that need the biggest infusion of support which leads to Pre K which ensures that all the children are ready for success starting in Kindergarten."  
 "Healthy Families–home visits for families beginning at birth: This is a model and successful program for how we should treat our families."
 "I am glad the state is starting to step up in the area of Kinship Care and support measures to assist there so families can stay together. Funds need to be increased to the level of licensed foster care families as well."
If elected, please describe the top two helping the most vulnerable issues you would like to focus on as a legislator?
"Helping adults move from low wage jobs to high wage—Tucson's JobPath is a prime example of how building social support into academic and job training provides a path to success. With a graduation rate of 96%, JobPath graduates boast an average annual wage increase of $36,000."    
 "I support Mental Health support/healthcare for adults wanting to live independently."
 "We need more opportunities for affordable housing and investments in the Housing Trust Fund instead of piecemeal funding here and there."
If elected, please describe the top two law enforcement issues you would like to focus on as a legislator?
"Repealing SB1070 is first and foremost."
 "We need diversion/treatment/rehabilitation programs to keep people out of prison by making them high functioning members of society. It costs less than incarceration. An ounce of prevention is better than a pound of incarceration. The goal should be to make a better society."
If elected, please describe the top two immigration issues you would like to focus on as a legislator?
"Repealing SB1070 has to be number one. We cannot make headways in protecting our immigrant communities until we repeal this racist law that has unnecessarily hurt people and families across Arizona for the past 10 years."
 "We have to protect our undocumented and DACA recipients. They are just as much Arizonans as the next person and deserve to take advantage of the social systems they pay into. It is wrong and immoral for our government to decide who gets access to these live-saving safety nets."
 "We have to still be mindful of securing our borders."
If elected, please describe the top issues facing women, minorities, and the LGBTQ communities that you would like to focus on as a legislator?
 "I would start with protecting reproductive rights (including access to birth control) and making sure that there are no financial or community-based restrictions on access, passing the ERA, working to protect the rights of the LGBTQ+ community, especially transgender youth who have been attacked in the most recent legislative session. I believe we have much more work to be done when working for equality and justice."
If elected, please describe the top two government reform issues you would like to focus on as a legislator?
 "I would work to restore the proper funding and power to the Clean Elections department. Arizona has a revolutionary program in clean elections that evens the playing field for candidates and is a first step in lessening the impact that money and political contributions play in our state. The legislature should be working to support clean elections because it makes our democratic process stronger and leads to better government."
 "I support the new Outlaw Dirty Money Ballot Initiative."
 "I would like to see a two-thirds vote to enact a tax cut. The current legislative majority has focused far too heavily on cutting taxes without care for the impacts of these tax cuts on the services they pay. Each year our tax cuts and tax credits far outweigh the money received in the general budget. Arizona has the means to fully fund public education and make higher education as nearly free as possible if tax cuts and tax credits weren't the first order of business."
Are there any issues not mentioned in the previous questions that you feel should be addressed by the Legislature.
 "Sensible gun safety laws—universal background checks, mandatory waiting periods along with enacting a state law that mirrors the federal law addressing and closing the boyfriend loophole."
Is there anything you would like to let the reader know about yourself that has not been addressed by the previous questions?
"I believe strongly in the separation of church and state. My personal faith is just that–personal. One of the reasons I was compelled to be involved with repealing the voucher expansion is because public tax dollars belong in the public schools and should not be used to pay tuition for private religious instruction. There needs to be a clear delineation between church and state.
I have spent the better part of the last decade serving my community and the state, advocating for the needs of our young people and in doing so, have realized that I would rather spend my time and energy crafting sound policy rather than pushing against a policy that is detrimental to our children and our state's future."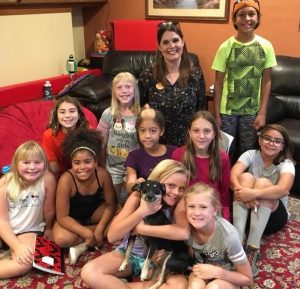 If elected, Stephanie Stahl Hamilton would join the chorus (hopefully a majority by January 2021) of legislators devoted to making life better for those left behind by the largely reactionary backward policies embraced by the fringe right.
She is a candidate voters should consider when choosing a candidate this August and November if she prevails in the Primary.
For more information on Ms. Hamilton and her candidacy, please click on her website here and her Facebook Page here.