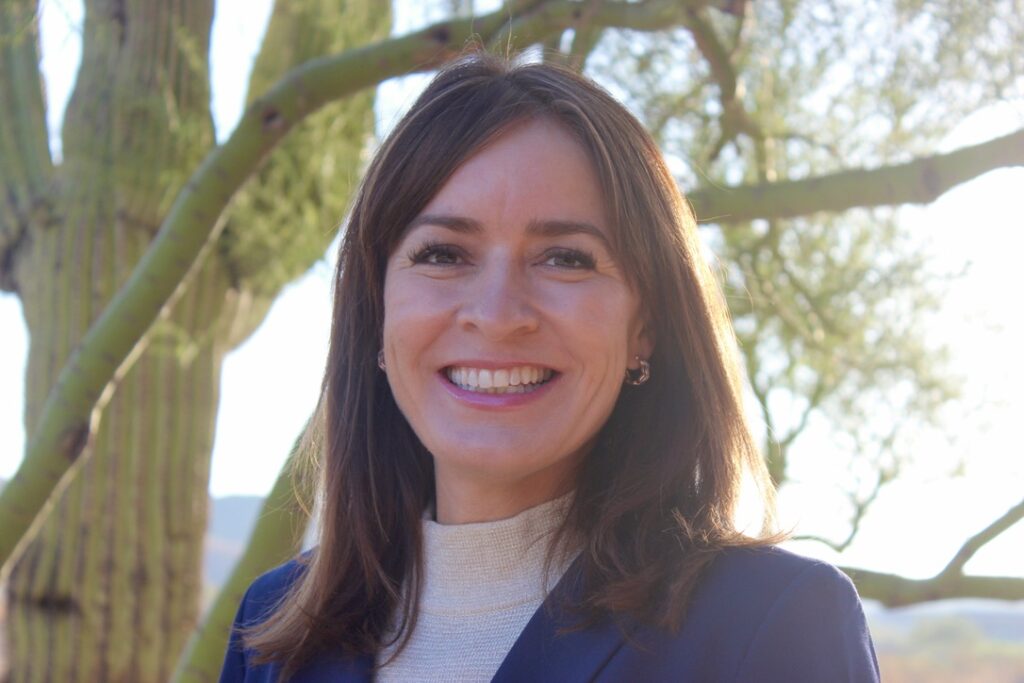 When readers last heard from Stephanie Simacek, she was successfully running for a seat on the Deer Valley Unified School District Governing Board.
Fast forward to today and Ms. Simacek, while able to retain her seat on the Deer Valley Board, has declared her candidacy for one of the State House seats in Arizona Legislative District (LD) 2. 
Arizona LD Two is in North Phoenix and encompasses parts or all of Deer Valley, Moon Valley, and the North Valley.
With current House Representative Judy Schwiebert declaring her candidacy for the State Senate, Simacek will run as a single-shot candidate.
Arizona LD 2 will be a race to watch in 2024 to see which party gains control of one or both branches of the state legislature. 
With a slim Republican majority hellbent on restricting voting rights, reproductive freedom, and maintaining tax cuts for the rich (including Empowerment Scholarship Accounts for affluent families sending their children to private schools,) along with other factors such as 2024 being a Presidential election year, Kari Lake running for the Senate, and a potential statewide referendum on abortion rights, the stars may be aligning for a Democratic takeover in 2024.
If elected in 2024, Ms. Simacek promises to work on addressing public education funding, affordable housing, protecting Democracy and reproductive freedom, and water supply.
Ms. Simacek graciously took the time to respond to questions about her candidacy for the State House in 2024.
The questions and her responses are below.
1) Please tell the readers at least two reasons you have decided to run for the State legislature in 2024.
I am running to represent my community. Running for the state house allows me to represent the interests and values of our district. I feel a strong sense of duty to serve and work on issues that matter to voters including, improving public education, addressing Arizona's affordable housing and water crises, and our reproductive freedom rights.
I am also running to make a difference. As a representative, I have an opportunity to directly impact my community by crafting and passing legislation that addresses our public policy issues and overall quality of life.
2) What are at least three public policy issues you will campaign on in 2024?
Since the time I moved to Arizona over nine years ago, I have had a passion to grow as both a parent and a citizen. I have seen the tireless efforts of our educators who are shaping the future of our children, our families trying to handle the rising costs of living, and the concern about the health and stability of a democratic system of government.
My campaign in 2024 will address public education funding including ESA voucher reform, teacher retention, and safe schools. I will also address the affordable housing crisis by investing in Arizona's Housing Trust Fund and expanding affordable housing options, to ensure Arizonians have the opportunity for a secure, safe, and stable home. Our water shortage and environment need attention including the prioritizing of conservation, investing in water infrastructure, and fostering innovation.  In 2024 our reproductive freedom rights are on the ballot and freedom of choice is at stake. We must support policies that reduce the need for abortion by expanding access to contraception, healthcare, and education. Protecting our democracy will ensure that the people of Arizona have a say in their government and the policies that affect their lives. Finally, I believe in comprehensive immigration reform that includes a pathway to citizenship for undocumented immigrants already living in the United States, border security measures, and improvements to the legal immigration system. I will also advocate for protections for undocumented individuals who were brought to the U.S. as children.
3) Please explain why voters in your district should choose you over any opponent in the 2024 election cycle.
While I cannot speak for my opponents, I can speak for myself. I am here for the future, to make sure our children and families have what they need to grow, thrive, and be successful. As a mother, I wake up thinking of my children and I fall asleep at night thinking about them. And it's not just my own children, I'm worried about the future of Arizona. Life is busy but we need to prioritize. What can we do for them that will make them succeed? It is not the same for every child. In my classroom experience, I had the opportunity to work with all learning styles. Public education is a critical drive for our economy and job creation. It is one of the most critical investments we can make in our children. I believe in empowering our young people so they can succeed in an ever-changing economy. 
4. How will your campaign persuade Democrats, Independents, and like-minded Republicans to support you?
The policy issues I support are not partisan issues; they are issues that affect us all, regardless of our political affiliation. I know when communities come together amazing things can happen and that is what we must do! I see Arizona as a democracy, where communities and elected officials work together to ensure a sustainable future for all, regardless of zip code.
5) Is there anything not covered in the first four questions that you would like the readers to know about your or your 2024 State Legislature Candidacy? Please explain.
Please visit my website for additional information about myself, my campaign and political issues.
Website:
Social Media:
https://www.facebook.com/stephaniesimacekforaz
https://www.instagram.com/simacekforaz/
Email: info@simacekforaz.com