Safety, Justice, and Smart Reform
Those are the objectives Jonathan Mosher wants to pursue if he wins the August Primary and November General elections to succeed long time public servant Barbara LaWall as the next Pima County Attorney.
Endorsed by the Tucson Police Officers Association and nearly every one of the leading supervisors and bureau chiefs in the Pima County Attorney's Office, Mr. Mosher said that:
"I am the only candidate for County Attorney who has experience working to safely reduce the jail population and designing drug treatment alternatives to prison. Drug diversion programs need to be dramatically expanded, and I can do that quickly and effectively by continuing my collaborative efforts with diverse leaders in our community. It will take a tested prosecutor and a committed reformer to protect the safety of all members of our community while delivering criminal justice reform."
Currently the Chief Criminal Deputy of the Pima County Attorney's Office, Mr. Mosher has earned recognition for his work as a prosecutor, for his victim advocacy, and for his service to the community.
He graciously took the time to discuss his qualifications, candidacy, and goals for the Pima County Attorney's Office.
The questions and his responses are below.
Please tell the reader about yourself and give at least two reasons you are qualified to serve as the next Pima County Attorney?
"I dreamed of being a prosecutor since the eighth grade when I was a skinny little debate nerd who was bullied. At the same time, I read in the newspaper about the horrible things people do to one another, like murder and rape. I started to dream of using words and ideas in the courtroom to fight the ultimate form of bullying- serious criminal violence."
"My prosecution dreams were delayed for almost a decade. After graduating from the University of Iowa Law School with high honors in 1994, I moved to Arizona for a judicial clerkship with the Arizona Supreme Court. The lure of money and prestige pulled me into private practice, and I spent eight years at the Los Angeles area offices of two large, international law firms. I was living a life of workaholism and addiction, but eventually found recovery in June of 2001. With perspective gained from a few years of sobriety, I returned to my dream of becoming a prosecutor."
"In 2005, I moved to Tucson to fight serious and violent crime, and that is what I have done ever since. I have prosecuted about 100 jury trials in cases involving everything from cold case homicides to fatal child abuse, serial rapists to child molesters. Within the last five years, I have been promoted to leadership positions including Felony Training Supervisor (responsible for the training of all our felony prosecutors), Chief Trial Counsel (responsible for, among other things, all our homicide prosecutions), and most recently Chief Criminal Deputy (leading and managing the 70+ prosecutors in our Criminal Division)."
"Through these leadership and management positions, I have built relationships with our local law enforcement leaders, as well as leaders of victim advocacy and victims' rights organizations, and leaders in the criminal justice system."
"My relationships with law enforcement and criminal justice leaders will be the key to rapid, effective reforms. Through a collaborative approach with my criminal justice and law enforcement partners, we will quickly and dramatically expand treatment-based alternatives to incarceration. I helped design a pre-indictment diversion program, and we need to pull out the stops and get it implemented right away. There is no other candidate with any experience designing any treatment alternative programs."
"I would also expand Community Justice Boards, a restorative model that reconnects kids with their families, peers, and teachers, instead of punishing them for low-level offenses."
" I will not seek the death penalty, because it is cruel to victim families by imposing decades of tortuous appeals, it costs millions of dollars more per case (even when costs of natural life incarceration are included), it achieves no deterrent effect, and it attempts to fight violence with violence.
 "I support bail reform because people should not be held in jail if they are poor. They should be held in jail if they threaten our community safety."
"As a tested prosecutor and committed reformer, my goal is to restore public confidence in law enforcement. To regain public trust, I will bring a new philosophy of openness and transparency to the job. This is why, as Chief Criminal Deputy, I developed and implemented a written protocol for mandatory disclosure in criminal cases. If elected, you can expect more transparency like this. For example, a written protocol for review of law enforcement use of deadly force, as well as an advisory board of trained personnel, including law enforcement and community members, who will provide input on these cases. We will regain public trust and begin a new era of collaborative justice in Pima County.
Please tell the reader two reasons you would like to become the next Pima County Attorney.
"I love this community and care about protecting the safety of everyone who lives here. I believe in serving victims, working alongside our law enforcement first responders, and obtaining just and fair results in the courtroom."
"I love leading and facilitating teamwork among groups of dedicated prosecutors doing the work of protecting community safety and securing justice for crime victims (I am the only candidate with any experience doing this), and I love working with our community leaders to promote our mission of safety and justice."
Please tell the reader what are at least two of the most important duties of the Pima County Attorney?
Criminal Division: "The Pima County Attorney represents the people of the State of Arizona in protecting public safety, serving victims of crime, and doing justice. The County Attorney must recruit, train, and supervise approximately 70 prosecutors and 200 support staff,120 victim advocates, and 25 detectives who carry out this mission. To do this, you need a tested prosecutor with a depth of experience in criminal prosecution, as well as an experienced leader and manager. Nearly all of the bureau chiefs and supervisors within the County Attorney's Office have endorsed my candidacy, and it is important to have their support to rapidly implement smart reforms."
Civil Division: "The Pima County Attorney also oversees more than 20 civil attorneys who provide civil legal advice to the Board of Supervisors, as well as to the County Administrator, dozens of county department heads and elected officials. These civil attorneys, and the many paralegals and secretaries who work in the civil division, handle very important matters such as environmental enforcement actions for the Pima County Department of Environmental Quality and civil commitment proceedings to obtain court-ordered mental health treatment for those who pose a danger to themselves or others. The County Attorney is responsible for a wide variety of civil legal matters from animal welfare to zoning. I have almost a decade of civil legal experience, while no other candidate has any significant civil legal experience.
Please tell the reader at least two reasons you would build on the legacy from the current County Attorney?
 "The current County Attorney has a legacy of prioritizing community safety, protecting victim rights, and implementing innovative programs, such as Community Justice Boards and our Drug Treatment Alternative to Prison program. I will continue to prioritize public safety and victim rights while dramatically expanding treatment alternatives to prison. Building from my own life experience as a recovering alcoholic/addict with nearly two decades of sobriety, I will seek the most humane possible criminal justice system, do everything I can to end the criminalization of poverty and fight to end racial disparities. I will stop seeking the death penalty and stop using scarce criminal justice resources to prosecute personal possession of marijuana. As a tested prosecutor and a committed reformer, I will foster a new era of confidence in police and prosecutors." 
If elected, what will be at least two goals you will have as Pima County Attorney?
"Protect public safety and serve crime victims with excellence."
"Restore public confidence in the criminal justice system through smart reforms and increased transparency."
"Ensure that we never convict an innocent person and that we stop seeking the death penalty in Pima County."
"Inspire and empower our prosecutors and civil lawyers to do the best work possible in service to our community."
What would you like the voters to know about yourself that was not covered in the preceding questions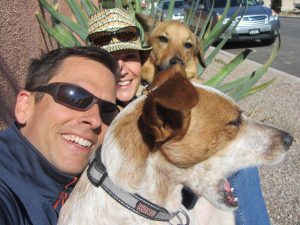 "My incredible wife Heather is the person to whom I owe all my accomplishments. She is a skilled lawyer and a loving human."
"We have two puppies we rescued, courtesy of the Humane Society."
"I am on the boards of directors of the Humane Society of Southern Arizona and the Boys and Girls Clubs of Tucson."
"I have a deep love for this desert area. I am a trail ultra-runner who completed a 100-mile race last September and a 62-mile race in February, and I used to be a rock climber before committing to this campaign for office. I would like to develop a program that gives underprivileged children opportunities to take advantage of these types of outdoor activities."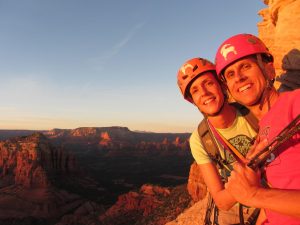 "I believe divisive politics are destroying our country. Crime-fighting and criminal justice should be non-partisan and reach beyond political divisions. When you vote for County Attorney, you are hiring for a specific job. That job is lead prosecutor, lead civil attorney, and leader and manager of a large law office. I am the only candidate with experience in all of these areas."
For more information on Mr. Mosher and his candidacy, please click on his website here and Facebook Page here.
Please remember to:
Turn out and vote.
Register/sign up for the Permanent Early Voting List (PEVL) in Arizona or any state that allows early or absentee balloting and mail. Arizona residents can sign up at servicearizona.com
Arizona residents, the Primary election is August 4, 2020. All of the candidates for County Attorney are Democratic Party candidates. The deadline for voter registration to receive the Democratic Party ballot is July 6, 2020.
Check-in with the Secretary of State's office where you live to verify your mail-in ballot was received, processed, verified, and counted.
Know the voter ID requirements in your state.
If you can, support Clean Election Candidates with a small contribution.
Also, please remember to stay informed on all the candidates and vote for all the offices on the ballot. Also, remember to research all the ballot initiatives and vote on them as well.
Remember Primary Election Day is on August 4, 2020, and General Election Day is on November 3. 2020.