Candidates had to file their candidate petition signatures by May 30, and that triggers candidate petition challenge season. So far, three legal challenges have been  filed. Wednesday is the legal challenge deadline.
The most significant challenge is in congressional district 2, where backers of doctor Matt Heinz are challenging the petitions of former congresswoman Ann Kirkpatrick. Dylan Smith at the Tucson Sentinel reports, Heinz wants to boot Kirkpatrick off primary ballot over residence claims: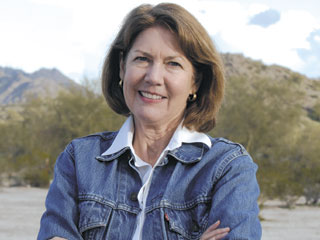 A trio of Tucson-area Democrats is trying to narrow the CD 2 primary field by getting the apparent front-runner booted off the ballot. Those pressing a lawsuit challenging the nominating petitions filed by Ann Kirkpatrick are supporters of candidate Matt Heinz, who said he backs the legal move.
The 13-page suit claims that Kirkpatrick, a former congresswoman from Flagstaff, doesn't live in Tucson as she stated in her petitions to earn a spot on the August ballot.
The challenge, filed in Maricopa County Superior Court on Monday, alleges that Kirkpatrick and her husband instead live in Phoenix near his law office.
Congressional representatives are not required by the U.S. Constitution to live in the district they are elected from — they only must reside in the state — but the suit drafted by Phoenix attorney Craig Morgan wants to have Kirkpatrick's name pulled off the list of Democratic primary candidates, with a judge tossing out any nominating petitions that include addresses in Southern Arizona.
The suit claims that "Kirkpatrick claims to actually reside in Southern Arizona. However, Kirkpatrick does not actually reside in Southern Arizona, but instead resides in Maricopa County …. Kirkpatrick has defrauded, misled, and confused the electorate…."
The suit, filed on behalf of Tucson-area voters Thomas Elias, his wife Regina Mireles-Elias, and Tuan Vo, maintains that Kirkpatrick's nominating papers are "invalid."
Vo is a public supporter of Heinz, a former state legislator who lost the 2016 general election to U.S. Rep. Martha McSally. Vo has contributed $5,400 to Heinz's campaign in this cycle, federal campaign finance records show. Mireles-Elias and her husband were featured in Heinz's campaign commercials last year, along with Tuan, the candidate said.
A spokesman for Kirkpatrick's campaign, Rodd McLeod, said emphatically Monday afternoon that "Ann Kirkpatrick lives in Tucson."
"She's lived in Tucson since last spring. She rented a house on Woodspring (Drive), and then moved to an apartment on Shannon (Road) that she shares with her son," McLeod said.
"Apparently to run in District 2, you need to live in District 3," McLeod said, referencing a home owned by Heinz that sits in the cross-town congressional seat held by U.S. Rep. Raul Grijalva.
Kirkpatrick has a large lead in the fundraising race.
Roll Call adds, Ann Kirkpatrick Opponent Funding Lawsuit Challenging Her Residency:
House hopeful Matt Heinz is seeking to knock former Rep. Ann Kirkpatrick off the Democratic primary ballot in Arizona's 2nd District, funding a lawsuit that alleges she falsely claimed on her nominating papers that she lives in Tucson.
* * *
Heinz, a physician, is covering all of the legal costs with the lawsuit, his campaign manager Brian Robinson said. The lawsuit was filed in Maricopa County Superior Court on Monday by three voters in the district, one of whom donated to Heinz's campaign.
* * *
The complaint notes Kirkpatrick listed two addresses in Tucson on her nomination petitions in different time periods: one on Woodspring Road and another on Shannon Road.
Kirkpatrick spokesman Rodd McLeod said in an email that when she and her husband Roger moved to Tucson last year, they moved to an address on Woodspring Road. McLeod said they moved to a larger place on Shannon Road with their son, Sheridan, in the fall of 2017.
* * *
The plaintiffs allege Kirkpatrick has not actually resided at the addresses she put down on her nomination papers, in part because she and her husband received an education tax credit on their property taxes for their Phoenix residence.
The complaint includes details such as Kirkpatrick being seen exiting her Phoenix home with a "travel suitcase" when she goes to the Tucson address, and bringing the suitcase with her when she leaves Tucson. The lawsuit also alleges that Kirkpatrick posted twice on social media on May 16 that she was in Southern Arizona, but that she was "observed in Phoenix." The complaint does not note the source of the details about her suitcase, or who observed Kirkpatrick in Phoenix on May 16.
Asked how the plaintiffs were aware of those details regarding the suitcase and her whereabouts on May 16, Robinson said evidence mentioned in the complaint "would be presented at trial."
* * *
"As legal documents, testimony, and other evidence will show, Ann Kirkpatrick engaged in a wide range of fraudulent activities in an attempt to run for Congress in Southern Arizona," Heinz said in a statement Monday. "This case is not about the fact that Ann Kirkpatrick lives in Phoenix, but about the lies and cover-up she's used to hide it."
Next, disgraced former state Senator Don "Tequila" Shooter, who was expelled by his colleagues for sexual harassment earlier this year, also has a residency issue. The Arizona Capitol Times reports, Lawsuit challenges Don Shooter's residency: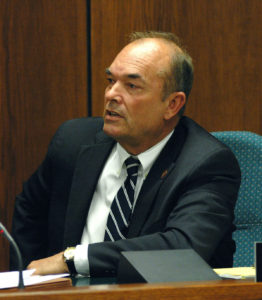 A Republican contender in Legislative District 13 is challenging former Yuma Rep. Don Shooter's residency in his bid for a comeback to the state Senate.
In a complaint filed in Maricopa County Superior Court today, attorney Timothy La Sota alleged that Shooter does not qualify for the primary ballot because he doesn't live in Legislative District 13.
La Sota filed the suit on behalf of Brent Backus, who is facing off against Shooter for the Republican nomination to the Senate seat. He seeks to prevent Shooter's name from being printed on the Aug. 28 primary ballot.
Shooter declined to comment on the challenge, but said in a text message: "Let's dance." He also declined to answer questions about his residency.
In the lawsuit, La Sota alleged that Shooter lives in a 2,660-square-foot home on North 22nd Street in Phoenix's Biltmore area, where Shooter and his wife, Susan, registered to vote on April 30, and not in a rental apartment on South Palo Verde Lane in Yuma.
The Phoenix home, La Sota wrote, is owned by Shooter and the Shooter Family Trust, and is listed as a primary residence.
He said Shooter does not own any property in Yuma, where the former politician alleges he has lived for 38 years.
The Arizona Constitution requires that candidates live in the county that they are running in for at least one year prior to the election, and state statutes mandates candidates for public office to reside in the county, district or precinct that they wish to represent.
Then there is Mark Syms, the husband of Republican state Rep. Maria Syms, who is running as an independent for the Senate in Legislative District 28. His petition signatures were allegedly forged by petition circulators. Voters say their signatures were forged on Arizona Senate candidate's petitions:
Mark Syms, an independent candidate for the Arizona Senate, appears to have submitted dozens — potentially hundreds — of forged signatures on his nominating petitions for the ballot.
The Arizona Republic has confirmed with more than 20 voters listed as signatories on Syms' nomination petitions that they did not, in fact, sign the forms. Many said they have never heard of Mark Syms, that they do not sign political petitions, or that they were out of the state on the date the signatures were collected.
Syms is running for Senate in Legislative District 28, a swing district that encompasses parts of north-central Phoenix, Arcadia, Biltmore and Paradise Valley.
The race could alter the balance of power in the Arizona Legislature, flipping it to Democratic control, and is one of the most competitive in the state this year. District 28 has become embroiled in an intra-party civil war between Syms and his wife, Republican state Rep. Maria Syms, and other GOP candidates.
* * *
Mark Syms entered the Senate race in mid-May, after a longstanding feud between Maria Syms and the district's two other GOP contenders, Brophy McGee and House candidate Kathy Petsas, exploded last month.
The conflict escalated when Petsas, a GOP activist, entered the primary. Maria Syms' path to re-election likely would have been easier if she were the only Republican on the ballot for the House.
After Petsas entered the race, Mark Syms suddenly jumped into the Senate race as an independent against Brophy McGee. Political insiders viewed the move as retaliation against Petsas and Brophy McGee, who are political allies.
Petsas' foray could harm Maria Syms, who casts herself as a strong conservative. Petsas is more moderate and could effectively oust Syms in moderate-leaning District 28. Kelli Butler, a Democrat, holds the other House seat.
* * *
The fight has GOP political operatives reeling because Mark Syms is conservative and his candidacy could pull votes from moderate Brophy McGee. That could help deliver a Senate seat to Democrats.
District 28 is perhaps the state's most competitive, and Democrats view it as key in their quest to take control of the chamber. The Senate currently has a 17-13 split, with Republicans in the majority.
Christine Marsh, the state's 2016 "Teacher of the Year," is running for the Senate seat as a Democrat.
A lawsuit was filed Monday to knock Mark Syms off the ballot. Lawsuit: 'Extensive and pervasive petition fraud' with Senate candidates' signatures: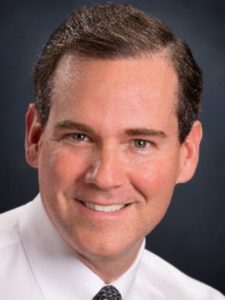 The controversy escalated late Monday afternoon when Robert McGee, the husband of incumbent Republican state Sen. Kate Brophy McGee, Syms' chief rival in the Legislative District 28 Senate race, filed a lawsuit alleging widespread fraud.
McGee's lawsuit asks a Maricopa County Superior Court judge to remove Syms from the Nov. 6 ballot because, the lawsuit claims, he didn't submit enough valid signatures.
"Notably, almost half of the signatures presented on the nomination petition appear to be forgeries," McGee's lawsuit states. "Indeed, the nomination petition appears to have been the vehicle for the most extensive and pervasive petition fraud scheme in recent Arizona history."
The lawsuit alleges that three signature gatherers listed on Syms' petitions engaged in a concerted effort to "manufacture a critical mass of fraudulent signatures."
Syms' campaign has asserted he is the victim of fraud on the part of a company hired to gather his signatures.
"I am saddened to be a victim of fraud," Syms said in a statement Friday. "As the others in the LD 28 races did, I hired a company to gather some of my signatures. I have demanded a refund from this company."
* * *
His campaign said he hired a signature collecting firm owned by Larry Herrera, a well-known Democrat and school board member in the Washington Elementary School District in north Phoenix and Glendale. Herrera did not respond to requests for comment on Monday.
This isn't the first time Herrera's name has arisen in a dispute over voter signatures.
Herrera was a candidate for the state Legislature earlier this year, but withdrew after county elections officials said he submitted invalid forms seeking public financing for his campaign.
According to county officials, Herrera filed qualifying contribution forms that included the signatures of several dead people.
Overall, the county found that 101 of the 200 original qualifying forms Herrera filed were invalid because the people listed on them had different signatures on their voter registration, weren't registered voters or had died.
Herrera dropped out of the race for Senate in District 20 (north Phoenix), but law enforcement could still investigate the matter.
On Monday, the director of the Arizona Clean Elections Commission sent a letter to the Arizona Attorney General's Office, asking that Herrera's forms receive further scrutiny. It's unclear if an investigation is underway.
* * *
McGee's lawsuit states that at least 914 (about 42 percent) of the 2,156 signatures Syms submitted are "forgeries" because they "do not bear a reasonable resemblance to the corresponding signatures in the voter registration records."
The lawsuit argues other signatures are invalid because they lack addresses, actual dates, legible names or otherwise don't meet legal requirements. In total, the lawsuit claims at least 1,676 signatures are invalid due to forgery or other issues.
To qualify for the Nov. 6 ballot, candidates must submit a minimum number of signatures from registered voters living in the area. In District 28, an independent candidate must submit at least 1,250.
These petition challenges are typically resolved quickly in expedited legal proceedings. Stay tuned.