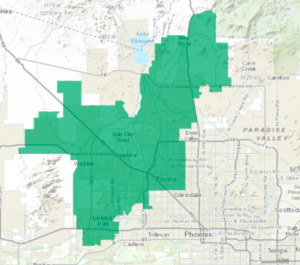 Candidates interested in running for the congressional district 8 seat vacated by Rep. Trent Franks had until 5:00 p.m. on January 10 to file nominating petitions for the congressional district 8 special election.
The deadline has now passed and the field of candidates is now set for the primary. (Signatures are subject to challenge, so this field could narrow).
15 Tea-Publicans and 3 Democrats filed their nomination petitions.
The special election primary will take place on Tuesday, February 27, 2018. Early voting begins for Special Primary January 31, 2018.
The special election general election will take place on Tuesday, April 24, 2018. Early voting begins for Special General March 28, 2018.
So who is running in the CD 8 Special Election?
Chad Allen (R), healthcare executive
Kevin Cavanaugh (R), former Sheriff's Deputy Chief, Police Detective and Internal Affairs Investigator, business owner, ran unsuccessfully for Pinal County Sheriff in 2016
Brenden Dilley (R), co-host of the Your Voice America talk show, author, entrepreneur, business executive
Stephen Dolgos (R), financial services industry compliance professional, navy veteran
Debbie Lesko (R), former State Senate President Pro-Tempore (resigned), former State Representative, "Kochtopus" ALEC member
David Lien (R), piano teacher, former council member in Willmar, Minnesota
Phil Lovas (R), SBA Regional Official (resigned), former State Representative
Richard Mack (R), former Graham County Sheriff and leader of the far-right extremist Constitutional Sheriffs and Peace Officers movement
Steve Montenegro (R), former State Senator (resigned), Minister, former House Majority Leader, former Congressional Aide to Rep. Trent Franks
Bob Stump (R), former State Corporation Commissioner, former State Representative
Christoper Sylvester (R), Aerospace Engineer, Retired Navy Officer
Clair Van Steenwyk (R), retired businessman and political talk show host, and Vice President of the Sun City West Republican Group
Mark Yates (R), B.S. in Electrical Engineering from Arizona State University and a Master of Computer Science from Arizona State University
Gene Scharer (D), retired public school teacher, UPS truck driver, Army veteran; Democratic nominee for the CD 8 seat in 2012, garnered 35% of the vote
Hiral Vyas Tipirneni (D), emergency room physician, cancer research advocate and on the board of directors of the Maricopa Health Foundation
Brianna Westbrook (D), LGBT activist, auto sales manager
The GOP candidates range from conservative to far-right extremist. Several of them are openly running as Donald Trump acolytes in his cult of personality. There is no GOP candidate who can reasonably be considered a "moderate Republican" in this race. There are simply no good choices on the GOP side to reverse the far-right extremism of Rep. Trent Franks, who vacated the CD 8 seat after allegations of sexual harassment.
Dr. Hiral Vyas Tipirneni has emerged as the strongest Democratic candidate in this district in many years. Tipirneni submitted 2,048 signatures, to 800 signatures for Westbrook, and 666 signatures for Scharer.
The most current FEC candidate finance report shows Tipirneni with respectable fundraising in this GOP voter registration edge district.
Dr. Hiral Tipirneni and Brianna Westbrook were both recently profiled in The New Republic. The Women Who Want to Turn Trent Franks's Seat Blue.
Brianna Westbrook was profiled by the Phoenix New Times last April.
Dr. Hiral Tipirneni was profiled by the Glendale Star last August.
If the most extreme of the GOP candidates emerges from the GOP primary, the Democratic nominee may, under the right set of circumstances, be able to overcome GOP tribalism and appeal to moderate Republicans in the district (if there are any)  to overcome the GOP voter registration edge. Consultant says Dems need to be lucky and good to win CD8:
Consultant Andy Barr said Democrats' ability to make a stand will depend heavily on who wins the Republican nomination, as demonstrated in Alabama, and he suspects donors will need to see reliable data showing a competitive general election before serious money comes into play.
"There is just such an appetite for wins right now on our side," he said. "But we have a lot of objectives this cycle and very real objectives. These candidates [running in CD8] are going to struggle."
* * *
"If we have a superior candidate in a superior campaign and get lucky, we can win this seat. But we need those things to align," Barr said.
Conventional wisdom in political prognosticating has been turned upside down over the past two years, so who the hell knows? Anything can happen.
If you live in CD 8, support your Democratic candidate.