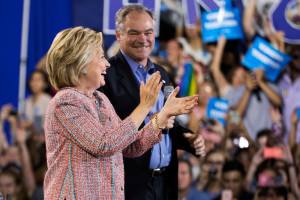 The explanations for Clinton's loss by Dem loyalists abound. It's the third-party voters, the no shows, the misogyny, the fake news, the false equivalency pushed by the mainstream media, or some combination of those factors that swung the election in the wrong direction.
I read an excellent piece in Raw Story about the Christian right: The dark rigidity of fundamentalist rural America: a view from the inside. It is an absolutely searing critique of rural America, well worth the read. But it doesn't in the least explain the election results. Those people vote that way in every election. Yet Obama was able to overcome that problem, while Clinton couldn't. And the demographic winds over the last few years blew in Clinton's favor. Those rural voters posed less of a problem to her than they did to Obama.
When you look closely, it's hard to deny what really happened, and the music  Dem loyalists simply do not want to face. The Dem loyalist with whose thinking I'm most familiar is our own BlueMeanie. So, I'll use BlueMeanie, who I'll refer to as Blue for short, for purposes of analysis.
My purpose here is not to single Blue out. Blue's view is I believe representative of the Democratic establishment view and the many, many foot soldiers in the Democratic Party. So, he's an example, not a punching bag.
Let's start with an observation about the 2012 results: If you went state-by-state in 2012 and reduced Obama's vote total by five percent of the total vote in each state, he still would have won. That would be a total of over six million votes, enough to reduce Obama's vote total to less than 60 million. And he still would have won. He would have lost three states he actually won — Ohio, Virginia, and Florida, but he still would have won.
With that as background, let's consider the problem with turnout in 2016, as explained by Blue in The 2016 election: the year of the missing voters. There, Blue noted how "democracies die from indifference and neglect." But were the voters really missing? In 2012, the vote totals were Obama, 65,915,795 to Romney, 60,933,504, a total of just under 127 million. In 2016, the vote totals, with some still uncounted, are Clinton, 64,156,255 to Trump, 62,238,425, for a total of over 126 million. When the 2016 vote tally is finally complete, it will exceed the 2012 tally and Clinton's vote total will be in the vicinity of Obama's 2012 vote total.
So, considering that Obama could have shredded ballots cast for him equal to 5%  of the vote total in each state and still won, was the problem really missing voters?
Was it misogyny? Before considering that question, consider what it wasn't: racism. Then consider the vote totals in 2012 and 2016 and how close they really are. Then consider that Clinton actually outperformed Obama in entire states, Arizona being one. Finally, consider that Clinton won the popular vote. Could misogyny have been a factor? Maybe. Could it have been a decisive factor? Hardly.
Was it fake news or false equivalency? Logically, no. If fake news or false equivalency were the decisive factor at play, one would expect the impact to be more universal. But Clinton outperformed Obama in many areas and underperformed in others. There's no correlation between the changed voting patterns and the impact one logically would expect fake news and false equivalency to have.
I random selected states from the electoral maps of 2012 and 2016. The differences were not large. Until I got to the upper midwest. There, the changes were dramatic. In Michigan, for example, a ten point Obama win turned into a virtual tie. In Wisconsin, a seven point Obama win turned into a one point Clinton loss, for a total swing of eight percent. In Pennsylvania, a swing of almost seven percent. The swing in Minnesota, by the way, was in the same range, but Clinton managed to eke out a win there.
You don't get swings like that from voters staying home. Those sort of swings come only from flipped votes. A flipped vote is twice as impactful as a stay at home vote. Say for example Blue beats me three votes to one in an election. If one of his voters stays home the next time, he still wins two to one. But if I flip one of his three votes, we end up tied, two to two. See the difference?
The WaPo, in The Daily 202: Rust Belt Dems broke for Trump because they thought Clinton cared more about bathrooms than jobs, provides the gory details. And gory they are. The Post focuses on the Youngstown, Ohio, area, but the story would be the same in the other hollowed out rust belt towns of Ohio, Pennsylvania, Michigan, and Wisconsin. It was Democrats, post writer James Hohmann explains, who delivered the rust belt to Trump:
Youngstown is the county seat of Mahoning County, which is home to about 232,000 people. The population was more 300,000 in the 1970s, but then the steel mills closed and the area has never really recovered. Obama won the county by 28 points in 2012, a larger margin than he had won it by in 2008. Clinton wound up carrying Mahoning by just three points. That is largely thanks to a sizable African American population. She lost neighboring counties that had not gone Republican since 1972. Even amidst his 1984 landslide, Ronald Reagan lost Mahoning by 18 points.
Got that? Clinton did stunningly worse in Mahoning County than even Walter Freaking Mondale did against a very likable Ronald Reagan. Sorry, Blue, but a 28 point edge doesn't get reduced to a three-point edge in a measly four years because of "missing voters."
Remarkably, Clinton actually outperformed Obama in Republican strongholds like Cincinnati and Columbus. Hohmann cites this statistic from the exit polls to show how upside down voting patterns were:
Kasich, who refused to support Trump and traveled to the White House before the election to evangelize for TPP, was viewed favorably by 50 percent of voters on Election Day and unfavorably by 40 percent. Clinton actually won among those who viewed the Republican governor positively, 51 percent to 43 percent. But Trump won the voters who viewed Kasich negatively, 58 percent to 37 percent.
The bottom line? It was all about trade, and the Clinton camp was told about it in advance.
Back in May, the longtime chairman of the Mahoning County Democratic Party sent a private memo to leaders in Hillary Clinton's campaign warning that she was in grave danger of losing not just Ohio but also Pennsylvania and Michigan unless she quickly re-tooled her message on trade. His advice went unheeded.

"I don't have to make the case that blue collar voters are, to put it mildly, less than enthusiastic about HRC's positions on trade and the economy," David Betras wrote in his 1,300 word missive, citing her struggles in recent primaries.
…
"More than two decades after its enactment, NAFTA remains a red flag for area voters who rightly or wrongly blame trade for the devastating job losses that took place at Packard Electric, GM, GE, numerous steel companies, as well as the firms that supplied those major employers," Betras, a practicing attorney, tried to explain to the Clinton high command. "Thousands of workers in Ohio … continue to qualify for Trade Readjustment Act assistance because their jobs are being shipped overseas."

The local chairman feels very strongly now that Clinton could have won Ohio, Pennsylvania, Wisconsin and Michigan if she had just kept her eye on economic issues and not gotten distracted by the culture wars.

"Look, I'm as progressive as anybody, okay? But people in the heartland thought the Democratic Party cared more about where someone else went to the restroom than whether they had a good-paying job," he complained. "'Stronger together' doesn't get anyone a job."
…
"Given the fact that this is a contemporary issue, the HRC campaign should disabuse itself of any notion that it can convince voters that trade is good," Betras wrote at the time. "Clearly, HRC lacks credibility on the issue—at least in the minds of blue collar voters. Bill Clinton gave us NAFTA and HRC changing her positions on the TPP will make it easy for Trump to paint her as a flip-flopper on this critically important issue."
Focus, if you will, on the passage highlighted in bold and underlined. You didn't have to be an organizer in Mahoning County, Ohio, to get that. Here's yours truly  a year ago in Carefully Scripted Debate Answers Don't Cut It, Part V:
The bottom line on TPP is that Hillary's change in position itself is not troubling. Minds change. Thinking evolves. But this is a change of position that screams of political calculation, which leads us to wonder whether there exists any issue on which Hillary's position is driven by her actual beliefs, as opposed to political calculation.
That was early on in the primary campaign, when Clinton was trying to protect her left flank against Sanders. The subject came up again in a mini-debate Blue and I had in the comment section of his post from June, Democratic Party platform is coming together (Updated):
Me: You quote the AP:

"Sanders, a vociferous opponent of the Trans-Pacific Partnership, was unable to get language into the document opposing the trade deal. As a result, the party avoided an awkward scenario that would have put the platform at odds with President Barack Obama.

Clinton and Sanders have opposed the deal. Committee members backed a measure that said "there are a diversity of views in the party" on the pact and reaffirmed that Democrats contend any trade deal "must protect workers and the environment.""

Shouldn't we at least question what's going on there? If Clinton truly opposed the TPP, why the hell would her surrogates not be willing to have the platform say so?

http://www.commondreams.org/news/2016/06/27/clintons-first-major-betrayal-dnc-surrogates-defeat-anti-tpp-measure

Call me cynical, but I think this is the first betrayal, as the Common Dreams piece suggests.

Blue:The reason is stated in the article: a party does not adopt a position diametrically opposed to the policy of a popular sitting president of that party. You don't need a conspiracy theory to explain. Platforms are only broad policy statements, and the language is always carefully parsed so as not to offend and to get it approved at the convention. Once it's been approved, it is quickly forgotten. Much ado about nothing.
Much ado about nothing, huh? Hardly, Blue. The "ado" was about the election, and whether Team Clinton was committed to addressing her lack of credibility in the minds of Democratic blue-collar voters in the rust belt, about which they'd just been forewarned weeks earlier by organizers in Mahoning County, Ohio. Focus, if you will, on the passage I quoted from Common Dreams:
Shouldn't we at least question what's going on there? If Clinton truly opposed the TPP, why the hell would her surrogates not be willing to have the platform say so?
In other words, what you and countless other Dem loyalists were quick to write off as a sop to Obama (as if he really needed it, or cared), those blue-collar, rust belt voters interpreted differently. They thought it was a cynical hedge, from a candidate who lacked credibility in the first place on an issue of monumental importance to them. Was it a cynical hedge? I don't know, but I do know that it walked like a cynical hedge, talked like a cynical hedge and quacked like a cynical hedge. So, whether it actually was a cynical hedge is entirely academic.
All of which raises the questions: Does the Democratic establishment get this and are they willing to take corrective action? I think the answers are actually yes and no. Members of the Dem establishment are not as obtuse as their loyalist followers. They know what happened. But I suspect they have a different plan for the future. Hohmann makes this astute observation:
Is the Mahoning Valley ever coming back to the Democratic Party? Will Ohio be a swing state in 2020? These are questions many Democrats in D.C. are pondering. Both before and since the election, scores of liberals have complained about how much attention the 202 has given to the Rust Belt; they argue privately that these blue-collar, non-college-educated, white-working-class Democrats are dinosaurs. The future of the party, they think, lies in the Sunbelt, and they think Trump's win has only accelerated this realignment. Colorado and Nevada were relatively easy holds for Clinton. Trump won Ohio by 8.6 points and Iowa by 9.6 points. But he won Arizona by 4.1 points, Georgia by 5.7 points and Texas by 9.2 points.
Heck, you really don't even need look as far as Arizona, Georgia and Texas. Had Clinton won North Carolina and Florida, she would have won, despite losing Wisconsin, Michigan and Pennsylvania. So Hohmann is spot on. The Dem establishment is planning for demographic changes they know are coming. My guess is that in this election they either thought rust belt states still were out of reach for Trump, or Florida and North Carolina would go their way, or both. One thing was clear, their strategy was geared towards the Sun Belt. I remember reading a Nate Silver post about the wisdom of Trump campaigning in Michigan, which many so-called pundits had questioned. Silver made the point, incredibly prescient given the ultimate result, that Trump spending time in Michigan made a lot more sense than Clinton spending time in Arizona. Seems so obvious now, huh?
Will the Dem establishment strategy work? I don't think so. The strategy is a long-term play on identity politics. The Republicans are the party of racists and nativists, the logic goes, so they're doomed by the coming demographic change, which will place White voters in the minority. The Republicans, however, have always been the party of nativists and it's never doomed them. Why? Because as immigrant groups  assimilate, the nativism stops concerning them. Indeed, some come to like it. Already, some Latinos identify as White. By the time 2042 arrives, when Whites reach minority status, the Latino vote will have transformed just like the Greek vote, the Irish vote, the Italian vote and the Jewish vote before it. Will they still favor the Dems? Probably, but not by anywhere near the margins they do now. Indeed, despite his horrific remarks during the campaign, Trump actually outperformed Romney among Latinos. You see, many Latinos are not wild about job-killing trade deals either.
But I digress. I'll end where I began, in the title: Choice for Dem Loyalists: Eat Crow and Change or Drink Kool-Aid and Stagnate. Keep your eyes on my friend (and I really do consider him a friend), the BlueMeanie and his future posts. If his worldview changes, it will signal a change in the worldview of thousands just like him, and there will be hope. If he stagnates, hang on for what will be a very rough ride.