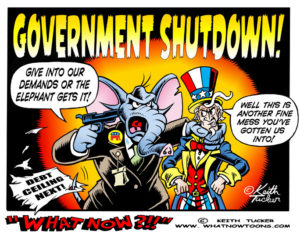 While Arizona Republicans all bray like jackasses about the border wall in their campaign ads, Republican leadership in Congress today assured that Donald Trump will not get his border wall, nor will he be able to use the threat of a government shutdown later this month to extort his border wall from Congress.
In other words, "Dear Leader" just got rolled by his own Republican leadership on his border wall.
The Hill reports, Congress reaches deal to fund government through Dec. 7, preventing shutdown:
The House and Senate on Thursday reached a deal to prevent a shutdown by passing a large package of spending bills this month along with a continuing resolution that would fun the rest of the government through December 7.
The package would keep the government funded past Oct. 1, the deadline for Congress to act.
House Appropriations Committee Chairman Rodney Frelinghuysen (R-N.J.) on Thursday said that the two bodies had completed work on the Defense and Labor, Health and Human Services and Education bills, which represent a lion's share of annual appropriations (a "minibus").
The combined $786 billion in the two bills represents 65 percent of the annual appropriations allocated for 2019.
Including the continuing resolution (CR) in the package would make it difficult for President Trump to make good on threats to shut down the government over border wall funding.
"If it happens it happens. If it's about border security, I'm willing to do anything," Trump said last week when asked about a possible shutdown, though he has also indicated at times that he would prefer to avoid a shutdown ahead of the November midterm election.
The wall's funding is part of the Department of Homeland Security bill, which is included in the CR, meaning Trump would also have to veto the defense bill if he wanted to make good on his threat.
"The president will have to sign this bill into law or shut down the government, as it contains the continuing resolution," said Rep. Rosa DeLauro (D-Conn.), the ranking member of the House Appropriations Labor, Health and Human Services, Education, and Related Agencies subcommittee.
The House passed the $147 billion "minibus" spending package Thursday and sent it to President Trump for a signature, taking initial steps to avert another possible government shutdown. Congress sends first spending package to Trump in push to avert shutdown:
The legislation, which makes up approximately 12 percent of overall 2019 spending, was passed by a bipartisan vote of 377-20. The Senate overwhelmingly passed an identical bill Wednesday evening, and the White House has indicated that Trump will sign the measure.
The vote followed a deal between the House and Senate to effectively sidestep an Oct. 1 shutdown threat from Trump over border wall funding.
The two chambers decided to pair a short-term continuing resolution (CR) extending all government funding until Dec. 7 with the must-pass package of Defense, Labor, Health and Human Services, and Education departments funding measures.
In order to force a shutdown over border wall funding, Trump would have to veto the entire package, including the increased spending of the defense bill.
The three-bill package that passed the House on Thursday included $98 billion for military construction and veterans affairs — a $5.3 billion increase from the previous year.
The bill also funds a backlog of maintenance costs for Department of Veterans Affairs (VA) hospitals and clinics, as well as mental health care and suicide prevention, but did not specifically fund the VA Choice medical program, which will move from the automatic part of the budget to the discretionary side starting in May.
The $44.6 billion energy and water bill, a $1.4 billion increase over last year, includes funding for modernizing nuclear weapons complexes, revitalizing waterways and researching renewable energy. The measure did not fund a project to store nuclear waste in Nevada's Yucca Mountains, a controversial rider that had been included in the House version of the bill.
In a first, the $4.8 billion legislative branch bill provides funds to pay Capitol Hill interns and also reinstates a requirement for the House and Senate to conduct studies on gender and racial pay equity among their staffs.
"I am delighted that we have secured $8.8 million in a new, dedicated funding stream for Member's offices to pay interns. This new funding will help a more diverse range of young people follow their dreams and begin a career in public service," said Rep. Nita Lowey (N.Y.), the top Democrat on the House Appropriations Committee.
The White House indicated that the legislation had President Trump's support.
The two chambers will continue to negotiate a third spending package — comprised of four bills including agriculture, interior, transportation and financial services — but the deadline for completing them would be pushed to December 7 by a lame-duck Congress.
In other action, House panel advances key bill in new round of GOP tax cuts:
The bill, part of a package Republicans are calling "Tax Reform 2.0" [GOP tax scam 2.0] passed the committee on a party-line vote of 21-15 after hours of debate between Democrats and Republicans over the value of the measure and the 2017 tax law.
The bill is expected to get a vote on the House floor later this month but is not expected to be taken up by the Senate, where it would need 60 votes to pass.
So this is just political theater. It will not become law.
Tax cuts are actually tax expenditures financed by government borrowing, which adds to the federal debt – that is what House Republicans voted for today.
The Joint Committee on Taxation, Congress's tax scorekeeper, has estimated that making the individual tax changes permanent will lower federal revenue by about $631 billion from 2019 to 2028. Outside groups say that the price tag will be even greater in subsequent years, with the Urban-Brookings Tax Policy Center estimating that the bill will cost more than $3 trillion from 2029 to 2028.
Joint Committee on Taxation estimated that a substantial percentage of the tax cuts will go to high earners, but that the percentage of federal taxes paid by those making at least $1 million would increase. The Tax Policy Center estimated that those with income of between $357,000 and $836,000 would benefit the most from the bill as a percentage of after-tax income.
---
Support volunteer citizen journalism at the Blog for Arizona with a donation today. Your secure contribution keeps the Blog online and sustains a free press in Arizona.
---