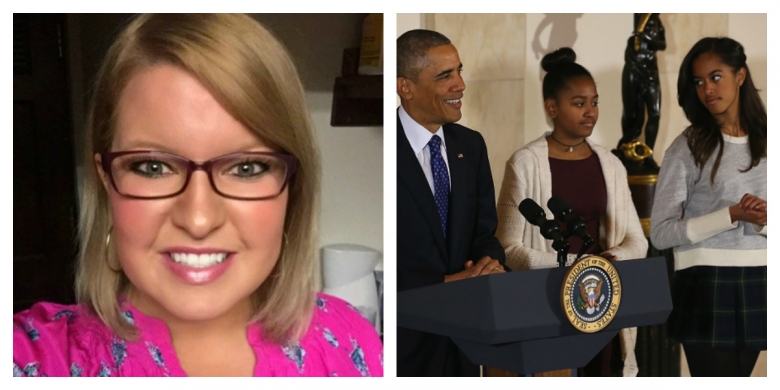 Photo: DesignTrend.com
By now you've probably heard about the spokeswoman for a GOP Congressman ranting on Facebook that Sasha and Malia Obama needed to show more class and stop dressing like they're going to a bar. Also, too, they are not surrounded by "good role models".
The rant went viral and Elizabeth Louten was blistered on social media over it. She apologized and ultimately resigned. That may seem harsh but in light of recent revelations of her own adolescent indiscretions, her resignation is looking more and more appropriate.
Elizabeth Lauten, 31, stepped down from her job as communications director for a Republican representative after her Facebook diatribe against Sasha and Malia Obama's behavior and dress at the annual Turkey pardoning sparked outrage online.

Evidence has now emerged indicating Lauten didn't exactly practice what she preached when she was a teen, growing up out of the public eye in North Carolina.

When Lauten was 17, just a year older than the president's eldest daughter Malia, she was caught stealing from a Belk department store in her hometown, according to court records obtained by the Smoking Gun.

Lauten was charged with misdemeanor larceny for the crime in December 2000, but since she was a first-time offender she qualified for the District Court's deferred prosecution program and the charges were eventually dropped.

Public records also show that Lauten was ticketed at the age of 19 for speeding and running a red light in Virginia.
Lauten attacked the Obama daughters for frowning and wearing short skirts (while not looking in any way like they were headed to the club) neither of which is a crime or an indication of anything but their being teenagers embarrassed by their dad. It's hard to believe that Lauten, age 31, had forgotten her youthful infractions (which included theft and endangering fellow motorists' lives through her careless driving) so where does she get off casting aspersions on Malia and Sasha? That's leaving aside her stupidity in not remembering that there's the internet now and sites like The Smoking Gun live to expose hypocrites like her.
Right wingers can pretend that they emerged from the womb fully formed as perfectly-behaved 40 year old Sunday school teachers all they want but the truth, found all too easily, is that they make mistakes and have a good time when they're young too (and when they're older, as multiple scandals with middle-aged GOP politicians attest). Their cognitive dissonance about this would be amusing if it didn't show up so much in their policy prescriptions on everything from drug laws to public assistance to sex and reproductive rights, all aimed at punishing poorer and less advantaged people for simply being as human as they are.