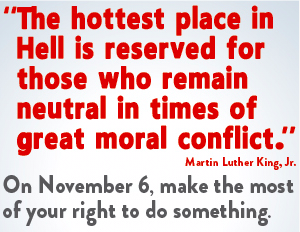 If you are a registered voter who has not already cast a ballot – and why haven't you? – TODAY is election day. Last chance! No more excuses for you not voting.
Unsure of your voter registration status? Check the Arizona Secretary of State website for Registrant Search.
Unsure of your polling place? Verify your polling place before leaving home. The Arizona Secretary of State has a locator online Locate Your Polling Place, as do the county recorder offices.
When polls are open: The polls are open from 6:00 a.m. to 7:00 p.m. Vote early, and stay in line. If there are long lines, if you are standing in line at 7:00 p.m. you will be allowed to vote.
Bring Voter I.D.: Arizona requires either a photo ID or two documents that bear your name and residential address. A full list of acceptable documents can be found at the Arizona Secretary of State website. What To Bring To The Polls.
Bring registered family members, friends and neighbors with you to vote.
If you received an early mail-in ballot but have not yet returned it, be sure to sign, date and provide a phone number on the ballot envelope and you can drop it off at any polling location. No waiting! If your mail-in ballot was lost or damaged, you're still eligible to vote in person on Election Day.
If you have verified your voter registration status and polling location, but you are told by poll workers that you are not on their voter list, ask them to assist you to find the correct polling location. If this does not resolve the issue, do not leave without voting! You are entitled to cast a provisional ballot which will be counted if your voter status is later verified.
If you have questions about your polling location, or you want to report long lines or other problems at your polling location, please contact your county recorder office.
In Maricopa County go to Maricopa County Elections Department or call (602) 506-1511.
In Pima County go to Pima County Recorder (voter information in right-side menu) or call (520) 724-4330.
Voter intimidation or other problems at the polls?
AZ Secretary of State: Guidance on Polling Place Conduct and Preventionof Voter Intimidation and Discrimination (Scribd)
The U.S. Department of Justice, Civil Rights Division staff is available by phone to receive complaints related to voting rights (1-800-253-3931 toll free or 202-307-2767) or by TTY (202-305-0082). In addition, individuals may also report complaints, problems or concerns related to voting by fax 202-307-3961, by email to voting.section@usdoj.gov and by complaint forms that may be submitted through a link on the department's website: https://www.justice.gov/crt/voting-section.
Complaints related to violence, threats of violence or intimidation at a polling place should always be reported immediately to local law enforcement authorities by calling 911. They should also be reported to the Department of Justice after local authorities are contacted.