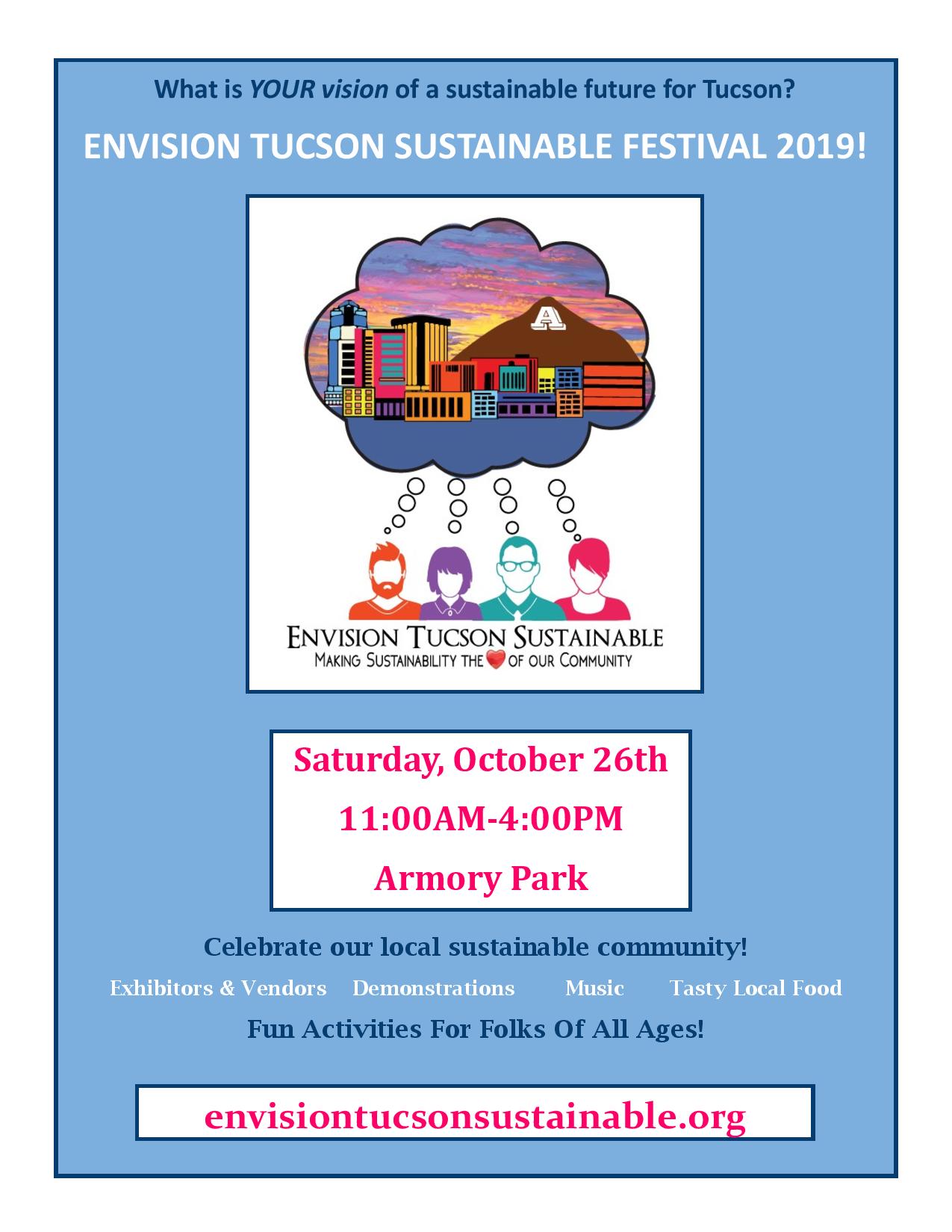 Envision Tucson Sustainable Festival 2019!
Celebrate Our Local Sustainable Community!  Updated schedule below: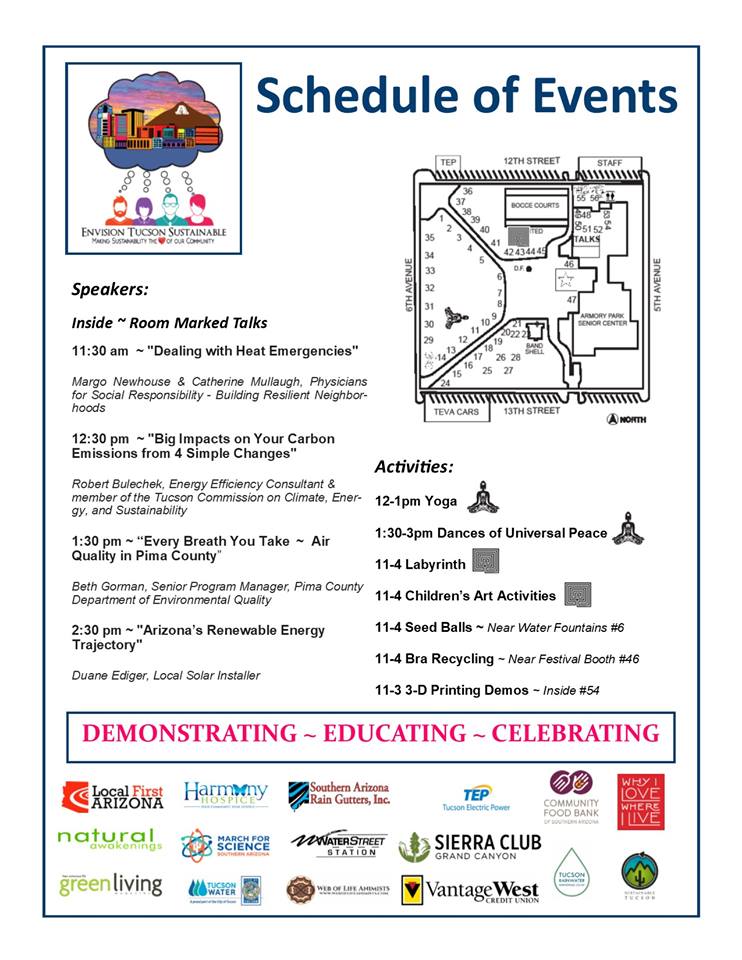 "Envision Tucson Sustainable Festival will take place Saturday, October 26, from 11 am to 4 pm, at Armory Park, in Downtown Tucson. The Festival explores and celebrates our local sustainable community at a family-friendly event that is free to attend.
Over 50 exhibitors and vendors have already signed up, with more in the works. The event is also packed with special features and activities for all ages. Just a few examples: You'll want to check out a demonstration of 3-D printing — it can produce some very practical replacement parts that you need for home repair. Be sure to walk through Web of Life's rope labyrinth to get your own sustainability message from the universe. And plan on chatting with a couple of our favorite scientists from history — March for Science will bring them "in person" to share their stories. Tucson Electric Vehicle Association is bringing a wide variety of electric vehicles for you to check out — and at the other end of our transportation history, you'll also want to visit the Bisbee Bus. If you've ever thought about cooking with the sun, you'll be able to see it in action, with Solar Guild/Citizens for Solar demonstrating some very cool-looking solar ovens. And yes, much more!
There's also a special recycling opportunity. If you or any (other) woman in your life has some old bras that are hanging around the house waiting to be properly disposed of — Don't throw them in the trash! If they're clean and still usable, they can help women in need, because The Bra Recyclers, from Gilbert, AZ, will be at the Festival with a drop-off site. So bring those bras and give them a second life.
There'll be information-packed short talks on key resilience topics, and lots of opportunities to learn more about sustainable practices that you can put into action in your own home and community — everything from gardening and composting to water harvesting and conservation, from recycling to solar for the home, from localizing our economy to living in harmony with urban wildlife, from reducing waste to reducing energy use, from building strong communities to advocating for our desert environment, and much, much more. With lots of fascinating participants, this will be an exciting celebration of Tucson's extensive and multi-faceted sustainability community.
Local food favorites GreenHeart Bakery and Enjoyabowls will have tasty food for purchase. And of course, be sure to bring your refillable water bottle — there won't be any water-in-single-use-plastic for sale, but Water Street Station will be providing refills for free. Also, if you need to cool off, Harmony Hospice is offering free snow cones to the first 1,000 attendees.
Armory Park is easily accessible. On-street parking is free on weekends, but consider one of several ways to come more sustainably: Take the bus, or come by bike — we'll have bike racks and a bike valet, and there's a TUGO bike station right at the park. And if you want to take the streetcar, UofA has free parking in the surface lots and most garages, so you can leave the car and hop on the streetcar there.
So mark your calendars, and get ready to share the vision! Be sure to stop by the Festival Welcome Table and pick up your free "Why I Love Where I Live" sticker — and think about the many reasons why we all love where we live! Together we will put Sustainability at the Heart of Our Community.
You can see more details at www.envisiontucsonsustainable.org or on the Festival's Facebook page.
And yes — We would love to have more volunteers! Especially – for early birds – before the Festival opens, to help with set-up and help exhibitors get set up! You can sign up on the website at "Volunteers" under the "More" tab. Or, to sign up, get more information or with questions, contact Paula at paulasch@mindspring.com."
###
Contact Information:
Paula Schlusberg
Co-Chair, Envision Tucson Sustainable Festival
520-615-8218
paulasch@mindspring.com