This one woman play just opened on October 20 by Arizona Theater Company. It is playing Tuesday through Sunday, till Nov. 10, 2018 at the Temple of Music & Art, 330 S. Scott Avenue, Tucson.
ERMA BOMBECK: AT WIT'S END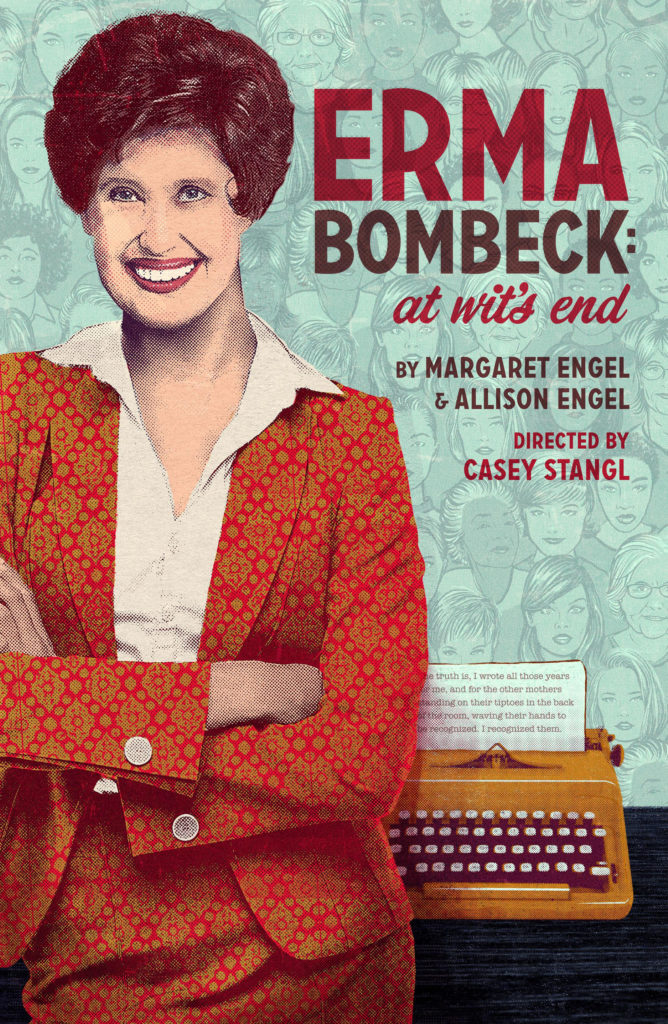 By MARGARET ENGEL & ALLISON ENGEL
Directed by CASEY STANGL
"We've come a long way, baby … A loving tribute to Ohio wife and mother turned longtime Arizona resident who made herself into a national superstar as a best-selling author and syndicated journalist lauded for opening up the secret world of the mother and housewife. A comic look at one of our country's most beloved voices – a voice that reassures us that yes, the world is sometimes crazy, but if we look at it and laugh, we have most of it covered. A voice who captured the frustrations of her generation by asking, "If life is a bowl of cherries, what am I doing in the pits?" Chock full of wit and wisdom of the woman herself, this one-woman tour-de-force allows Erma to tell her own story, leading us through her years lampooning life in the suburbs in her nationally syndicated newspaper column called "At Wit's End." From her troubled childhood, where she found comfort in the words of Dorothy Parker and Robert Benchley, through her rise to fame as a journalist and public figure, discover the story behind America's beloved humorist who championed women's lives with wit that sprang from the most unexpected place of all – the truth."
Phoenix production dates: Nov. 15 to Dec. 2, 2018 at Herberger Theater Center, 222 E. Monroe St. Phoenix
Buy tickets online: https://arizonatheatre.org/show/erma-bombeck-at-wits-end/
Carolyn's note: We saw this powerful, one actress preview show on Sunday Oct. 21, and were amazed at the witty comments of Erma Bombeck (1927 – 1996), a young wife with 3 children in suburban Ohio, with journalist husband Bill, whom she met in college. Erma is funny, thoughtful-provoking, and even becomes a strong advocate for women's rights in the 1970's, joining the feminist movement to pass the Equal Rights Amendment — the  E.R.A. (which was never ratified, falling 3 states short, one being Arizona).  She finds humor in mundane cooking, cleaning, motherhood, even ironing of clothes in her housewife reality. Erma later became a syndicated columnist in over 900 newspapers, and wrote 13 best- selling books on humor. And remember that she had to manually type all her columns, with no word processor or internet at that time.
When I watched this play I couldn't help but reflect upon the trials of my immigrant grandmothers with their 8 (+ 2 hanai grandchildren) and 4 children apiece, my housewife/nurse mother raising her three, and myself…all strong working women, but I wished we  had laughed more about our homemaking experiences.  Especially the hours spent  ironing clothes, way before polyester was invented.
Enjoy hearing from the wit of Erma Bombeck.
Support volunteer citizen journalism at the Blog for Arizona with a donation today. Your PayPal contribution keeps the Blog online and sustains a free press in Arizona.