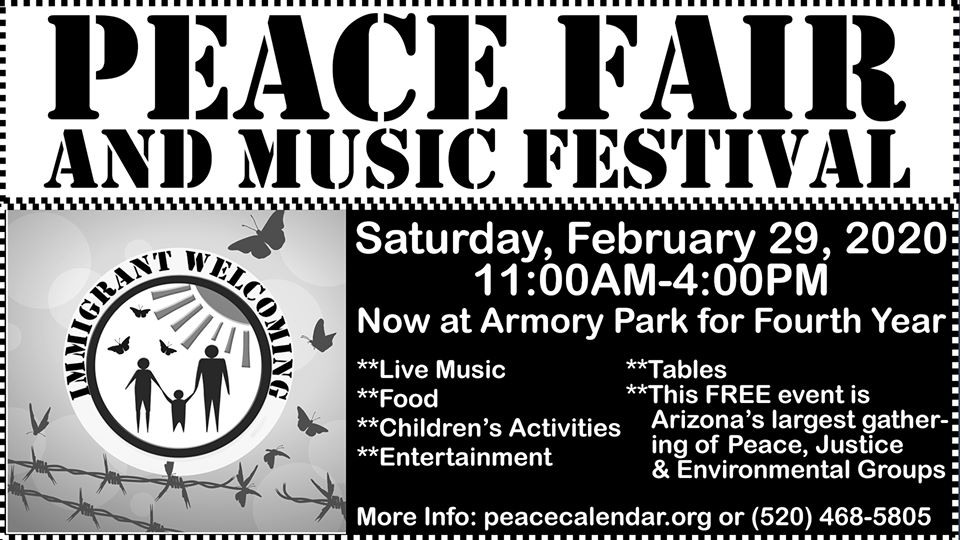 "This FREE event is Arizona's largest gathering of Peace, Justice, and Environmental groups. There will be live music, tables, food, entertainment, and children's activities. Now in Armory Park for the fourth year!
And here's the Music Lineup for the 2020 Peace Fair and Music Festival:
11:00 – One Heart Beat
12:00 – Geo & Les & Friends
12:45 – Refugee Beats
1:15 – Eb Eberlein
1:40 – Raging Grannies
2:00 – Santa Pachita
3:00 – Starseed Acoustic Ensemble
4:00 – Close"
https://www.facebook.com/events/1328177397380331/
Carolyn's note:  Ironic to hold this peace fair at Armory Park, with several monuments dedicated to the war dead from WWII and before. We used to sing "Give Peace a Chance" back in the 1960's/1970's during the Vietnam War protests.  Now we in 2020 are facing the endless war in Afghanistan (18 plus years). Time to re-think peaceful actions, non violence.
Recent AZ Daily Star article about an alleged truce in that Afghan war, to be signed coincidentally on Feb. 29:
https://tucson.com/news/world/us-taliban-truce-takes-effect-setting-stage-for-peace-deal/article_e615d3d0-a300-5d4f-a139-59eeada1703d.html