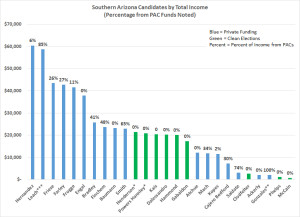 June 30 was the deadline for statewide and legislative candidates to file their campaign finance reports. Data nerds like me love slogging through the Secretary of State's website for Ah-Ha moments of discovery. And there are some.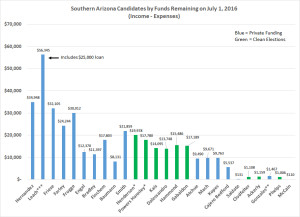 My primary reason for looking at these data was, of course, to gauge my campaign against others in Southern Arizona. For nearly a year, people have been telling me not to run as a Clean Elections (CE) candidate because "it's just not enough money." These two graphics show a somewhat different picture.
The top graphic shows that Daniel Hernandez (D-LD2) blew the doors off the fundraising barn by gathering $60,437, but Hernandez spent $25,489 to get there, leaving him with $34,948 on July 1. (Yes, of course, he can keep dialing for dollars every day from now until November 8, but that is a lot of time and manpower.) Ana Henderson (R-LD9) with $21,345 is the Clean Elections candidate with the most funds on July 1; she has spent only $1,367. You can see how the difference between these two candidates flattened out when you take into consideration the money Hernandez had to spend to raise $60,000. (Since Clean Elections has strict rules on how much we can collect in seed money and family money and how we receive once we have qualified for public funds, all of the candidates who have qualified for CE have roughly the same amount. Note the green bars on both graphs. (Fun fact: all of the qualified CE candidates in Southern Arizona are women.)
Let's compare Hernandez to the other two candidates in the LD2 Democratic Party primary.
LD2
When you look at total funding, Hernandez raised 72% more than LD2 Clean Elections candidate and incumbent Rosanna Gabaldon (D) and 62% more than Aaron Baumann (D-LD2). When you look at the amount of funds these three candidates currently have in their coffers (after expenses), Hernandez has 57% more than Gabaldon and 77% more than Baumann. This is because Baumann has spent 65% of the funds he has raised and Gaboldon has spent only 12%.  If Gabaldon makes it through the primary, she will receive another $24,066 from Clean Elections for the general election. How much more will Hernandez and Baumann earn between now and November 8 and how much will he have to spend to earn it? Republican incumbent and Clean Elections candidate John Ackerly is barely a blip on the fundraising graphs because he has not qualified for his matching funds yet. The LD2 Senate seat is a match-up between two Clean Elections candidates, incumbent Senator Andrea Dalessandro (D) and challenger Shelley Kais (R).
LD10
In the LD10 Democratic Party primary, there are no Clean Elections candidates. Challengers Courtney Frogge ($41,584) and Kirsten Engel ($37,806) have raised considerably more than incumbent Stephanie Mach ($11,759). Mach's current total is less than she would have received if she had run clean. Her total also includes 34% from PAC funds. Engel has zero PAC dollars and Frogge has 11%. (PACs prefer incumbents.) When you look at remaining funds, Frogge is currently out ahead with $30,012 (72% of her funds). Engel is in a similar boat as Hernandez  and Baumann in that she spent a considerable funds to get where she is. Engel has $12,370 (33%) currently on hand. Mach has $9671 (82%). Republican challenger and Clean Elections candidate Todd Clodfelter is in the same boat as Ackerly because he has not qualified for public funds yet and has not raised a significant amount of seed money. Incumbent Senator David Bradley who raised $25,749, with 41% coming from PACs. Bradley has spent 56% of his funds, but his Clean Elections challenger Randall Phelps has barely $1000 and has not qualified for public funds yet.
LD11
There is no Democratic Party primary in LD11, but the numbers are extremely interesting because of the influence of big money. The PACs are standing strong behind the three Republican incumbents: Senator Steve Smith ($22857 with 65% PAC money), Rep. Mark Finchem ($23,620 with 48% PAC money) and Rep. Vince Leach ($25,000 of Leach's $58,700 is a loan, 85% of Leach's remaining funds are from PACs.)
What does this mean? Big money from Arizona Public Service Company, Salt River Project, Unisource Energy, Freeport-McMoran, Arizona Cattlemen, Police Officers, Firefighters, Realtors, Optometrists, SW Gas, Cox Cable, Centruy Link, Sprint, Sanofi, Patriots of Saddlebrook, and Paul Babeu's PAC are backing the Republicans in LD11. (No wonder Finchem recently spoke out against marijuana legalization; he received $1000 from Sanofi.)
Obviously, corporate interests want to keep their LD11 boys in the Legislature, and they are willing to spend big bucks to keep out the valiant band of Democrats challenging them: Clean Elections candidates for House Corin Hammond and Barry McCain and privately funded Senate candidate Ralph Atchue. Interestingly enough, if you eliminate the PAC funding from the equation, Atchue with $12,066 has raised far more than Smith with $7,408.  Again, if you eliminate the corporate money, Hammond with $20,046 has more than either incumbent– Finchem ($12,125) and more than Leach ($18,085). My guess is that the big money from the utility companies is aimed at keeping Hammond, a charismatic young mother, solar power advocate, and a scientist, out of the Legislature. LD11 may have a Republican voting edge, but where's the financial support from the voters? Smith, Leach and Finchem need those NASCAR jackets with the patches from their corporate backers.
LD3
There is not much action in LD3 with three Democratic Party incumbents running unopposed: Senator Olivia Cajero-Bedford and Reps. Sally Ann Gonzales and Marcario Saldate. All three candidates are running on private funds, and all three of them would have earned more money if they had chosen to run clean. Gonzales reported no individual contributions from people; her sole contribution on the June 30 report was $600 from the Salt River Project. (The remaining funds were transferred from a previous campaign.) Saldate has received only two individual donations; 74% his $2922 is from PACs, including Arizona Public Service Company, Salt River Project, Unisys, Freeport-McMoran, and others. By comparison, 30% of Cajero-Bedford's $7170 is from PACs. I'll ask the same question as I did above regarding LD11: LD3 has a significant Democratic Party edge, but where is the financial support from voters?
LD9
Of course, I can't leave out my race, which also has a Democratic Party primary. Incumbent Rep. Randy Friese raised the most with $43,491; 26% of his funds came from PACs; and he has spent a moderate amount to date ($11,386 or 26%). Appointee Rep. Matt Kopec, also running on private funds, raised $11,566–less money than he would have received if he had run clean– and he has $9763 on hand. Only 2% of Kopec's money is from a PAC. (One take-home message from all of this is that PACs like incumbents.) Total income for Pamela Powers Hannley for House is $20,821. This includes the  $4777 in seed and family money listed on the Secretary of State's website plus $16,044 in public funds. So far in LD9, both Clean Elections candidates (Henderson and Powers Hannley) have approximately double the amount of money on hand ($19,978 and $17,780, respectively) as Kopec ($9763). Also, Clean Elections candidates receive an additional $24,066 for the general election– a total maximum of $44,841 (with public funds, seed money, and family money). Incumbent Senator Steve Farley is running unopposed.
Going Forward…
In approximately one month, the primary ballots will be mailed. Since there are so many Democratic Party primaries this year (LD2, LD9, LD10, Pima County attorney, and Pima County schools chief), a lot will be riding on the August vote. At least one race– Pima County attorney– will be determined by the primary vote.
July will be a flurry of fundraising events and "call time" (AKA dialing for dollars) for the candidates who are using private funds to campaign. Candidates who have spent a considerable amount of money to get where they are will really be ramping up the fundraising. For Clean Elections candidates, there will be a flurry of events and canvassing to get our names out– but pretty much no fundraising.
Take-home lessons from this data exercise:
The amount of money people raise to run for the Legislature is all over the map.
The Clean Elections system is still a viable way to campaign.
Clean Elections can be overwhelmed by PACs and dark money.
It takes a lot of money to raise a lot of money.
PACs like incumbents.
Safe districts are not as interesting as competitive ones.
Collecting 250+ qualifying contributions of $5 is an arduous task, but I am so glad I don't have to spend a few hours per day for the next several weeks dialing donors for dollars to raise private funds.
The Clean Elections system should be expanded and strengthened–not weakened.
Please vote on or before August 30 and again on November 8.
NOTE: Here is the explanation for the asterisks in the bar graphs.
* These candidates have received $16,044 from Clean Elections, but it doesn't show up on the SOS report at this time. The distribution can be viewed on the Clean Elections site.
** Gonzales reported $0 individual contributions and $1368 transferred from a previous campaign. The PAC percent has been calculated as a percent of her individual contributions ($0).
*** Leach's $58,700 total includes a $25,000 loan. The PAC percent has been calculated as a percent of his individual contributions ($18085.)