The radical GOP House Freedom Caucus continues to aid and abet a conspiracy to obstruct justice in defense of their "Dear Leader." If not indicted by prosecutors, these Republicans need to be removed from office by the voters. America needs to drain the swamp of these traitorous rats.
POLITICO reports, House conservatives prep push to impeach Rosenstein: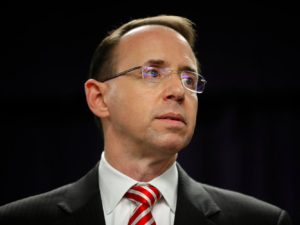 House conservatives are preparing a new push to oust Deputy Attorney General Rod Rosenstein, according to three conservative Capitol Hill sources — putting the finishing touches on an impeachment filing even as Rosenstein announced the indictment of 12 Russian intelligence officers for interfering in the 2016 election.
House Freedom Caucus Chairman Mark Meadows, in fact, had the impeachment document on the floor of the House at the very moment that Rosenstein spoke to reporters and TV cameras Friday.
Conservative GOP lawmakers have been plotting to remove Rosenstein for weeks, accusing him of slow-walking their probe of FBI agents [Peter Strzok and Lisa Page] they've accused of bias against President Donald Trump.
Peter Strzok testified in closed session for 11 hours, and open session this week for almost nine hours. Republicans made fools of themselves in pursuit of their conspiracy theories. Lisa Page testified in closed session on Friday. Former FBI lawyer Lisa Page said to be 'cooperative' during Capitol Hill meeting about anti-Trump texts. The witnesses are cooperating.
What these Trumpkins are actually complaining about is that the Department of Justice and FBI are not turning over prosecutorial evidence in an  ongoing criminal investigation of the Trump campaign — information Congress is not entitled to receive in an open criminal investigation — so that they then can provide the evidence to the Trump defense team and to selectively leak information (as they did with the Strzok and Page emails) to the GOPropagandists at FAUX News aka Trump TV and other right-wing media outlets. This is entirely illegitimate and inappropriate, and constitutes obstruction of justice.
Democrats contend Republicans' fixation on Rosenstein is really an effort to undermine special counsel Robert Mueller, who reports to Rosenstein and has been making inroads in his investigation of the Russian election interference plot. Mueller's probe has entangled members of Trump's inner circle and Trump has increasingly assailed it as a politically motivated "witch hunt" as it's presented greater danger to him and his allies.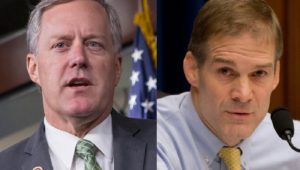 Conservative sources say they could file the impeachment document as soon as Monday, as Meadows and Freedom Caucus founder Jim Jordan (R-Ohio) look to build Republican support in the House. One source cautioned, however, that the timing was still fluid.
"It has not been filed today," was all Meadows spokesman Ben Williamson would say. Williamson declined to rule out whether Meadows intended to file the document next week.
Republicans could also try to hold Rosenstein in contempt of Congress, if they want to go a step before impeachment.
It is unclear how much support conservatives will have in their effort. Rosenstein has become a punching bag for Trump and his allies as they vent frustration over the Russia investigation. Since Attorney General Jeff Sessions recused himself, Rosenstein has overseen the Mueller probe, which is also examining potential obstruction of justice charges against the president.
But House GOP leaders like Speaker Paul Ryan have clearly been uncomfortable with the notion of going after Rosenstein. It's unlikely that will change anytime soon, especially so soon after the latest indictments. Ryan's office was not immediately available for comment.
Rosenstein has clashed with House Republicans for months, with Rosenstein insisting that he's working to comply with the GOP's intensive demands for documents — some directly relevant to Mueller's ongoing probe.
Again, Congress is not entitled to receive prosecutorial evidence in an ongoing criminal investigation.
But Ryan and other top GOP lawmakers have accused him of stonewalling and flouting Congress' oversight authority. Trump, too, has frequently sided with lawmakers to pressure Rosenstein to turn over more documents, an effort Democrats say is really meant to arm Trump with more insight into the Russia probe.
This is exactly what these accessories to a conspiracy to obstruct justice are after. They are aiding and abetting obstruction of justice.
The House, with Ryan's blessing, adopted a measure last month accusing Rosenstein and other DOJ officials of bucking Congress and demanding access to thousands of sensitive FBI documents by July 6. It's unclear whether Republican leaders are satisfied with DOJ's efforts since then or if they're preparing a renewed push for the materials.
The New York Times reported on Thursday that the White House overruled the FBI and ordered broader access for some GOP lawmakers to documents related to an informant connected to the ongoing Russia probe.
This is direct interference in the ongoing criminal investigation of the Trump campaign by the subject of the investigation, and constitutes obstruction of justice.
House Judiciary Committee Chairman Bob Goodlatte (R-Va.) has made clear that he doesn't consider Rosenstein out of the woods yet.
After a daylong grilling Thursday of FBI counterintelligence agent Peter Strzok — whom Republicans have accused of bias in the Russia probe — Goodlatte said he blamed Rosenstein for limiting Strzok's ability to reveal details of his work.
"Rosenstein, who has oversight over the FBI and of the Mueller investigation is where the buck stops," he said. "Congress has been blocked today from conducting its constitutional oversight duty."
This is total bullshit. Peter Strzok is prohibited by Department of Justice and FBI regulations, and under advice of FBI legal counsel, from discussing prosecutorial evidence in an open, ongoing criminal investigation. And once again, Congress is not entitled to receive prosecutorial evidence in an ongoing criminal investigation. The proper time for congressional oversight comes after an inquiry has closed.
This is all about obstruction of justice.