So our boy Johnny finally came around to disavowing his endorsement of Donald Trump, only when he calculated that it might now be safe to do so. Courage!  Sen. John McCain withdraws support from Donald Trump: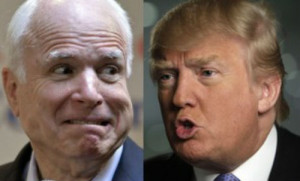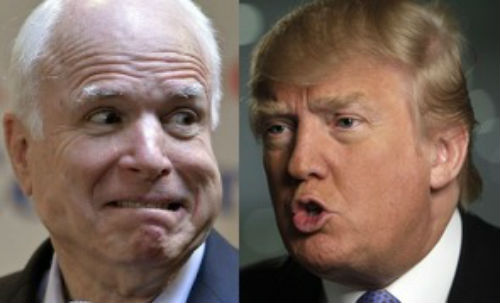 Sen. John McCain on Saturday formally withdrew his support of Republican presidential nominee Donald Trump, whose presidential campaign was wilting in an unprecedented crisis related to his past use of vulgar terms about women and other misogynistic comments.
"I have wanted to support the candidate our party nominated. He was not my choice, but as a past nominee, I thought it important I respect the fact that Donald Trump won a majority of the delegates by the rules our party set," McCain said in a lengthy written statement. "I thought I owed his supporters that deference.
"But Donald Trump's behavior this week, concluding with the disclosure of his demeaning comments about women and his boasts about sexual assaults, make it impossible to continue to offer even conditional support for his candidacy. (McCain's wife) Cindy, with her strong background in human rights and respect for women fully agrees with me in this."
* * *
McCain said he and his wife will not vote for the celebrity billionaire Trump or former Secretary of State Hillary Clinton, the Democratic nominee, but instead will "write in the name of some good conservative Republican who is qualified to be president."
As President Obama said to Willard "Mittens" Romney during a presidential debate in 2012, "please proceed." You see, unless one is a qualified write-in candidate for the ballot, writing the name of someone on your ballot simply does not count. You are throwing away your vote. So if Tea-Publicans want to throw away their vote for president, "please proceed." Great advice, Johnny.
Better yet, all of you Christian Right/Tea Party voters who voted for Donald Trump in the GOP primary knowing full well the man he is, 'Still the best candidate': Some evangelicals still back Trump despite lewd video, Despite latest controversy, some Christian conservative leaders say they're still with Trump, should do penance and pray for God's forgiveness on Election Day by staying home and fasting, throw ashes on your head and gird yourselves in sackcloth, and lament your pact with the devil.
Rep. Ann Kirkpatrick, D-Ariz., McCain's opponent in Arizona's Senate race, said McCain's gesture comes too late.
"John McCain showed today he only cares about one thing: his political career. His decision is nothing more than a political calculation," Kirkpatrick said Saturday in a written statement. "It's been more than 24 hours since Trump's comments were released. If it takes a full day for McCain to decide something is inappropriate, then he clearly doesn't have the leadership Arizonans need. He has abandoned his principles and changed his positions whenever he thought it would help prolong his 33-year career in Washington."
McCain "missed the chance to show political courage and lead," she added.
Damn straight!
And then there is our "woman warrior" who runs TV ads to tell us how "tough" and "strong" she is, but she will not debate her Democratic opponent or renounce Donald Trump because she needs his deplorable base of voters to support her.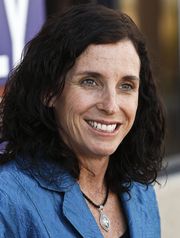 U.S. Rep. Martha McSally, R-Ariz., expressed her dismay at the comments, but remained inscrutable on whether she plans to support her party's nominee.
"Trump's comments are disgusting. Joking about sexual assault is unacceptable. I'm appalled," she wrote on Twitter.
McSally's comment came hours after a meeting at The Republic in which she refused to say whether she recommended voters in her southern district support the Republican nominee.
"I don't plan on endorsing anybody and I haven't in the past," she said. "Who we vote for is our own private decision. It's not my focus or my responsibility. … I think the voters are smart enough to figure out who they want to vote for for the president."
Matt Heinz, McSally's Democratic opponent, said McSally should be ashamed of herself.
"This is truly a disgrace," Heinz said in a written statement. "While members of her own party are abandoning Trump, Martha McSally still refuses to tell the people of the 2nd District who she's voting for. It's now clear to everyone, including many long-time Trump supporters, that he is completely unfit to be president."
And finally there is Pinal County Sheriff Paul Babeu aka studboi1 who has his own checkered history of sexual indiscretions.
Congressional hopeful Paul Babeu briefly joined the Republicans who disavowed Trump in a tweet that disappeared an hour later.
"Donald Trump's comments are reprehensible. They have no place in our public discourse. I will be writing in (Trump running mate) Mike Pence for President," the Pinal County sheriff wrote in a tweet Saturday afternoon.
The tweet generated a torrent of criticism from readers condemning him for backing away from the GOP nominee.
One person, identified as Ed Gary, a country and western singer, said, "I will write you off as well."
About an hour later Babeu's tweet was deleted. Saturday evening Babeu issued a statement via Facebook saying the tweet had been sent without his approval. In the statement, Babeu called Trump's comments "not acceptable" but said nothing about his endorsement or whether he would vote for him. It was time to "get back to the issues," Babeu's post stated.
McSally and Babeu's difficulty in explaining their views on Trump reflects a greater dilemma for Republicans nationally as they try to avert down-ticket losses as a price for loyalty to a compromised candidate.
Babeu earlier in the week was among the dignitaries who spoke in support of Trump at a rally in Prescott Valley.
* * *
Babeu's opponent, Democat and former state lawmaker Tom O'Halleran, said the sheriff's disavowals would not work and tried to bring it back to Babeu's past at a troubled Massachusetts school.
"Paul Babeu's transparent attempt to distance himself from Donald Trump's imploding campaign comes far too late and is just another example of Babeu's lack of leadership and judgment, including his unwillingness to stand up for the most vulnerable in our society," O'Halleran's statement said. "It was just three days ago that Paul Babeu stood on a stage and declared his unequivocal support for Trump. It should come as no surprise that a man who laughed about and praised child abuse and then denied responsibility is among the last to recognize Donald Trump's actions as inexcusable. But it fits with his long record of allowing others to be victimized while advancing his own political career."
McCain statement on Friday that Trump "alone bears the burden of his conduct and alone should suffer the consequences," is bullshit. Every Tea-Publican who endorsed Donald Trump, who supported him, and who voted for him in the GOP primary bears responsibility for Trump and should pay the consequences for their actions on Election Day. Kick all Tea-Publicans out of office!