The GOP war on voting rights suffered another major defeat today.
A partially divided three-judge panel of the 4th Circuit Court of Appeals has struck down North Carolina's "most restrictive voter law in the nation."  Appeals court strikes down North Carolina's voter-ID law: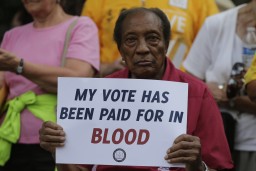 A federal appeals court on Friday struck down North Carolina's requirement that voters show identification before casting ballots and reinstated an additional week of early voting, finding that legislators had acted with "discriminatory intent" in imposing strict election rules.
[You can read the 83 page decision here. (.pdf)]
The decision by a three-judge panel of the U.S. Court of Appeals for the 4th Circuit was an overwhelming victory for the Justice Department and civil rights groups that argued the measures were designed to dampen the growing political clout of African American voters, who participated in record numbers in elections in 2008 and 2012.
"We can only conclude that the North Carolina General Assembly enacted the challenged provisions of the law with discriminatory intent," Judge Diana Gribbon Motz wrote for the panel.
North Carolina's Republican legislative leaders issued a fiery joint statement in response and said they will appeal the decision to the Supreme Court.
The decision by the Richmond-based court on Friday reverses a lower-court ruling that upheld the voting measures passed in 2013.
The U.S. District Court for the Western District of Wisconsin has struck down a host of Wisconsin voting rules, including certain voter ID provisions, as unconstitutional. Findings of Fact and Conclusions of Law (.pdf).  AP reports Federal Judge Strikes Down Wisconsin Election Laws:
A federal judge threw out multiple aspects of Wisconsin's voter ID law on Friday, leaving the law itself intact but ruling unconstitutional many restrictions on voting passed by the GOP-controlled Legislature and Republican Gov. Scott Walker.
* * *
He ordered the state to quickly issue credentials valid for voting to anyone trying to obtain a free photo ID for voting. He struck down a restriction limiting municipalities to one location for in-person absentee voting, time limits on in-person absentee voting, an increase in residency requirements from 10 to 28 days, and a prohibition on using expired but otherwise qualifying student IDs to vote.
* * *
In the Wisconsin lawsuit decided Friday, liberal groups challenged the laws saying they were unconstitutional and discriminate against the poor, racial minorities and younger voters who are more inclined to vote Democratic. They presented evidence at trial attempting to show that Republicans were motivated to pass the laws to suppress Democratic turnout.
The state Department of Justice, which defended the restrictions, countered that they have not suppressed turnout and that the state works hard to ensure everyone who needs a free ID to vote gets one. A spokesman for the agency didn't immediately return an email message seeking comment on Friday's ruling.
In addition, U.S. District Judge Lynn Adelman in Milwaukee refused to stay his Wisconsin voter ID order:
Judge Adelman issued a preliminary injunction this month allowing people who haven't been able to obtain IDs to vote in the Nov. 8 election if they sign an affidavit explaining why they couldn't get the identification.
State attorneys have filed notice that they'll appeal the order with the 7th U.S. Circuit Court of Appeals and asked Adelman to stay the injunction until the appeal is resolved.
Adelman refused to grant the stay on Friday, saying the injunction doesn't block anyone from challenging a voter's identity and some safety net must exist to protect the rights of voters who lack photo ID.
In Kansas, a Shawnee County judge ruled against GOP voter suppression specialist Kris Kobach's "dual election sytem" and ordered that 17,500 voters can have their votes counted in state and local races as well as federal ones in Tuesday's Kansas primary election. Judge: 17,500 suspended voters can cast ballots in all races Tuesday:
"Losing one's vote is an irreparable harm in my opinion," Judge Larry Hendricks said in his ruling Friday.
A state board approved a rule earlier this month to allow people to vote only in federal elections – not state and local ones – if they registered at DMV offices but failed to provide proof of citizenship as required by Kansas law.
The rule, crafted by Secretary of State Kris Kobach, was meant to put the state in compliance with a recent ruling by a federal judge to let these voters vote under the federal "motor-voter" law.
Kobach contended that the federal ruling only applied to federal elections and that the state's proof of citizenship requirement still barred these voters from casting votes in state and local races.
The American Civil Liberties Union challenged the rule under the equal protection clause in the Kansas constitution.
"You're either registered or you're not," ACLU attorney Sophia Lakin told the judge. "There's no such thing as half registration."
Hendricks said Friday that Kobach lacks the authority to create a dual voting system. He issued a temporary order blocking the rule, ensuring that all of these voters' votes will be counted.
Under the order, if one of these voters shows up at the polls Tuesday, he or she will receive a ballot just like any other voter and be able to vote in every race from U.S. Senate to county sheriff.
However, they won't be added to the state's list of fully registered voters while the case is pending, which is what the ACLU is seeking in the long term. Instead, their names will be on a separate list for the time being.
* * *
The court order applies only to the August primary. Hendricks set a Sept. 21 court date for an evidentiary hearing ahead of the November general election.
* * *
Despite his objections, Kobach will not appeal the order. He said there is not enough time before Tuesday to get a higher court to block it.
Note: Arizona similarly has a "dual election system," first adopted by former Secretary of State Ken "Birther" Bennett in conjunction with his buddy Kris Kobach, and this dual system has continued under current Secretary of State Michele Reagan. A seaprate legal challenge has not been filed in Arizona as this case proceeds in the Kansas courts.
Finally in Texas, where its voter ID law was struck down by the Fifth Circuit Court of Appeals earlier this month, the federal district court is expediting the hearing for softening voter ID restrictions to August 10. Order (.pdf).