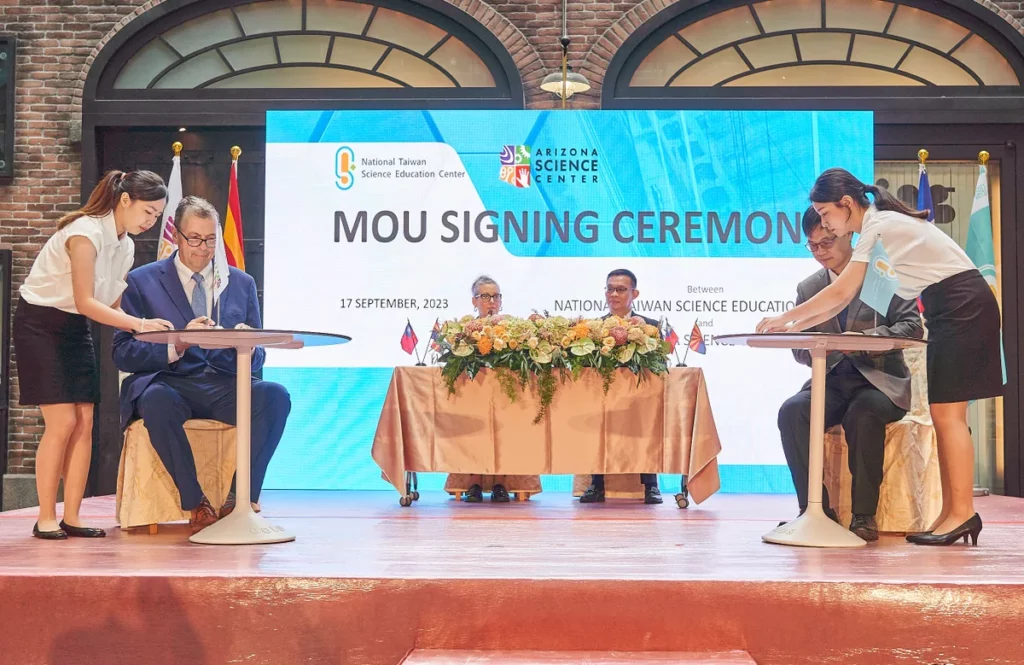 On an eight-day trip to Taiwan and South Korea to promote the Grand Canyon State's economic development, Arizona Governor Katie Hobbs participated in a signing ceremony where a Memorandum of Understanding was finalized between both the Arizona and National Taiwan Science Centers (NTSC.)
According to a press release from the Governor's office, the ceremony took place at the NTSEC facility in Taipei City, Taiwan.
This memorandum "will further collaborative opportunities related to STEM (Science, Technology, Engineering, and Math), with a focus on technology, semiconductor, and microelectronics workforce development." It will also "outline visitor experience development collaboration (including with children 13 to 17 years old,) which could include new exhibits focused on semiconductors or STEM or other experience ideas, and professional development collaboration for staff to increase technology-based science education through staff training."
In an agreement concluded with Phoenix Mayor Kate Gallego and the Phoenix Council, Taiwan is already building a branch of the Taiwan Semiconductor Manufacturing Corporation (TSMC) in the fifth largest city in the country. President Biden has visited the still-being-constructed facility.
This is an additional step in fostering greater scientific and economic links between Arizona and Taiwan.
Commenting on the Memorandum of Understanding between the two science centers, Governor Hobbs stated:
"This signing represents a new opportunity for collaboration between Arizona and Taiwan, one focused on inspiring the next generation. With this MOU, the Arizona Science Center and the National Taiwan Science Education Center will be able to exchange best practices and bolster the international exchange already taking place within the semiconductor and related industries. With a focus on workforce development and inspiring the next generation to fill the jobs of tomorrow, this partnership will benefit both Arizona and Taiwan for decades to come."
The Governor later posted on social media:
Guy Labine, the Hazel A. Hare President and CEO of Arizona Science Center offered:
"Investing in STEM education is not just about preparing the next generation of scientists and engineers; it is a commitment to supporting the economic might of the semiconductor industry in the State of Arizona. We're excited to embark on this collaboration with NTSEC. Together, we will leverage our respective expertise and experiences to help build a prosperous and robust Arizona technology sector. We will help strengthen the economic engine propelling global semiconductor innovations."
Huoo-Chin Liu, the Executive Director of the National Taiwan Science Education Center commented:
"Our partner, Arizona Science Center, is a well-known science center which is an important hub for science education. Our partner excelled in educational programs, events, exhibitions, and outreach. Based on this, the cooperation between the Arizona Science Center and the Taiwan Science Education Center could produce more interesting scientific programs and exhibitions. Based on the MOU, I am sure that there are many fantastic things will happen at Arizona Science Center and Taiwan Science Education Center. We can see the bright future on the way."
Ming-Yu Lin, the Taiwan Vice Minister of Education relayed:
"Through the signing of a memorandum of understanding (MOU), we hope to facilitate future collaboration between the National Taiwan Science Education Center (NTSEC) and the Arizona Science Center (ASC) in the STEM field, including resource and information sharing, the joint development of exhibitions and learning activities. It is believed that through this partnership will significantly contribute to the development and exchange of scientific literacy between two science centers while benefiting students and the general public in both Taiwan and the State of Arizona."